Hartt 100: Beyond the Performance
Diversity in Arts and Action Festival: March 2022
A continuation of the Hartt 100 Celebration, The Hartt School presented a weeklong festival featuring a lecture series, composer/performer series, and concerts. 
Diversity in Arts and Action was open to members of the University of Hartford community and surrounding communities.
See the full lineup of events and programs below. 
Lecture Series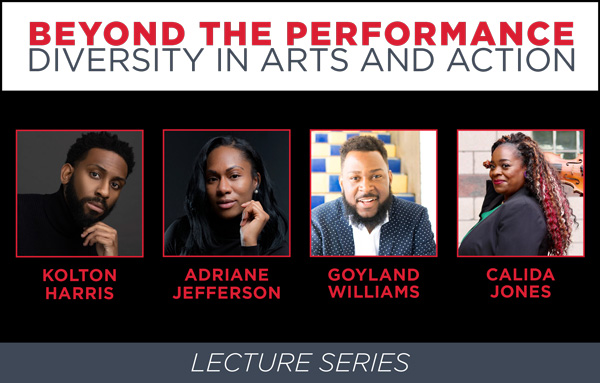 Featuring a lineup of talented artists and thought-leaders, the Diversity in Arts and Action Lecture Series was offered March 21–24, 2022. All lectures were open to the public and available via Livestream.
March 24, 2022    |   12:30 p.m.    |   virtual via zoom
"Intentional, Accessible, and Equitable Practices for Student Admission and Retention in Conservatories"
Calida Jones, Vice President—Arts Consulting Group
Meet the Speakers
Kolton Harris is a creative visionary leader, educator, facilitator and multi-disciplinary artist currently serving as a program manager at the CT Office of the Arts. In his role he is charged with the mission to design programs and experiences that empower artists and demonstrate the centrality of the arts to the human experience. He spent years working with youth as the artistic and executive director of a social justice youth theater, while also instructing educators and theater practitioners in his method of devising new works of theater that center on community engagement and development. As a recording artist, producer and musician he has created a growing body of work that sonically explores dream-like landscapes with timeless messages in both lyrical and visual presentation. He is also a director, actor and writer whose mission is to inspire the artist in every human being by telling powerful stories that can shift the culture towards a posture of innovation and forward thinking.
Adriane Jefferson (She/Her/Hers) is an Arts Administrator and cultural equity leader who has worked professionally in the Arts & Culture sector for over 17 years.
She is currently the Director of Cultural Affairs for the City of New Haven and the Executive Director of New Haven Festivals Inc, where she is leading the city on cultural equity and anti-racism initiatives. Adriane and her department have created the Arts for Anti-racism Pledge, The Unapologetically Radical Conference, and the City of New Haven's and State of CT's first ever Cultural Equity Plan. Prior to her current role she served as an Arts Program Manager for the State of CT, Department of Economic and Community Development/Office of the Arts where she developed groundbreaking programs for the State of CT such as The Arts Workforce Initiative paid Employment Program and the READI (Relevance, Equity, Access, Diversity and Inclusion)  Music conference, which has placed hundreds of young creative workers of color in arts jobs and professional development opportunities across the state.
As part of Adriane's most recent work with the City of New Haven, Adriane oversees the City's membership in the Government Alliance of Race & Equity and has formed the Core Race Equity Task Force. The Task force plays an advisory and leadership role to the Mayor and Executive Leadership on internal and external race equity issues in the city of New Haven and practices equitable systems changed. Adriane is also a member of the Closing Gaps Network, Living Cities Initiative, which provides ongoing leadership training on community organizing, anti-racism principles, equity assessments and capacity building. Adriane oversees the Civic space, which is a multipronged Civic engagement platform where community members communicate directly with city officials on the changes they wish to see in their neighborhoods. The Civic space has been used as the community engagement component for the $100,000,000 dollars in ARPA funding that the City of New Haven has received.
Adriane's professional career began in 2004, where she worked behind the scenes in local television & production and special event planning in the city of Miami, Florida. Simultaneously she was also pursuing her B.A in Popular Music from Florida Memorial University, graduating Cum Laude in 2009. Developing much of her professional career in Miami, Florida from 2004 - 2015, Adriane has worked in arts education as an educator in both music and theater arts. Between 2008 and 2010, she helped to develop the drama program for Alonzo Mourning Charities' Over Town Youth center and The Gibson Charter School. Adriane returned to The State of CT in 2015 to serve as the Executive Director and Senior Director of programs for the Writers Block Ink in New London, CT. She later served as a member of their Board of directors.
Adriane is a thought leader, adviser and educator pertaining to issues of Justice, Diversity, equity, access, and inclusion. She has expertise in program design, event & media production, grant making, external affairs, and new program initiatives. She specializes in professional development programming for young creative professionals, programs that amplify Black, Indigenous, people of color and social change initiatives. She has dedicated her career to fostering a more equitable, vibrant and sustainable arts landscape.
Adriane has an M.A in Arts Administration from Savannah College of Arts and Design. She currently serves as a councilwoman for The State of Connecticut Arts Council, an Advisory Board Member for New England Foundation for the Arts and as an Ex-officio Board Member for the Shubert Theater. Adriane has received the 40 under 40 award from the Urban Professional Network and the 40 Under 40 award from CT magazine. Her arts for anti-racism work has been featured in Americans for the Arts, Art Link publication. She is mother of one and a member of Delta Sigma Theta Sorority Incorporated.
Goyland Williams is a Jackie McLean Fellow in the School of Communication at the University of Hartford.
Specializing in Rhetoric and Performance Studies, his research is situated at the crossroads of Black studies, African American rhetoric, and performance studies. Bridging these seemingly disparate ideas and schools of thought, Goyland's scholarship mobilizes theoretical insights from scholarship on racial temporality, auto–ethnography, Africana gender theory, and social movement studies, to think more broadly about the ways that conditions of Black life–both quotidian and extralegal—both structure and undergird African American expressive life and imagination. But more, through his research, talks, and public scholarship, Goyland emphasizes the connections between Black speech acts, cultural expressions, and issues of survival. It is through this culture centered approach that he probes the potency and possibilities of the Black expressive and rhetorical traditions.
Calida N. Jones is an accomplished musician, social justice advocate, and educator with more than 20 years of experience in planning, workshop and curriculum development, project management, and advancing equity, diversity, inclusion, and access initiatives. Passionate about intentional and purposeful mentoring and community engagement, her personal mission is to ensure that those with limited resources have access to arts opportunities and activities. She is also committed to correlating the art of teaching to life skills and community building.
Ms. Jones has provided strategic guidance to organizations across the country, supporting and assisting arts organizations in the creation of equity, diversity, inclusion, and access goals. Ms. Jones previously served as the Director of Engagement of The Hartt School at the University of Hartford. Her key responsibilities included organizing and implementing a faculty development training program, collaborating with the University's Diversity, Equity, and Inclusion office, and curating external community partnerships with local and national youth arts agencies. She also led the development of a vision and effective strategic plan that championed the importance of equity, diversity, inclusion, and access in the learning environment.
As Program Director for Music Matters and Conductor of the Hartford All-City Youth Orchestra in conjunction with the Charter Oak Culture Center, Ms. Jones oversaw student recruitment and retention, curriculum design, community engagement, performance management, and evaluation. Ms. Jones also served as Director of Development and Advocacy for the El Sistema-inspired program PROJECT MUSIC and as Artistic Director of the Waterbury Symphony Orchestra's El Sistema-inspired program Bravo Waterbury!
Ms. Jones currently serves as the President of the Connecticut Arts Alliance and as Board Clerk for El Sistema USA, where she also chairs the Racial Diversity and Cultural Understanding Committee. A TEDx speaker in San Jose, Ms. Jones has had the privilege of speaking at prestigious institutions such as Yale School of Music, Duke University, The Connecticut State Capitol, and The Hartt School. She has received numerous honors during her career, including a scholar fellowship at the Aspen Ideas Festival, Elizabeth L. Mahaffey Fellowship, Grammy Music Educator Award nomination, 2018 Connecticut Arts Hero Award, and the Father Thomas H. Dwyer Humanitarian Award for her work in Waterbury, Connecticut.
Ms. Jones holds a bachelor of fine arts degree in violin performance from Indiana University of Pennsylvania and a master of music degree in violin performance and Suzuki pedagogy from The Hartt School.
Composer/Performer Series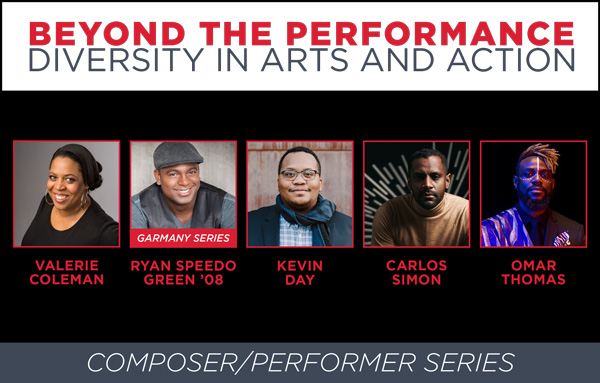 This unique series featured composers Omar Thomas, Carlos Simon, Kevin Day, and Valerie Coleman; and artist Ryan Speedo Greene.
Panel Discussions
March 23, 2022    |   5 p.m. 
Composers and Performers Roundtable 
Moderators: Gilda Lyons and Glen Adsit
Panelists: Kevin Day, Valerie Coleman, Ryan Speedo-Green, Carlos Simon, Omar Thomas
March 25, 2022    |   12:45 p.m. 
Composers Seminar: A Discussion on Agency
Moderators: Tom Duffy
Panelists: Valerie Coleman, Kevin Day, Carlos Simon, Omar Thomas
Performances
March 25, 2022    |   7:30 p.m.  
Wind Ensemble and Symphony Band Performance
Lincoln Theater
March 26, 2022   |   7:30 p.m.  
Hartt Orchestra Performance
Lincoln Theater
Meet the Composers/Performers
Described as "elegant, beautiful, sophisticated, intense, and crystal clear in emotional intent," the music of Omar Thomas continues to move listeners everywhere it is performed. Born to Guyanese parents in Brooklyn, New York in 1984, Omar moved to Boston in 2006 to pursue a Master of Music in Jazz Composition at the New England Conservatory of Music after studying Music Education at James Madison University in Harrisonburg, Virginia. He is the protégé of lauded composers and educators Ken Schaphorst and Frank Carlberg, and has studied under multiple Grammy-winning composer and bandleader Maria Schneider.
​Hailed by Herbie Hancock as showing "great promise as a new voice in the further development of jazz in the future," educator, arranger, and award-winning composer Omar Thomas has created music extensively in the contemporary jazz ensemble idiom. It was while completing his Master of Music Degree that he was appointed the position of Assistant Professor of Harmony at Berklee College of Music at the surprisingly young age of 23. He was awarded the ASCAP Young Jazz Composers Award in 2008, and invited by the ASCAP Association to perform his music in their highly exclusive JaZzCap Showcase, held in New York City. In 2012, Omar was named the Boston Music Award's "Jazz Artist of the Year." Following his Berklee tenure, he served on faculty of the Music Theory department at The Peabody Institute of The Johns Hopkins University in Baltimore. Now a Yamaha Master Educator, he is currently an Assistant Professor of Composition and Jazz Studies at The University of Texas at Austin.
Omar's music has been performed in concert halls the world over. He has been commissioned to create works in both jazz and classical styles. His work has been performed by such diverse groups as the Eastman New Jazz Ensemble, the San Francisco and Boston Gay Mens' Choruses, and the Colorado Symphony Orchestra, in addition to a number of the country's top collegiate music ensembles. Omar has had a number of celebrated singers perform over his arrangements, including Stephanie Mills, Yolanda Adams, Nona Hendryx, BeBe Winans, Kenny Lattimore, Marsha Ambrosius, Sheila E., Raul Midon, Leela James, Dionne Warwick, and Chaka Khan. His work is featured on Dianne Reeves's Grammy Award-winning album, "Beautiful Life."
Omar's first album, "I AM," debuted at #1 on iTunes Jazz Charts and peaked at #13 on the Billboard Traditional Jazz Albums Chart. His second release, " We Will Know: An LGBT Civil Rigths Piece in Four Movements," has been hailed by Grammy Award-wining drummer, composer, and producer Terri Lyne Carrington as being a "thought provoking, multi-layered masterpiece" which has "put him in the esteemed category of great artists." "We Will Know" was awarded two OUTMusic Awards, including "Album of the Year." For this work, Omar was named the 2014 Lavender Rhino Award recipient by The History Project, acknowledging his work as an up-and-coming activist in the Boston LGBTQ community. Says Terri Lyne: "Omar Thomas will prove to be one of the more important composer/arrangers of his time."
Carlos Simon is a native of Atlanta, Georgia whose music ranges from concert music for large and small ensembles to film scores with influences of jazz, gospel, and neo-romanticism. Simon is the Composer-in-Residence for the John F. Kennedy Center for the Performing Arts.  
Simon's latest album, MY ANCESTOR'S GIFT, was released on the Navona Records label in April 2018. Described as an "overall driving force" (Review Graveyard) and featured on Apple Music's "Albums to Watch", MY ANCESTOR'S GIFT incorporates spoken word and historic recordings to craft a multifaceted program of musical works that are inspired as much by the past as they are the present.
As a part of the Sundance Institute, Simon was named as a Sundance Composer Fellow in 2018, which was held at the historic Skywalker Ranch. His string quartet, Elegy, honoring the lives of Trayvon Martin, Michael Brown and Eric Garner was recently performed at the Kennedy Center for the Mason Bates JFK Jukebox Series. With support from the US Embassy in Tokyo and US/Japan Foundation, Simon traveled with the Asia/America New Music Institute (AANMI) on a two-week tour of Japan in 2018 performing concerts in some of the most sacred temples and concert spaces in Japan including Suntory Hall in Tokyo, Japan.
Simon earned his doctorate degree at the University of Michigan, where he studied with Michael Daugherty and Evan Chambers. He has also received degrees from Georgia State University and Morehouse College. Additionally, he studied in Baden, Austria at the Hollywood Music Workshop with Conrad Pope and at New York University's Film Scoring Summer Workshop.  
An American whose music has been characterized by "propulsive, syncopated rhythms, colorful orchestration, and instrumental virtuosity," (Robert Kirzinger, BSO) Miami-Based Composer Kevin Day (b. 1996) has quickly emerged as one of the leading young voices in the world of music composition today, whose music ranges from powerfully introspective to joyous exuberance.
Day was born in Charleston, West Virginia and is a native of Arlington, Texas. His father was a prominent hip-hop producer in the late-1980s to early 90s in Southern California, and his mother was a sought-after gospel singer from West Virginia, singing alongside the likes of Mel Torme and Kirk Franklin. Kevin Day is an internationally acclaimed composer, conductor, and pianist, whose music often intersects between the worlds of jazz, minimalism, Latin music, fusion, and contemporary classical idioms.
A winner of the BMI Student Composer Award and many other honors, Day has composed over 200 works, and has had numerous performances throughout the United States, Russia, Austria, Australia, Taiwan, South Africa, and Japan. His works have been programmed by major orchestras and wind bands, including the Boston Symphony, Detroit Symphony, Houston Symphony, Tulsa Symphony, Fort Worth Symphony, the UT Wind Ensemble, several top military bands, and more. His works have also been performed at Carnegie Hall, Rachmaninov Hall (Russia), The Midwest Clinic, TMEA, and other major venues. Day has collaborated with the likes of David Childs, Nicki Roman, James Markey, Wendy Richman, Jens Lindemann, Demondrae Thurman, Hiram Diaz, Steven Cohen, Jeremy Lewis, and more on works for their respective instruments, as well as chamber ensembles like ONE FOUND SOUND, Axiom Brass, Ensemble Dal Niente, The Sheffield Chamber Players, The Puerto Rican Trombone Ensemble, The Zenith Saxophone Quartet, The Tesla Quartet, and the Boston Symphony Orchestra Low Brass Section. He has been mentored by composers Gabriela Lena Frank, Frank Ticheli, John Mackey, William Owens, Julie Giroux, Marcos Balter, Anthony Cheung, Matthew Evan Taylor, and Valerie Coleman.
Day is currently earning his Doctor of Musical Arts Degree in Composition at the University of Miami Frost School of Music, and is a recipient of the UMiami Graduate School Dean's Fellowship. He currently studies composition with Lansing McLoskey, Charles Norman Mason, and Dorothy Hindman, as well as jazz piano with Shelly Berg and Martin Bejeramo. Day holds a Master of Music in Composition Degree from the University of Georgia, where he studied with Peter Van Zandt Lane, Emily Koh, and Cynthia Johnston Turner. He received his Bachelor of Music Degree in Performance from Texas Christian University (TCU), where he studied with Richard Murrow, Till Meyn, Blaise Ferrandino, and Neil Anderson-Himmelspach. His works are published with Murphy Music Press, Dev Music Publishing, Cimarron Music, M&M Music Press, and Kevin Day Music. Day currently serves as the Vice President for the Millennium Composers Initiative and is an alumnus of Kappa Kappa Psi and Phi Mu Alpha Sinfonia.
Valerie Coleman is regarded by many as an iconic artist who continues to pave her own unique path as a composer, GRAMMY®-nominated flutist, and entrepreneur. Highlighted as one of the "Top 35 Women Composers" by The Washington Post, she was named Performance Today's 2020 Classical Woman of the Year, an honor bestowed to an individual who has made a significant contribution to classical music as a performer, composer or educator. Her works have garnered awards such as the MAPFund, ASCAP Honors Award, Chamber Music America's Classical Commissioning Program, Herb Alpert Ragdale Residency Award, and nominations from The American Academy of Arts and Letters and United States Artists. Umoja, Anthem for Unity was chosen by Chamber Music America as one of the "Top 101 Great American Ensemble Works" and is now a staple of woodwind literature.
Coleman commenced her 2021/22 season with the world premiere of her latest work, Fanfare for Uncommon Times, at the Caramoor Festival with the Orchestra of St. Luke's. In October 2021, Carnegie Hall presents her work Seven O'Clock Shout, commissioned by The Philadelphia Orchestra, in their Opening Night Gala concert featuring The Philadelphia Orchestra and Yannick Nézet-Séguin. This follows on the success of the world premiere of Coleman's orchestral arrangement of her work Umoja, commissioned by The Philadelphia Orchestra and performed in Philadelphia and at Carnegie Hall in 2019, marking the first time the orchestra performed a classical work by a living female African-American composer. In February 2022, The Philadelphia Orchestra and soprano Angel Blue, led by Nézet-Séguin, will give the world premiere of a new song cycle written by Coleman, commissioned by the orchestra for performances in Philadelphia and at Carnegie Hall.
Coleman has been named to the Metropolitan Opera/Lincoln Center Theater New Works dual commissioning program in 2021/22. This season sees performances of her works by orchestras around the United States including the Minnesota Orchestra, Baltimore Symphony Orchestra, Sarasota Orchestra, New Haven Symphony Orchestra, Yale Symphony Orchestra, Vermont Symphony and The Louisville Orchestra. Recent commissions include works for the Orpheus Chamber Orchestra, The Library of Congress, Orchestra of St. Luke's, American Composers Orchestra, The National Flute Association, University of Chicago and University of Michigan. Previous performances of her works have been with the New York Philharmonic, Boston Symphony Orchestra, Pittsburgh Symphony, St. Louis Symphony, Atlanta Symphony Orchestra, Toronto Symphony and significant chamber ensembles and collegiate bands across the country.
Former flutist of the Imani Winds, Coleman is the creator and founder of this acclaimed ensemble whose 24-year legacy is documented and featured in a dedicated exhibit at the Smithsonian National Museum of African American History and Culture in Washington, D.C. She recently co-founded and currently performs as flutist of the performer-composer trio Umama Womama.
As a performer, Coleman has appeared at Carnegie Hall and The Kennedy Center and with The Philadelphia Orchestra, Hartford Symphony, New Haven Symphony, Boston University Tanglewood Institute, Orpheus Chamber Orchestra, Banff, Spoleto USA and Bravo! Vail. As a guest flutist, she has participated in the Mid-Atlantic Flute Fair, New Jersey Flute Fair, South Carolina Flute Society Festival, Colorado Flute Fair, Mid-South Flute Fair and the National Women's Music Festival. In 2021/22, Valerie will appear at a host of festival and collegiate multi-disciplinary residencies, including Orchestra of St. Luke's, Chamber Music Northwest, Phoenix Chamber Music Society, University of Michigan and Coastal Carolina University. Coleman will be the featured guest artist at the Long Island Flute Club, Raleigh Area Flute Association, Greater Portland Flute Society, Seattle Flute Society, University of Wisconsin-Madison Flute Day, Bethune-Cookman University Flute Day and the Florida Flute Society Festival.
As a chamber musician, Coleman has performed throughout North America and Europe alongside Dover Quartet, Orion String Quartet, Miami String Quartet, Harlem String Quartet, Quarteto Latinoamericano, Yo-Yo Ma, Ani and Ida Kavafian, Anne-Marie McDermott, Wu Han, David Shifrin, Gil Kalish, members of the Los Angeles Chamber Orchestra, and jazz legends Paquito D'Rivera, Stefon Harris, Jason Moran and René Marie. A laureate of Concert Artists Guild, she is a former member of Chamber Music Society of Lincoln Center CMS Two.
Coleman's work as a recording artist includes an extensive discography. With Imani Winds, she has appeared on Sony Classical, Deutsche Grammophon, Sony Classical, Naxos, Cedille Records and eOne, and as a guest flutist on albums with Wayne Shorter Quartet, Steve Coleman and the Council of Balance, Chick Corea, Brubeck Brothers, Edward Simon, Bruce Adolphe, and Mohammed Fairouz. Her compositions and performances are regularly broadcast on NPR, WNYC, WQXR, Minnesota Public Radio, Sirius XM, Radio France, Australian Broadcast Company and Radio New Zealand.
Committed to arts education, entrepreneurship and chamber music advocacy, Coleman created the Imani Winds Chamber Music Festival in 2011, a summer mentorship program in New York City welcoming young leaders from over 100 international institutions. She has held flute and chamber music masterclasses at institutions in 49 states and over five continents, including The Juilliard School, Curtis Institute, Manhattan School of Music, Mannes College of Music, New England Conservatory, Oberlin College, Eastman School of Music, Yale University, Carnegie Mellon, Interlochen Arts Academy, Beijing Conservatory, Brazil's Campo do Jordão Festival and Australia's Musica Viva. As a part of Imani Winds, she has been artist-in-residence at Mannes College of Music, Banff Chamber Music Intensive and Visiting Faculty at the University of Chicago.
Coleman recently joined the Mannes School of Music Flute and Composition faculty in Fall 2021 as the Clara Mannes Fellow for Music Leadership. Prior to that she served on the faculty at The Frost School of Music at the University of Miami as Assistant Professor of Performance, Chamber Music and Entrepreneurship. In 2021/22, she leads a year-long residency at The Juilliard School in their Music Advancement Program through American Composers Forum.
She adjudicates for the National Flute Association's High School Artist Competition, Concert Artist Guild, APAP's Young Performing Concert Artists Program, ASCAP's Morton Gould Award, MapFund Award and the Fischoff National Chamber Music Competition and has served on the Board of Advisors for Composers Now, Sphinx LEAD, APAP's Classical Connections Committee and the National Flute Association's New Music Advisory Committee and Board Nomination Committee. 
Coleman's compositions are published by Theodore Presser and her own company, V Coleman Music. She studied composition with Martin Amlin and Randy Wolfe and flute with Julius Baker, Judith Mendenhall, Doriot Dwyer, Leone Buyse and Alan Weiss. She and her family are based in New York City.
Grammy Award winning bass-baritone Ryan Speedo Green has quickly established himself as an artist of international demand at the world's leading opera houses.
Mr. Green opened the Metropolitan Opera's 2021–2022 season as Uncle Paul in Terrence Blanchard's Fire Shut up in my Bones, and also reprised his Grammy Award winning role of Jake in Porgy and Bess, Colline in La bohème, and sings Truffaldino in Ariadne auf Naxos which will be broadcast as part of the Met's Live in HD series.
Garmany Chamber Music Concert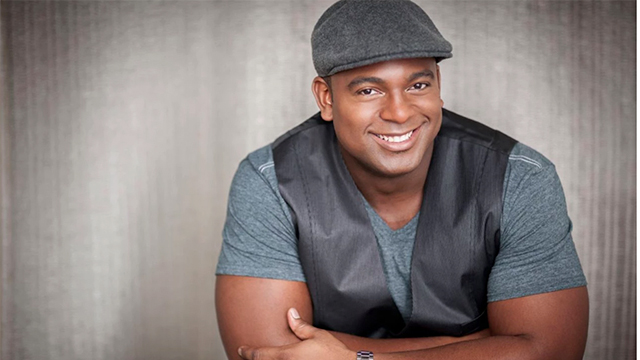 As part of the festival, the public had an opportunity to attend our last Garmany concert of the season on March 24, 2022 with Bass-Baritone and Hartt Alumnus Ryan Speedo Greene.