Be a Part of Hartt 100
Whether you are a student, alumnus/a, or patron of the arts, the Hartt 100 Celebration has an experience for you. Here, you will find highlighted performances, info for alumni reunions, and more.
What is Hartt 100?
Hartt 100 is an 18-month celebration of Hartt's 100th anniversary. Starting in January of 2020 and ending in June of 2021, Hartt 100 will present hundreds of events locally, nationally, and internationally by Hartt collegiate and community division faculty, staff, students, and alumni. Events will explore our distinguished past, and point to an exciting future while showcasing the continued excellence of The Hartt School.
Spring 2020 Highlighted Performances
February 26 – Foot In The Door Celebrates Hartt Composers and Naxos CD Release
This Hartt 100 related Foot in the Door Concert led by Glen Adsit and Edward Cumming features music of Hartt composition faculty and alumni. Faculty members, Gilda Lyons, Ken Steen, and Robert Carl will all have their works showcased in addition to alum Shuying Li. Welcome to this wonderful Hartt 100 celebration of composition at Hartt.
Repertoire: Last Hive Mind, Shuying Li; La Flor Mas Linda, Gilda Lyons; Depo Flux, Ken Steen; Open/Empty, Robert Carl
About the Naxos CD Release
The Hartt School presents recent concertante works by three contemporary American composers – demonstrating once more the versatility of the ensemble, and in conjunction with soloists. Susan Botti's sulla'ala is inspired by flight, expressed in rhythm, harmony and texture, while Jess Langston Turner describes powerful meteorological phenomena in Heavy Weather. In Guignol, Stephen Michael Gryc conjures witty banter and frenetic action from his puppet hero. All three soloists are on faculty at The Hartt School, Stephen Gryc is Emeritus Faculty, Jess Turner is a Hartt Alumni and Susan Botti is a frequent guest and very good friend of The Hartt School. The recording was captured, edited and mastered by Hartt, Faculty and Students.
March 5-8 – Music Theatre: Chess
Chess
features music by Benny Andersson and Björn Ulvaeus of the pop group ABBA, lyrics by Ulvaeus and Tim Rice, and a book by Rice.  The story involves a politically driven, Cold War–era chess tournament between two grandmasters from America and the USSR and their fight over a woman who manages one and falls in love with the other.
March 20-21 – HarttWorks
HarttWorks celebrates The Hartt Community Division's most accomplished musicians and dancers in an evening of true collaboration across genres and disciplines.   This year's performance will feature The Connecticut Youth Symphony (CYS) under the direction of Dr. Daniel D'Addio performing Sergei Prokofiev's "Trojka" from and Johann Strauss's "Emperor Waltz" while dancers grace the stage to choreography set by Sarkis Kaltakhtchian, René Olivier, and Deborah Rosner.  The program will also feature a new composition by Hartt Graduate Fellow, Eliza Gelinas, with choreography by Deborah Rosner and accompanied by 16-Strings, a youth string quartet coached by Teri Einfeldt.  In additional to these cross discipline collaborations the program will include selections from the HCD Repertory Ensemble coached by Sarkis Kalatkhtchian and Deborah Rosner, as well as musical selections from HCD's advanced musicians. Complete Event Details.
March 26 – Garmany Chamber Music Series: Philip Boykin
A key element of Hartt 100 will be the return of numerous Hartt alumni during our 18-month celebration. The fourth and final concert of the 2019-20 Richard P. Garmany Chamber Music Series will feature bass-baritone Phillip Boykin, a distinguished alumnus of The Hartt School. His program: "Broadway and the Great American Songbook." For more information about Phillip Boykin, visit www.phillipboykin.com. Please check back for additional information about the March 26th program. Complete Event Details
March 27 – Hartt Omni-Wind Ensemble
This special H100 concert with the Hartt Omni Ensemble features Hartt Unclaimed Property Composers-in-Residence Jess Turner, an alum of the Hartt School, Omar Thomas, and Carlos Simon. Turner's If I am to Leave will receive it's world premiere and features Hartt Faculty member and soprano, Deborah Lifton. Thomas's powerful Of Our New Day Begun and Come Sunday, in addition to Carlos Simon's Amen, will also be on the program. We are inviting our alumni and the directors of the students in the Greater Hartford Youth Wind Ensemble to attend the concert and a special reception before the concert.  Complete Event Details
Join us for a pre-concert reception where you have the opportunity to meet the 2020 Hartt Unclaimed Property Compsers in Residence, Jess Turner M'11 and Omar Thomas, whose pieces will be performed that evening. Light refreshments will be served. RSVP TODAY!
Repertoire: I know Moonrise, Jess Turner; Come Sunday, Omar Thomas; If I am to leave, Jess Turner; Of Our New Day Begun, Omar Thomas; AMEN!  Carlos Simon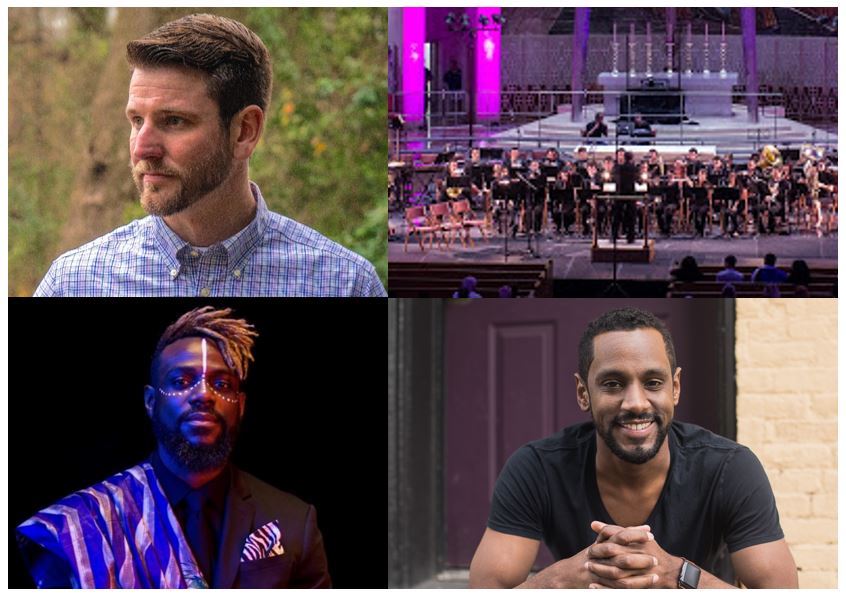 March 28 – Hartt Orchestra
Under the direction of Edward Cumming, the Hartt Orchestra performs William Grant Still's epic Symphony No. 1, "Afro-American," which is the first symphony to be penned by an African American composer; the diabolical "Burleske" from Mahler's Symphony No. 9, a world premiere by Hartt alumnus, Noah Marconi, and Tchaikovsky's Serenade for Strings. Complete Event Details
March 29 – Lions Gate Trio
Hartt's trio in residence, the Lions Gate Trio, is an internationally acclaimed piano trio offering weeklong residencies and performances at Hartt each semester. Via these concerts, the thrilling body of chamber music repertoire is celebrated and expands -- through vibrant performances of masterworks, and through performances bringing new life to forgotten or unheard/new works. Complete Event Details
April 2-4 – In The Soundless Awe 
When the USS Indianapolis was attacked and sunk on July 30, 1945, only a quarter of the nearly 1,200 sailors on board lived long enough to be rescued.  This compelling drama centers on harrowing tales of survival and the nightmare that still haunts the ship's captain decades later in his final moments of life.  
In The Soundless Awe 
was written by Jayme McGhan and Andy Pederson. 
Complete Event Details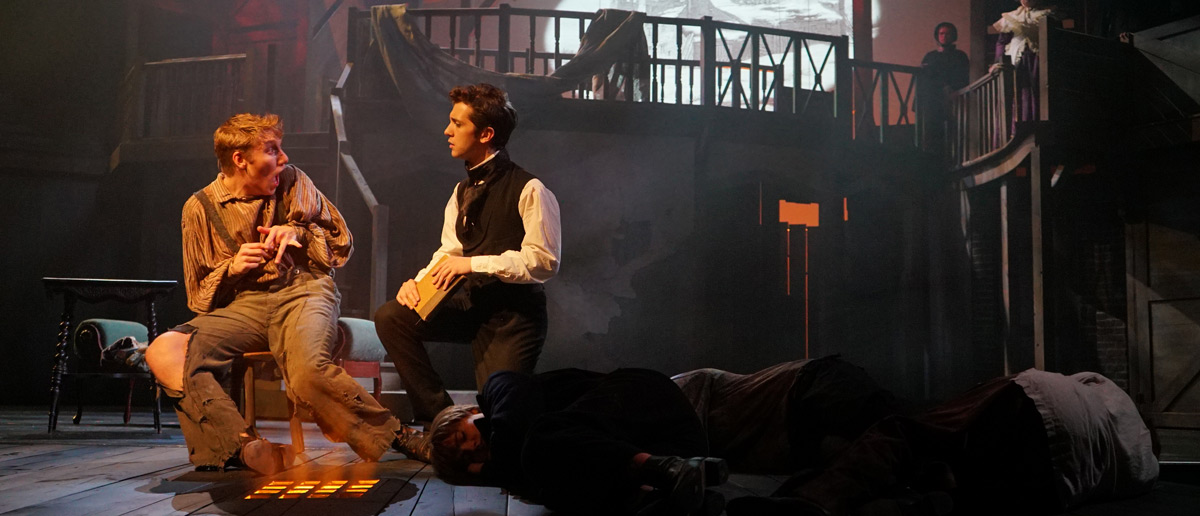 April 3 – Steve Wilson with the Hartt Big Band
Under the direction of Chris Casey, The Hartt Big Band performs with American jazz mulit-instrumentalist, Steve Wilson.  Wilson has performed and/or recorded with Buster Williams, Chick Corea, and Maria Schneider.  Complete Event Details
April 24-26 – Hartt Dances        
Celebrating 25 years of Hartt Dance and 100 years of The Hartt School.  In keeping with our founders' vision of a living tradition through constant innovation, The Hartt School Dance Division will present a program of classical and contemporary choreographic giants.  Excerpts from George Balanchine's "Who Cares?" launch us into the world of this 20th century master choreographer.  José Limón, a colossus in the world of American modern dance, is represented with "The Winged" to a musical score recreated by Hartt's own Lief Ellis.  An artistic descendant of Limón and one of our generation's most revered choreographers, Lar Lubovitch, has given us "Something About Night", an evocative dance to the music of Franz Schubert.  Completing the program will be choreography by Francesca Harper, a former dancer with iconoclastic choreographer, Wiliam Forsythe's Frankfurt Ballet.  Complete Event Details
April 25, 2020 – Hartt Omni-Wind Ensemble 
This special H100 concert features four composers, all with connections to The Hartt School and spans music written from the 1960s to the present day. Arnold Franchetti taught composition at the Hartt School from 1948 to 1979. Emeritus Professor Stephen Michael Gryc taught composition at Hartt from 1980-2015. Jess Turner graduated from Hartt in 2011 and had the work on this program premiered with the Hartt Wind Ensemble in Carnegie Hall in 2010. Shuying Li (BM 2013) will have her first large scale composition for wind ensemble Kung Fu premiered at this concert. Guest conductor Adam Fontana will be returning to The Hartt School since his graduation in 2010 (MM-Conducting).  Complete Event Details
Repertoire: Kung Fu, Shuying Li (world premiere); Masquerade Variations, Stephen Gryc; Rumpelstilzchen, Jess Turner; Concerto for Sax and Wind Orchestra, Arnold Franchetti.  
April 30 – Hartt Hall of Fame Induction
Join us for the 3rd Annual Induction Ceremony of the Hartt Hall of Fame. Complete Event Details
May 1 & 3 – Hartt Orchestra and Choirs: Berlioz Te Deum
As part of the ongoing celebration of its 100th Anniversary, The Hartt School of the University of Hartford is pleased to announce two exciting performances on Friday, May 1 at 7PM at the Cathedral of St. Joseph, and Sunday, May 3 at 4:30PM at Woolsey Hall at Yale University in New Haven! Both concerts will feature Berlioz's jubilant Te Deum, In the Service of the Beautiful, a newly commissioned work by Hartt alum Colin Britt, and two works by Gabrieli and Gesualdo arranged for brass by Edward Cumming. In addition, the May 1 concert will also include Intrada 1631 by Stephen Montague, and the May 3 concert will feature the premiere of a new piece by Steven Gryc written for trombonist Haim Avitsur. The massive performing forces will include The Hartt School Choruses and Symphony Orchestra, as well as longtime community collaborators: The New Haven Chorale, Edward Bolkovac, Music Director; the Hartford Chorale, Richard Coffey, Music Director; and organist Ezequiel Menendez. Conductors for these two gala concerts will include Glen Adsit, Edward Bolkovac, Ziwei Ma, and Haksong Lee. Mark your calendars now for these two extraordinary performances!  Complete Event Details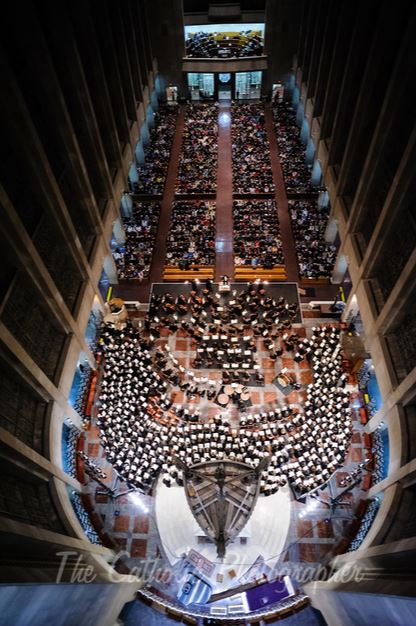 May 2 – Hartt Percussion Ensemble
The Hartt percussion program enjoys a rich tradition of excellence and diversity dating back more than seventy years, distinguishing The Hartt School as having one of the first percussion programs and percussion ensembles in the country. Founded and directed by Percussive Arts Society Hall of Fame member Alexander Lepak from 1947-91, the Hartt percussion program has been directed by Benjamin Toth since 1992. Complete Event Details
May 5-10 – Jesus Hopped the A Train and The Learned Ladies of Park Avenue
Jesus Hopped the A Train by Stephen Adly Guirgis tells the story of several inmates of Rikers Prison who are awaiting charges for murder. Angel Cruz is a young Puerto Rican man incarcerated for shooting a cult leader after said person "stole" his best friend. When the cult leader dies during surgery, Angel suddenly finds himself facing murder charges.
The Learned Ladies of Park Avenue by David Grimm tells the story of how high society affectations are skillfully skewered when a scheming conman worms his way into the world of a wealthy Park Avenue family. A Jazz-age adaptation that captures all the wit and word-play of Moliere's zany comedy classic, Les Femmes Savantes.  Complete Event Details
May 10 – Greater Hartford Youth Wind Ensemble
Since the late 1950s The Hartt School Community Division has offered students the opportunity to perform challenging wind ensemble repertoire with fellow student musicians. Originating from the Hartt Youth Symphonic Band and later the Connecticut Valley Youth Wind Ensemble, the Greater Hartford Youth Wind Ensemble is built on a long-standing tradition of providing accomplished and driven high school musicians from around Connecticut and southern New England the opportunity to perform the finest contemporary and traditional repertoire in an advanced wind ensemble setting. GHYWE is currently under the direction of Glen Adsit. Complete Event Details
May 31 – Spring Festival – Division III Performance
The Spring Festival is a showcase of the work of students and faculty of the HCD Dance Department. This festival culminates on Sunday, May 31 with a performance by Division III students who represent the most advanced students in the school. This presentation will include a formalized demonstration of their class work as well as additional repertoire set by Sarkis Kaltakhtchian, Rene Olivier, Deborah Rosner, and Robyne Watkin. Complete Event Details
June 2-7 – Chamber Music Festival
The Hartt School Community Division is home to over 40 youth chamber music ensembles ranging from elementary school string quartets through advanced high school wind quintets. This festival is an opportunity for chamber music students to come together over 7 performances tro showcase their work from the year.  Repertoires will vary and in the past has included traditional works by J.S. Bach through contemporary works by student composers. Complete Event Details
January 26 – Remembering Kent McCray: Laughter, Love, and Television
Discover the insightful life and career story of TV pioneer and Hartt alumnus, Kent McCray, who produced some of television's most beloved family television series, including Bonanza, Little House on the Prairie, The High Chaparral, and Highway to Heaven.
This event will include a showing of this new documentary, as well as remembrances by Susan Sukman McCray; Walter Harrison, president emeritus of the University of Hartford; Alan Rust, artistic director of Hartt's Theatre Division; and Dean Larry Alan Smith.
January 26 – Connecticut Children's Chorus
Celebrating almost 30 years, The Connecticut Children's Chorus (CCC) presents their Winter Concert showcasing all 7 choirs in one performance!  The award-winning CCC is the region's most comprehensive auditioned youth choral program, founded in 1991 as one 60-voice choir, the program now encompassing over 200 students in grades 1 through 12.  Singers grow in a supportive, community-centered environment where enthusiasm and love for music is nurtured.  This concert features works by celebrated contemporary composers Abbie Betinis and Meredith Monk, as well as an all-choirs performance of Jacob Narverud's "Sisi No Moja." The CCC Winter Concert is open and free to the public.  Seating is not guaranteed.
January 30, 31-February 2 – Hartt Opera presents Die Fledermaus
Hartt Opera Theater presents Die Fledermaus, Johann Strauss II's iconic operetta of class warfare, infidelity, hijinks, true love, champagne and a score full of melody and laughter.  This new Hartt 100 production, designed and directed by Matthew Ferraro, includes cameo appearances by multiple Hartt alums, students and faculty.  Sung in English, with Supertitles, this production is designed to provide a sparkling evening for all.  The delightful (and a little naughty) story and the beautiful music make the mosaic for Die Fledermaus.
February 6 – Garmany Chamber Music Series: Sirena Huang
A key element of Hartt 100 will be the return of numerous Hartt alumni during our 18-month celebration. The third concert of the 2019-20 Richard P. Garmany Chamber Music Series featured violinist Sirena Huang, a distinguished alumna of Hartt's highly regarded Community Division. For more information about Sirena Huang, visit www.sirenahuang.com
February 14-15 – Collage 2020 and Hartt Centennial Book Launch
Hartt's gift to the community, Hartt's annual Collage Concert features continuous music, dance, and theatre. As Hartt's gift to the community, this special Hartt 100 concert is a celebration of the distinguished past and exciting future of The Hartt School.  The new Hartt Centennial History Book will be available for purchase both before and after the Collage performances in the lobby of Lincoln Theater.  Tickets are free but required. Early reservations are recommended.
One Hundred Years of Hartt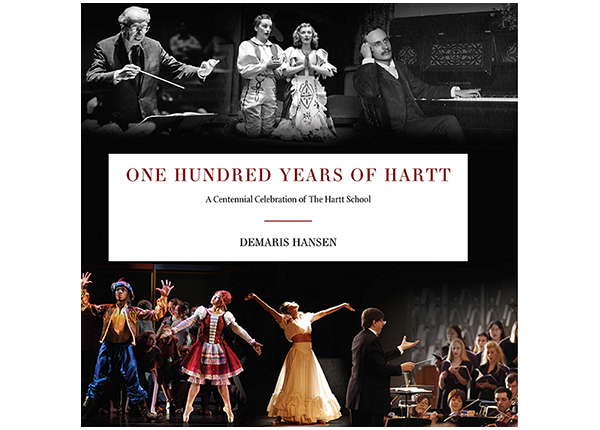 One Hundred Years of Hartt – A Centennial Celebration of The Hartt School
examines the rich history of The Hartt School.  Written by Hartt faculty member Demaris Hansen, this books looks at written communications, school newlsetters, and speeches that shaped the school into the distinguished performing arts institution it is today.
Celebrate the Past: 1900-1920
View the Hartt 100 Image Gallery
We had to build an institution to train these musicians as well-rounded persons.
Moshe Paranov, 1927, Co-founder