Our dynamic and accomplished alumni are making an impact all over the world. They are accomplished musicians, dancers, choreographers, actors, singers, educators, technicians, and arts administrators who have earned awards and acclaim in their respective fields.
Music Education Alumni Support Group
Hartt faculty members Glen Adsit and Warren Haston are interested in creating the Hartt Music Education Alumni Support Group.  The vision is for the group to meet a few times a year and serve as a network of support for one another. Check back later for more details.
Alumni News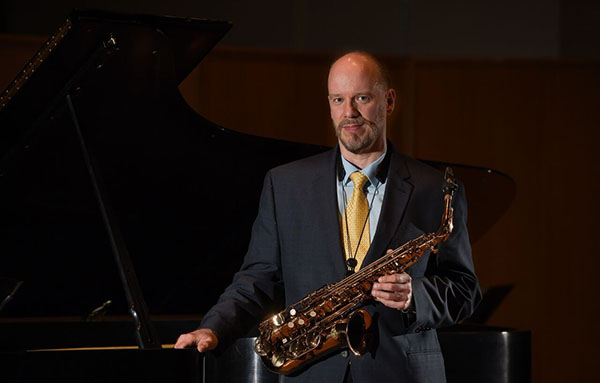 Greg Banaszak Awarded the 2021 Hartt Alumni Award 
Hartt alumnus Gregory J. Banaszak '88 is the recipient of the 2021 Hartt Alumni Award. Banaszak was presented with this award during the 2021 Hartt Dean's Convocation on Friday, Aug. 27, 2021. Following the Hartt Dean's Convocation, Banaszak gave  a masterclass with Hartt saxophone students.
As one of today's leading saxophonists and one of the few saxophonists active in both the classical and jazz mediums, Banaszak has performed as a soloist at concert halls throughout the United States and the world.
In addition to performing, Banaszak has an established career as an educator and takes great pride in educating the future generation of world class saxophonists and young artists. Banaszak's former students hold university positions in administrations, instrumental faculty, and various ensembles from orchestral to commercial groups throughout the United States and abroad. 
As a member of the National Academy of Arts and Sciences, Banaszak is a voting member for the annual Grammy Awards ceremony. He serves on the faculties of the Cleveland Institute of Music, Case Western Reserve University, and is the Artistic Director at Lutheran West High School.  He is a Vandoren Performing Artist, Selmer Saxophone clinician, and Rovner Products consultant. 
Mikaela Papasodero
BFA, Dance Performance, 2019
Mikaela's senior piece, Spectrum,  has since been performed at the Ailey Citigroup Theater, the Boston Contemporary Dance Festival, and the Versatility Dance Festival. She was also recently asked to perform the work for a show at RIOULT Dance Center, where she was able to present alongside artists such as Jenn Freeman, Maleek Washington, Jon Lehrer, Pascal Rioult, and Hannah Cullen.
Mikaela currently works for two professional dance companies in NYC: Amirov Dance Theater and Rioult Repertory Project. She also enjoys traveling all over the United States to perform and guest teach. Learn more about Mikaela's Hartt experience.
I was extremely close with my class, and still talk to all of them everyday. They're my family, and they always will be.
I firmly believe that my time at The Hartt School laid the musical foundation that I rely on every time I step on stage to perform, and it's because of this remarkable foundation that I am able to stand so tall today.
Ryan Speedo Green '08, World Renowned Bass Baritone
Nicole Arruda
BA in Performing Arts Management, 2019
After landing an internship at the artist management company, Triple 8 Management, Nicole secured her current full time position with AGD Entertainment in the Zero to Sixty artist development program– a curriculum based day-to-day management program that provides education, mentorship, and support services for developing artists. Learn more about Nicole's Hartt experience.
Lean on a small, tight-knit family like the PAM program and it's professors and maximize every connection it gives you. Trust me, that [program] ended up making me stand out...because it gave me a deeper, more personal, and different look at the industry.
The Hartt Alumni Award
Since 1959, The Hartt School has recognized an outstanding alumnus/alumna with the Hartt Alumni Award.
2020 – Gwyneth Walker M.M. '70, D.M.A. '77
2019 – David Lazaar Katz '77, AD'84, M'89; Orin Wolf '01
2018 – Shane Shanahan '98 
2017 – Martha Summa-Chadwick '83
2016 – Jimmy Greene '97
2015 – Phillip Boykin '95
2014 – Ed Alton '81