The Anchor Award, the University of Hartford Alumni Association's most prestigious award, is presented each Hawktober Weekend. The awards were established to recognize alumni who have distinguished themselves by achieving the highest levels of professional and community accomplishments. 
We are now accepting 2022 Anchor Awards nominations. Our Alumni Board of Directors will be collecting nominations until February 1, 2022. 
2021 Anchor Award Recipients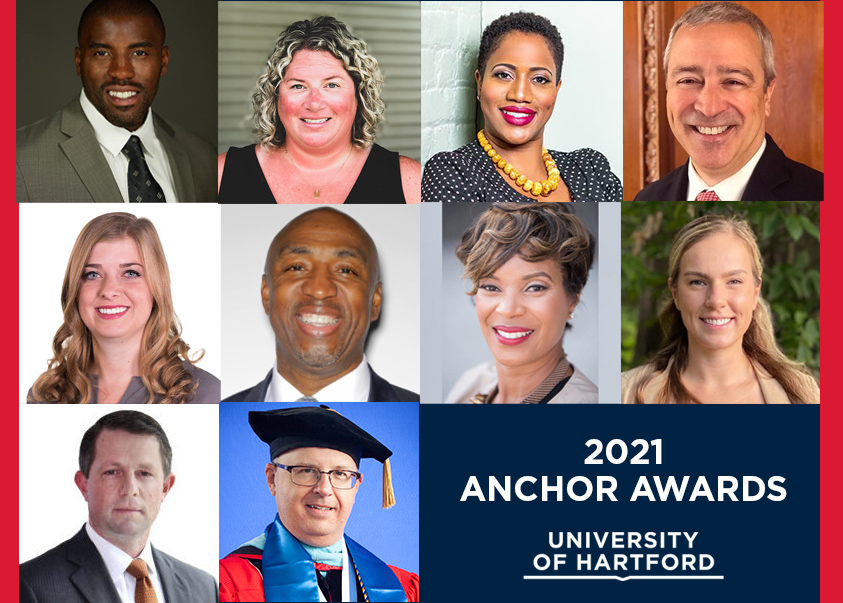 Recipients of the 2021 Anchor Awards were honored on Thursday, Oct. 14 during Hawktober RE:Connect. See 2021 recipients below:
The University of Hartford Anchor Awards recognizes outstanding, accomplished alumni in the following categories:
Distinguished Alum:
Awarded annually to an alum who embodies the highest caliber of personal and professional accomplishments, strength of character, and representation of our University values.
Outstanding Alum: Exceptional Early Career Professional
Recognizes an alum whose demonstrated exceptional early career success and future potential.
Outstanding Alum: Exceptional Professional Success
Recognizes an alum whose career accomplishments are exceptional.
Outstanding Alum: Impact on Social Responsibility and Civic Engagement
Awarded to an alum whose professional success is rooted in bettering community and has made significant and notable contributions in this space.
Outstanding Alum: Impact on the University of Hartford Anchor Award
Awarded to an alum who has had a remarkable impact on the University through their philanthropic support and/or service.
Recipients of the 2020 Anchor Awards were honored on Saturday, Oct. 17 during Hawktober: Stay-at-Home-Coming. See 2020 recipients below:
2020 Anchor Award Virtual Ceremony 
Note: Technical issues during the event interfered with screen sharing and speaker views.