"I COULDN'T IMAGINE A BETTER COLLEGE EXPERIENCE, SO I GIVE BACK TO ENSURE THAT UNDERGRADS CONTINUE TO HAVE THE SAME EXPERIENCES THAT I DID AND TO KEEP THE TRADITIONS ALIVE."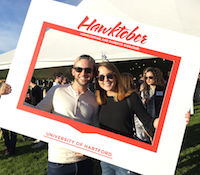 Garrett Young, a 2013 graduate of the College of Engineering, Technology, and Architecture, came to UHart to pursue a career in architectural engineering. From his education to the people he's met along the way, UHart was truly a transformative experience for Young, leading him to a fulfilling career and a tight network of lifelong friends.
Name the three best things about UHart.
1. The people. I never imagined that I would find a core group that I would end up considering my lifelong friends. These friends you make during college will stand by you through the best and worst of times. 
2. Class sizes. I had great communication with my professors. I never felt like I was a number as I may have felt at a larger school. It was helpful being able to know you could go to them and ask for help because they knew you and your work.
3. The organizations and community. There is ALWAYS something happening on campus, which gives you no excuse to say you have nothing to do. You will always feel welcome as there is an organization at UHart for everyone.
What is your favorite UHart tradition?
Spring Fling! It's my birthday month, the weather begins to get warmer, and it's held just before the most stressful time of the year—finals. It's a great reward for the many hours and late nights spent in the studio, and a great way to interact and have fun with your friends.
Did you have any favorite professors or mentors who helped shape your UHart experience?
There were three extremely impactful people during my time at UHart
1. My studio professor for four semesters, Rebecca Toscano-Moss (retired CETA faculty), taught me how to see things from different perspectives, bring my visions to the drawing board, and push my abilities to be more creative.
2. My "campus job-boss," Eleanor McDermott (retired), who hired me last semester senior year in the Residential Life office and rushed me into temporary housing when my bedroom ceiling was leaking in 8 different spots after a big snow storm.
3. My Red Cap mentor, Caitlin Blauvelt '13, who I call my "Big," inspired me to be nothing but myself and was always there for me when I needed it the most.
Was there a defining moment at UHart that led you on the path you're on today?

Joining Red Caps may have been the best decision I ever made throughout my time at UHart. I was able to connect with fantastic people from all backgrounds who allowed me to be myself and encouraged me to reach my next goals. I learned a lot about myself, friendships, relationships, and leadership skills. I may have been great at "mingling," but maybe not so much on how to be less awkward. If it wasn't for a former Red Cap, I wouldn't be in the job I have today!

Many alumni choose to stay engaged with UHart after graduation. What inspires you to give back and stay connected?
I couldn't image a better college experience, so I give back to ensure that undergrads continue to have the same experiences that I did and to keep the traditions alive.

With UHart friends for the Diabetes Walk, November 2017.
 
What advice do you have for current students and fellow young alumni?
Remember that the stress will all be worth it in the end. I know late nights working on projects and papers can sometimes feel like the ultimate "expectation to fail." Write the paper as if you're the reader, produce and present your project as if you're the listener. Make sure things make sense to you so it makes sense to everyone else!
Fight the nerves to break out and do something you typically wouldn't do. Join an organization, become an RA, get a job at the University. Even a simple hello to a stranger—they could end up being your life-long best friend. You'll look back and regret it if you don't!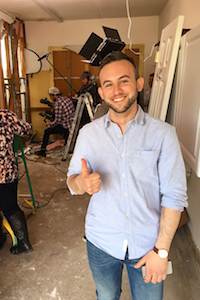 Tell us more about yourself:
I grew up about 25 miles north of Boston and moved to Fairfield County six months after graduation to begin my architectural career. Last year, I was on a DIY Network episode where I redesigned my master bedroom suite. Now my career focus is solely on interior architecture and design. Outside of the office, I enjoy traveling, hiking, and spending time with my partner and two puppies.
Before and after photos of his redesign: