BEING ASKED TO WORK ON THE MAGAZINE FOR MY OWN ALMA MATER WAS A DREAM ASSIGNMENT BECAUSE I KNOW THIS PLACE. I HONED MY SKILLS HERE. I FOUND MY VOICE HERE.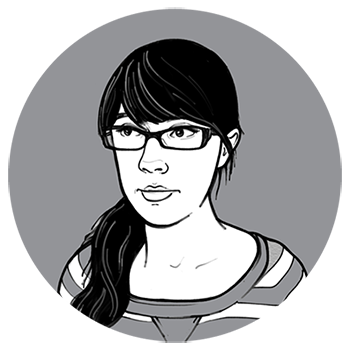 You may not know Lillianna Pereira '02 by name just yet but everyone in the University of Hartford community has seen the work of this talented designer and artist. The University launched the new H magazine which arrived in everyone's mailboxes this spring—designed cover to cover by Lillianna. It was at the Hartford Art School where she discovered her love of book design and since graduating in 2002 with a BFA in visual communication design, Lillianna has enjoyed a busy and successful career as a designer and proprietor of Aldeia Design.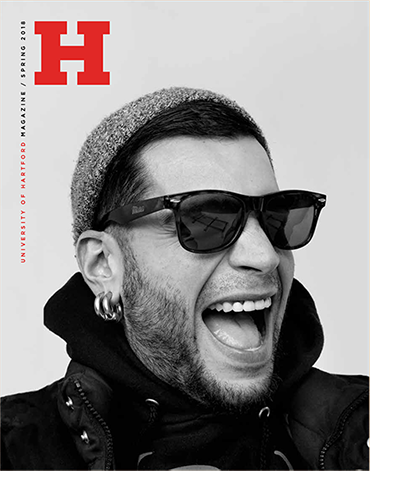 What was the most gratifying part of helping to create a new chapter in the evolution of UHart's new magazine?

I'm such a magazine nerd and I am lucky enough to get to design magazines for a living. Being asked to work on the magazine for my own alma mater was a dream assignment because I know this place. I honed my skills here. I found my voice here. It's important to me to have others see the good work and stories coming out of UHart.
What did you learn about the University that you didn't know before taking on this project?
Despite how different the University looks now from the time I was a student, the community and the important stuff that made my experience so positive remains the same.
Did you have a favorite professor who helped shape your UHart experience?
I had a lot of wonderful professors here. Especially in the art school. My design professors (Deb Kline, Mark Snyder, and John Nordyke) were all really great and all helped me in different ways, even after graduating. But there was one professor who really challenged me and taught me how to stand up and speak about my work and that was Nancy Wynn. Being an introvert, I am not much of a public speaker, but in art school you have to be able to talk about your work and the work of others. All professors made us do it, but Nancy wouldn't't't let us get away with any slack and that sort of challenge really made me a more confident and thoughtful designer.
Was there a defining moment at Uhart that led you on the path to where you are today?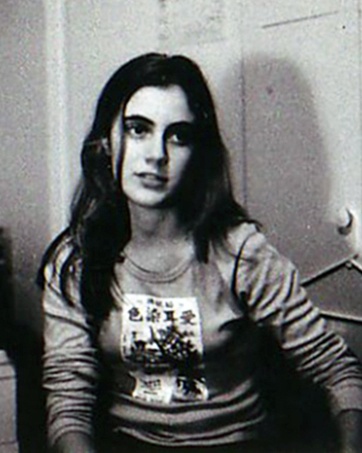 I would say one of many defining moments was my senior project. I chose to design books on Greek mythology which was something I had just started getting into. For the books, I wanted to create compelling images but illustration was never my strong suit, so I started making collages. I immediately fell in love with the medium and continued doing mythology-based collage for years afterward. My collage work went on to be exhibited in different art shows and even in some collage books. I had no idea I had this fine art side in me until that final senior project. The book design experience led me seamlessly into my magazine design career. These days, my design business doesn't allow a lot of time for personal collage work but I know I will come back to it.
Of all the class you took as a student, what is the one class you would recommend as a must-do, life-changing course?
I'm not sure how life-changing it would be for others, but for me, lithography class (with Fred Wessel) taught me to love process. I've mentioned before that I'm not the best illustrator but I had a lot of fun in lithography, making a drawing, and then praying to the printmaking gods that I wouldn't't't mess it all up when it came time to printing it. It was just so different than design classes. Lithography was old school: stone, oil, water, buffing, and printing. I loved that class and it led me to take a few printmaking classes after college.
What advice would you give to current students and young alumni?
Don't give up and don't be afraid of failing. The ability to succeed is really just the ability to fail and continue.
More about Lillianna:
Lillianna (Lilly) Pereira is a designer, artist, and creative director who specializes in print communications for education. She worked for 10 years at a small branding and design firm before opening her own design studio, Aldeia Design, in 2012. Many of her projects have won awards over the years, including recognition from the Society of Publication Designers, Ad Club of Western Massachusetts, and Council for the Advancement and Support of Education (CASE). Her collage work has been  included in several exhibitions within the United States and beyond, as well as being featured in Cutting Edge: Contemporary Collage by Robert Klanten, Hendrik Hellige, and James Gallagher; Collage: Contemporary Artists Hunt and Gather, Cut and Paste, Mash Up and Transform by Danielle Krysa; and Soul Pancake: Chew on Life's Big Questions by Rainn Wilson.
Lillianna Pereira, Aldeia Design
© Lillianna Pereira, Aldeia Design
Lillianna Pereira, Aldeia Design
Lillianna Pereira, Aldeia Design
Lillianna Pereira, Aldeia Design
Lillianna Pereira, Aldeia Design
Lillianna Pereira, Aldeia Design
Lillianna Pereira, Aldeia Design
Lillianna Pereira, Aldeia Design
Lillianna Pereira, Aldeia Design
Lillianna Pereira, Aldeia Design
Lillianna Pereira, Aldeia Design
Lillianna Pereira, Aldeia Design