From Best Friends to Podcast Hosts
3Peat Podcast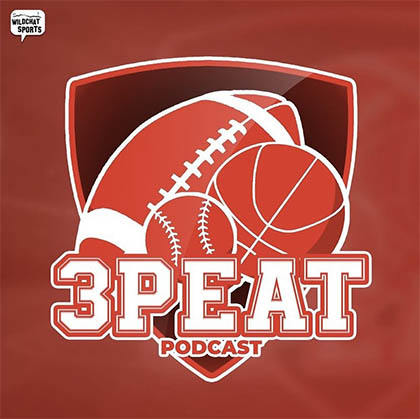 Tell us about your podcast.
The 3Peat Podcast is a sports podcast covering all things sports. Our topics can range from a recap of a previous week in any of the major leagues, to breaking news, to debating on a controversial topic in the world of sports. The 4 of us, Josh Fromowitz '21, Alex Kassel '21, Steven Bonazzo '22, and Tj Hummel '21, are all graduates of the School of Communication with bachelor's degrees in Digital Media and Journalism. Scattered throughout the tri-state area, we do the show via Zoom as an outlet for our passion for sports, while keeping our feet wet in an industry that we all want to pursue down the road.
What made you start this podcast?
In the spring semester of 2020, Josh, Steve and Alex took Intro to Radio and Audio and Sports Beat with Professor Abe Hefter. Each class we were split into podcast groups and spent time in the podcast studio, so it felt so natural to all of us. As part of the courses, we got a chance to be reporters for the Hartford Wolfpack. Then the pandemic happened, and our once in a lifetime opportunity to cover a professional sports team was gone. Instead, the 3 of us combined our sports knowledge and the skills learned from class to create the 3Peat Podcast. After 2 years and 6 seasons, we are still producing weekly episodes.
Why should people listen to your podcast?
We have had numerous high-profile guests come on our show. Some of these guests include David Canter, an NFL agent, John Mosley, head basketball coach on Netflix's hit series Last Chance U Basketball, and Alan Hahn, an analyst for MSG Network, as well as a host on an ESPN radio show. We have people from all different backgrounds in sports share their stories and experiences which adds more variety to our show. Not only are we all co-hosts, but we are all very close friends. It sounds natural when we record because it feels like were just hanging out talking about sports.
Where can people listen to your podcast?
Our podcast can be found on Spotify, Apple Podcasts, Google Podcasts, and Anchor. 
What's the best thing about podcasting?
One of the best aspects of podcasting is being able to talk about something you're passionate about with like-minded people. We all met during our time at the University of Hartford. Having this podcast has brought us closer together as friends, as we are in constant communication outside of the show.