Owner of Naomi Jewelry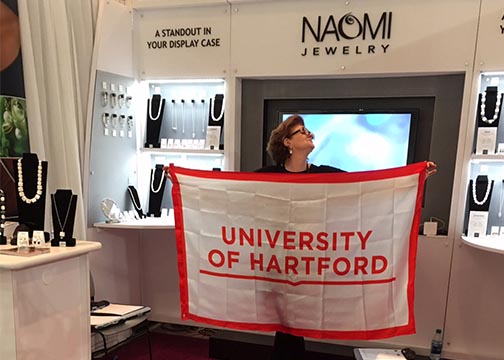 Tell us about your business?
Naomi Jewelry is my second business. My first career was advertising and traces back to my senior internship while a graphic design major at Hartford Art School. I founded Lerner & Company—a small but mighty ad agency—in 1986, and I will admit today nearly every client meeting began with a spirited discussion on jewelry and who was wearing what.
I credit that first career for my approach to creating accessories. Back then, we developed brands and messaging that made you stop and take notice. Today, I design jewelry with the same intention. Now in my second act, the same rules apply—thrill the client with creativity and guarantee quality. My pieces are timeless and accentuate a woman's individual style—they never overwhelm.
Why did you choose to open your business and why this specific type of industry?
It's clear to me that jewelry has always defined me. I love everything about it. I love discovering something new, purchasing something fabulous, and fashioning a look with something perfect. In 2003, while on vacation, I saw some silver hanging on the wall of a store and had an idea. I made that first piece and I thought I had something new to share. I took to the next, terrifying step when I showed it to a jewelry-designer friend. She thought I had something, too, and we launched Naomi Jewelry in her store three months later. The collection is now sold online at naomijewelryusa.com and at select galleries and specialty shops from New England to Minnesota.
How did your time at UHart impact your knowledge and decision around opening your own business?
My studio classes at HAS were taught by adjunct faculty who were working professionals and I learned the business of art as well as the principles of design. My internship gave me the opportunity to see, in an up close and personal way, actual applications of what was theory in the classroom. Today, it's evident my roots in graphic design have influenced my jewelry—it's still about shapes and structure, balance, and placement—all meant to enhance the subject, in this case, women with a certain style.
Do you have any advice for new entrepreneurs?
Set realistic goals, work hard to meet them, then set more. Make lists to measure your progress. Stay authentic—it matters and it shows when you are not. Find the joy in learning something new every day. Don't hesitate to reach out with questions; people are happy to talk about their experience and share their expertise. Stay connected with your UHart alumni network—we're doing amazing things.
Brushed sterling silver pillows with white coin pearls. Photograph by Nancy M.