Owner of Adosphere India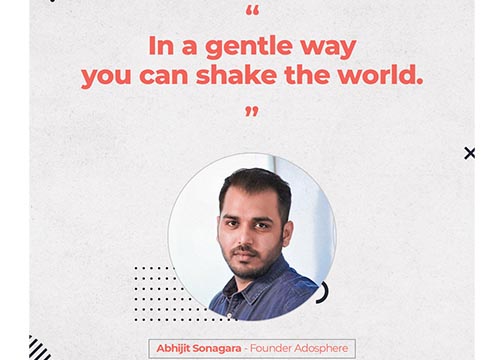 Tell us about your business?
Founded in 2015, we at Adosphere identify ourselves as a communication technology company that drives ideas for our clients and transforms businesses. Our core strength is mobilizing people online. Our expertise is in enhancing outreach programs with better strategies and simplified communication, enabling common citizens to connect and opt for those programs online and inspiring them to take action. We have executed over 1,000 campaigns for more than 100 organizations and mobilized over 200 million people from across the country. After a decade of mobilizing customers online for companies, Adosphere has now partnered with Workplace from Facebook to mobilize and transform companies into communities. Adosphere recently completed the largest deployment of technology for educators in the world with Facebook Education by upskilling 120,000 teachers through Workplace from Facebook.
Why did you choose to open your business and why this specific type of industry?
I have always been passionate about communication and advertising. Coming from a family of entrepreneurs, I always wanted to be one. I combined my passion with my tradition and ended up founding a successful communication company in India. 
How did your time at UHart impact your knowledge and decision around opening your own business?
My time at UHart has had the biggest impact in my life. The experience at UHart turned me into a leader. UHart gave me ample opportunities to lead. These experiences gave me some valuable lessons in business leadership. I had a great opportunity to be part of exchange programs in various other countries, which gave me international exposure. The very personalized approach faculty take helped me understand the fundamentals of business that I still apply at my organization. Even after a decade, one UHart professor still answers my question whenever I send him an email.
Do you have any advice for new entrepreneurs?
Always keep learning from every experience you get, improve your strategy, and try again. Patience, persistence, and hard work lead to all the answers.