Meet Emily: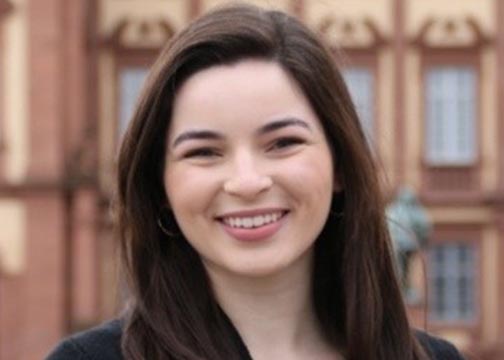 What is your job title/employer name?
I am a graduate lecturer and PhD student at the University of Mannheim in Germany. I have just finished my position as a lecturer and am spending the next few months finishing up my dissertation.  
What part of your UHart experience had the greatest impact on your career today?
The teaching and mentorship at the University of Hartford is unmatched. So many professors and staff in programs such as the Women's Advancement Initiative went above and beyond to encourage and support students. I am grateful to have had this support in years that were so critical in building my career goals, as well as their example I following in my own teaching today. 
What led you to the job or career you have and where do you hope to fly next?
I was fortunate to be a research assistant to Dr. Nicklin as an undergraduate student and be a part of the research process in psychology from start to finish. I enjoyed it so much that I decided to pursue a career in research, now in neuropsychology. I also love to teach and travel, so I am open to flying to wherever the next opportunity to continue my academic career may take me.
Hawks have an allegiance to their nesting site and return each year. If you were back on campus, what is one spot you'd have to make sure to visit?
I would definitely have to see the new-and-improved GSU!
Hawks can see eight times better than humans and dive 150 mph through the air. If you had to choose between super-human speed and super-human eyesight, which would you pick?
I would have to choose super-human eyesight. It would be interesting to see the finer details in everything, and save some money on contact lenses!