Meet Jackie: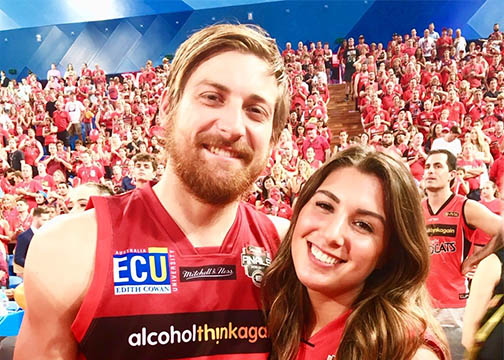 Hi, I'm Jackie Tamburri, and I graduated from the University of Hartford in 2015. I am currently working as the events manager at Volleyball Western Australia—the State Sporting Association for Volleyball in Western Australia.
What part of your UHart experience had the greatest impact on your career today? What led you to the job or career you have and where do you hope to fly next?
I can wholeheartedly say that I wouldn't be where I am right now in the world or in my career without the University of Hartford. 
My four years as a student-athlete on the Hartford Hawks Volleyball Team introduced me to people who forever changed the course of my life. My teammates became everlasting friends, so much so that three of them flew 24 hours to visit me in Perth, Western Australia during my second year living here.
Being a part of the Hartford Hawks Athletics also introduced me to the man who would eventually travel back to his home in Australia, where I would then follow him to one year after graduation. My boyfriend at Hartford, Corban Wroe '15, played on the basketball team, so when he signed a professional basketball contract after graduation to play for the Perth Wildcats in Western Australia (WA), I set off to move halfway across the world for a new adventure. Naturally, I found myself playing competitive volleyball once again for the WA team in the Australian Volleyball League.
The connections I made through that team led me directly to a job opening at the State Sporting Association that administers all of the volleyball programs and events across Western Australia (Volleyball WA). I've been in Perth for four years now, and will celebrate my three-year work anniversary with Volleyball WA this December.  My story is a constant reminder for me that everything in life is connected and each opportunity you take will lead you to new opportunities. Corban and I will eventually find our way back to the U.S. for our next adventure in life and our careers. 
Hawks have an allegiance to their nesting site and return each year. If you were back on campus, what is one spot you'd have to make sure to visit? 
Every time I make it back on campus I always make a visit to the volleyball gym and the courtyard of the village apartment that the volleyball girls have been living in and passing on for many years now. Those were the places I spent most of my time on campus, so visiting there always brings back the memories. 
Hawks can see eight times better than humans and dive 150 mph through the air. If you had to choose between super-human speed and super-human eyesight, which would you pick? 
Definitely super human speed so I could travel around the world to see whoever and whatever I wanted, whenever I wanted.