Meet Jimmy: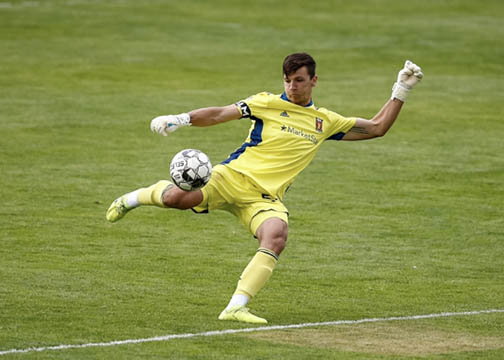 What is your job title/employer name?
I am a professional goalkeeper for the Real Monarchs (in the Real Salt Lake Organization)  
What part of your UHart experience had the greatest impact on your career today?
In my junior year, the team struggled and it was a huge challenge to find a way to succeed when things weren't going our way. The experiences I had from the time that season ended to the time my senior season ended certainly were the most influential events at Hartford for me. Bouncing back and re-establishing ourselves as a team by making an America East Championship appearance, continuing to focus in the classroom, and finding a solutions in each aspect of the student-athlete life has allowed me to find success in my current stage of life. 
What led you to the job or career you have and where do you hope to fly next?
The Men's Soccer Program is the main contributor to where I am today. Every teammate I've had, Coach Poitras, Coach Kulas and the other coaches I've worked with, they all provided a great environment where I could thrive and improve day in and day out. The culture of Hartford Athletics helped me in my athletic development but also in my development as a leader and teammate. The team was always family and we had each other's backs and they helped me raise my level to get me to the professional level. 
Hawks have an allegiance to their nesting site and return each year. If you were back on campus, what is one spot you'd have to make sure to visit?
The Zook/Sports Center. Whenever I'm back on campus I want to make sure I get the chance to see all the student-athletes training or playing. Hartford Athletics is a huge part of who I am and I'll always be a proud supporter of all the teams and athletes that represent the Hawks. 
Hawks can see eight times better than humans and dive 150 mph through the air. If you had to choose between super-human speed and super-human eyesight, which would you pick?
100% super-human speed. Super-human speed would definitely be helpful in my current career, but it would make every other aspect of life a bit easier. Having that speed would give you so much more time to make sure you can get everything done and take your production to the max.