Meet Josephine: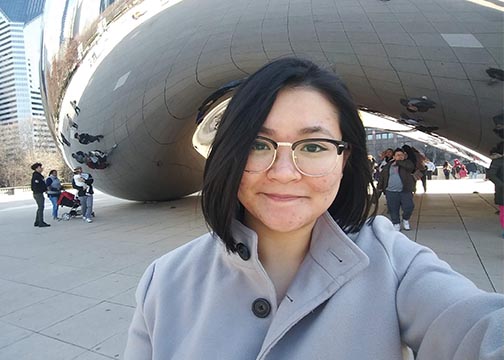 What is your job title/employer name?
I'm currently employed by Raytheon as a Software Engineer in Aurora, Colorado.
What part of your UHart experience had the greatest impact on your career today?
One of the best experiences I had during my time at UHart was going to the SWE National Conference in Anaheim, Calif. last year. This was where I interviewed and got an offer for my current job. There were amazing guest speakers and presentations. In addition to that, I got to go to Disneyland for the first time with some of my best friends. I'm incredibly thankful to the faculty and staff that helped us get funding to go on this trip.
What led you to the job or career you have and where do you hope to fly next?
I have always been interested in technology and engineering. With the encouragement and support from my friends, and faculty and staff at CETA, I decided to get a double degree in electrical engineering and computer science, which I believe helped me stand out from other candidates. At the moment, I'm working on gaining more experience and building up my network in Colorado. I don't have any specific location of where I'm planning to go next, but I'll make sure to be ready when an opportunity comes.
Hawks have an allegiance to their nesting site and return each year. If you were back on campus, what is one spot you'd have to make sure to visit? 
If I were to go back to campus, I would like to visit my professors' offices. Throughout the four years at UHart, I've spent a lot of time in their offices asking questions and getting help. I'd like to visit again and have a chat with them!
Hawks can see eight times better than humans and dive 150 mph through the air. If you had to choose between super-human speed and super-human eyesight, which would you pick? 
I would choose to have super-human speed.
I've had some of the best experiences of my life while I was at UHart. I've made lifelong friends and am grateful for all the people that have helped me to grow into a better person and encouraged me to achieve more than I ever thought I could.