Owner of Circa Antiques and Collectibles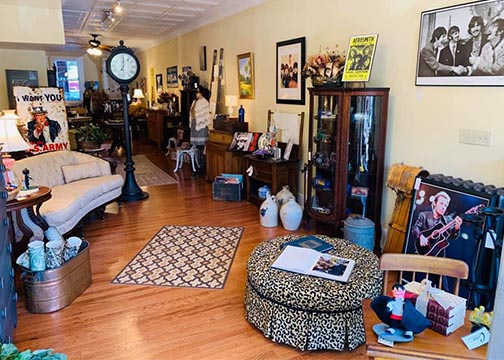 Tell us about your business?
Circa Antiques & Collectibles opened in Feb. 2020 (just in time to shut down, thank you COVID) and is located in the heart of Old Wethersfield, Conn. The shop was born from my mother's love of antiques and my desire to honor her and our shared appreciation for all things vintage. We sell antiques and collectibles, as well as vintage clothing with a little retail sprinkled in the mix. Our focus is on "smalls" or small collectible items that are sought after by folks who appreciate the history and uniqueness of vintage items—whether it be camp blanks from the 1930s, perfume bottles from the 1940s, women's hats from the 1950s, or classic vinyl albums from the 1960s or '70s. We have it all and if we don't, we have local pickers that will go out and look for it! 
Why did you choose to open your business and why this specific type of industry? 
After my mother passed away in 2018, my sister, Beth, and I were holding an estate sale at my house to liquidate items in my mother's collection. We had such a good time and met so many great people, along with making $1,500 for the three-day event, I started thinking that maybe creating a space to sell antiques and collectibles would prove to be both profitable and fun!
How did your time at UHart impact your knowledge and decision around opening your own business? 
While I attended the Hartford Art School, I worked many retail jobs to help pay for art supplies, so I had a lot of customer service experience working for small retail businesses. So, the idea of opening my own small business didn't scare me. I also felt I had a good foundation and could draw upon many of my work and life experiences to make it work—for example, dealing with various personalities while living on campus in dorm housing! That was the best experience in learning how to resolve conflicts and how to give negative feedback to someone without damaging a relationship!
Do you have any advice for new entrepreneurs? 
Expect the unexpected! After COVID, we needed to close the shop and were forced to re-evaluate our business model...constantly changing the way we interacted with customers as well as how we marketed our business and products. The year 2020 has been a challenging one, but at the same time, so rewarding. I'm glad I took the leap of faith and had the fortitude to keep this little shop alive during one of the most difficult times in our country's history. "Nothing Good Comes Easy" is what my Dad always told me when I was younger and struggling with a personal issue. So, when I'm having a difficult day, I think of him and his advice—giving me the strength to push through whatever struggle I'm facing.