Good Trouble: Mimi Gonzalez A'15 '17 M'18
"Finding equitable solutions where everyone can feel validated, seen, supported, and heard" is what "good trouble" means to me. For me personally, our nation—and our foundational institutions—was founded by cis-abled white men. "Doing the work" that we're doing now is to recognize the fact that people of color, people in the LGBTQ community, and people of different abilities were not in mind when our nation was created. Our work is to recreate an equitable society so people can all feel included, so people can all have a place/space to feel.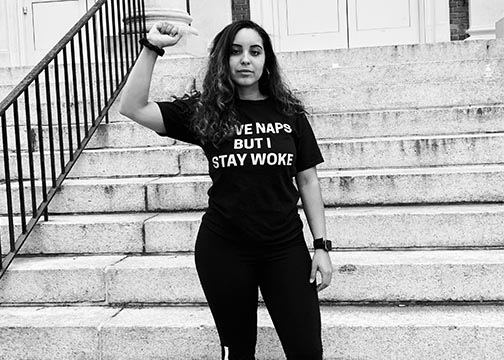 I chose UHart because it was close to home; I was born and raised in Hartford. I had a lot of experience with loss and grief and wanted to be close to my family—my two younger sisters went to the elementary school on campus and I could bring them to my dorm or the Commons. I would not be who I am, and I would not have gotten as far as I have, without UHart. I had a unique college experience, being a resident assistant, taking 21 credits some semesters, and being in the accelerated Masters in Organizational Psychology program as an undergrad, but I loved the work I was doing so it didn't feel like too much work.
While at UHart, I felt that the dominant student group was white and I was huddled together with the other students of color for community. Seeing this made me want to bring people together. I started organizing open mics to focus on sensitive topics usually deemed as taboo. The first event I hosted was focused on suicide prevention. I thought, "Here I am, a little first-year student just trying to navigate my world," but the event was successful, with more than 75 students in attendance, and the event received a Best Program of the Year award in 2014. I later worked on another open mic competition for racial justice, which I co-hosted with Bo-Edward Lawrence '17, that went really well. 
After I graduated, a professor encouraged me to apply to be part of the Obama Foundation Community Leadership Program, a six-month intensive program around community organizing, design thinking, and developing ways to make local communities better. I couldn't believe I was selected from thousands of applicants and got to meet civil rights activists along with people in local communities doing awesome work. This really confirmed that I could do whatever I wanted in this life. The world needs you and you need to do the work you're called upon to do.
I got a call that I was selected to go to the Obama Foundation Summit in Chicago, and I was elated to be able to go to the conference. While in Chicago, a day before the conference, I found out I was going to be on stage with President Obama and actress Yara Shahidi, along with other young Obama Foundation program participants. Panelists included a young woman from Cameroon, Africa, a young woman from Syria, a young man from New York, and me, a young woman from Hartford, Connecticut. Backstage at the event, I was fangirling but trying to play it cool as I was surrounded by film moguls and civil rights activists. I thought, "If I can accomplish this at 24...this is not the last time I'll do something of grandeur in my life."
After my Obama program experience, I felt a gravitational pull to do something. I've been working with several social justice community organizing groups and this summer I organized a protest that reached more than 3,000 people in West Hartford, Connecticut. But for me, it doesn't matter how many people are there, I just want our community to feel heard and have its voices amplified. The events of this summer, like the tragic deaths of Breonna Taylor and George Floyd, have been going on for years and are nothing new. I caution people to remember that just because it was caught on video now doesn't mean that it is new.
As tensions around the country and in Connecticut grew, I was tired of division and decided to create a social justice, music, and arts festival to provide unity for the community as well as provide a safe space for youth to get involved. CT Peace Fest was born from this feeling and comprises pop-ups as well as an annual festival. I am really interested in healing justice work, creating art and inclusive spaces that focus on bringing people together. To learn more about CT Peace Fest, or if you'd like your organization to have a table, or are interested in volunteering, please follow @ctpeacefest on Instagram.
Gonzalez on stage with President Obama, actress Yara Shahidi, and other young Obama Foundation program participants
Protest in West Hartford summer 2020
Protest in West Hartford summer 2020
Gonzalez and friends at a CT Fest pop up in Hartford