President of Green Earth Roofing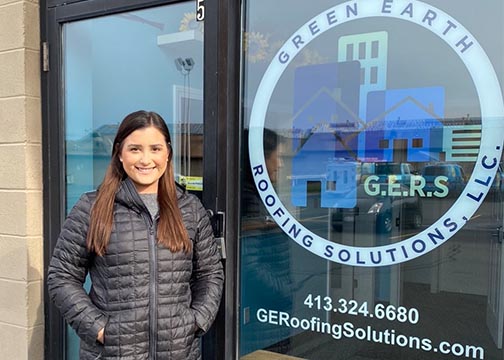 Tell us about your business?
Green Earth Roofing Solutions was founded in 2016 and is a full-service construction company specializing in commercial, industrial, and residential roofing; solar energy solutions; general construction; and environmental remediation. All of our services focus around sustainability and energy efficiency. 
Why did you choose to open your business and why this specific type of industry?
After working in the renewable energy field for several years, it was apparent that there was an opportunity to go into the roofing industry. Much of the solar being installed on rooftops needed some sort of repair or replacement, and oftentimes, the cost of the repairs or replacement was either out of budget or conflicted with scheduling. Green Earth Roofing Solutions was the solution. We are able to offer roofing, or other construction services, in conjunction with solar or other energy efficiency upgrades, for the right price, at the right time.
How did your time at UHart impact your knowledge and decision around opening your own business?
The curriculum at UHart, specifically in the Barney School of Business, definitely impacted my knowledge and decision around opening up Green Earth Roofing Solutions. The diverse courses prepared me for business basics—such as marketing and accounting. My marketing and advertising classes helped me learn how to highlight the features and benefits of my business and generate sales. 
Do you have any advice for new entrepreneurs?
Own it. Go ahead and just do it. There is plenty of opportunity for everyone, if you just do it. Today, the only entrance barrier for those looking to start their own business is a reluctance to do so. Build yourself a team of good people. Be the answer to a problem someone has.