Do you have news to share?
Maybe you recently got married or had a baby, celebrated a promotion or professional milestone, or had a gathering with some UHart friends. Whatever your news may be, share your UHart pride with your fellow alumni by submitting a class note, tagging us on social media, or using the hashtag #UHartAlumni. Select news and posts may be published in a future issue of H magazine.
1970–79
1970 | Gwyneth Walker
Composer Gwyneth Walker's (M Hartt) hymn, "Nearer My God To Thee" was performed by the Calico Winds wind quintet at the Glendale City Church in Glendale, Calif. Walker's music is widely performed and beloved for its energy, beauty, reverence, drama, and humor. Now retired from teaching at Oberlin Conservatory, Walker resides in her hometown of New Canaan, Conn
1972 | Gerald Bedrin and Diane Slater Bedrin
Gerald Bedrin (Barney) and Diane Slater Bedrin (ENHP) celebrated 50 years of marriage in June 2022.




1979 | Bernard Kavalar
Michael Bolton Charities (MBC), which provides assistance to women and children impacted by the effects of domestic violence. He currently serves as managing principal of Hartford-based public relations consulting firm Express Strategies. Learn more about Kavaler.
1980–89
1980 | Mark Bonney
Mark Bonney (M Barney) currently serves as president and CEO of On Board Advisors, LLC, a financial and strategic advisory firm. He has over 35 years of experience as a CEO, CFO, and board member in middle market, high technology companies, both in the United States and abroad.
1985 | Joseph Olzacki
Joseph Olzacki (A&S, '86 Hartt, M'94 Hartt, D'01 ENHP) is an award-winning educator with more than 25 years in education, administration, and program leadership. He was recently interviewed about championing Connecticut's Holocaust and Genocide Education and Awareness Act and the impact this legislation has had on teaching children tolerance. Read more about Olzacki.
1986 | Steven Minkler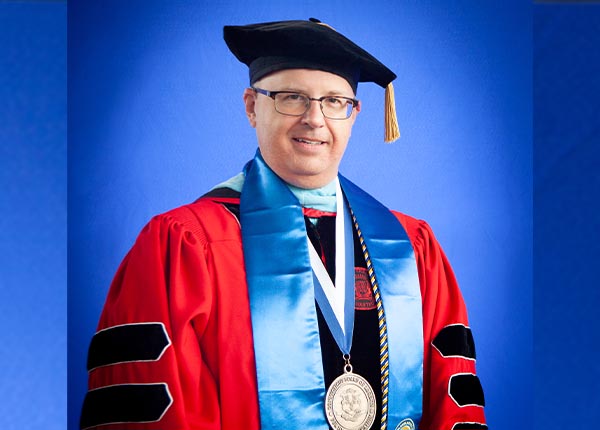 Steven Minkler ('86, M'00 A&S, D'08 ENHP) recently accepted the position of associate vice president of academic affairs at Central Connecticut State University. He has served as Middlesex Community College's chief executive officer since 2017. Read more about Minkler.



1986 | Tim Petrovic
Golfer Tim Petrovic (A&S) went pro in 1988 and is a member of UHart's Hall of Fame. Widely recognized as one of the best putters in professional golf, Petrovic was the #1 putter on PGA TOUR Champions in 2021 and is currently ranked #1 on the PGA TOUR Champions. Petrovic also serves as a brand ambassador for ARGOLF. Read more about Petrovic.



1990–99
1990 | Robert Kaiden
Robert Kaiden (M Barney) recently joined the board of directors at Away Travel. Kaiden is Twitter's chief accounting officer, where he's served for over six years. Previous to this Kaiden worked as an audit partner at Deloitte for 26 years. Read more about Kaiden.
1992 | Erin Proctor
Erin Proctor (ENHP) is a playwright, actor, and dramaturg based in New York City. The Saugerties' Round the Bend Theatre recently staged a one-night-only reading of Proctor's play, "Alternative Canon: A Sacreligous Romp" at the Bridge Street Theatre in Catskill, NY. Read more about Proctor.
1991 | John Masselli
John Masselli (M Barney), the Haskell Taylor Professor of Taxation i at Texas Tech University was recently honored with a 2022 Chancellor's Council Distinguished Teaching Award. This recognizes faculty who exemplify teaching or research excellence and who are noted as leaders in their fields. Read more about Masselli.


1992 | Girish Rishi
Girish Rishi (M Barney) has been appointed CEO of Cognite, a global industrial SaaS company. He most recently served as CEO of Blue Yonder, a US-based global software developer of supply chain management solutions, and has held executive leadership positions with Tyco, Motorola, and Symbol Technologies. Read more about Rishi.
1994 | Jorge Gomez Agudelo
Jorge Gomez Agudelo (M Barney) has joined Moderna's leadership team as chief financial officer. He most recently served as executive vice president & CFO at Dentsply Sirona, Inc., where he led global finance and Sirona's sustainability and ESG programs. Gomez has also held leadership positions at Cardinal Health and General Motors. Read more about Gomez.
1994 | A.J. Vittone
A.J. Vittone (A&S) is an executive producer on Lies My Sister Told Me, a thriller film that premiered on Lifetime Network. Read more about the film.
1996 | Tracy Stachniak
Tracy Stachniak (Barney) was promoted to vice president of human resources at Toyota Material Handling, where she most recently held the role of director of human resources and training and development.
1999 | Chirag Bhakta
Designer and printmaker Chirag Bhakta (HAS) exhibited two collections at Ithaca College's Handwerker Gallery this spring. "Why You So Negative?" highlights the commercialization of yoga in western culture through flyers, magazines and other artifacts dating back to the 1950s. "Visions and Nightmares," chronicles black cultural empowerment through the story of New York rapper Lawrence Parker, better known as KRS-One. Learn more about Bhakta.
2000–09
2000 | Javier Colon

Vocalist and songwriter Javier Colon (Hartt) was one 10 social media influencers selected to write a theme song for the HGTV show, 100 Day Dream Home. Colon is best known for being the Season 1 winner of NBC's The Voice. Learn more about the contest.
2007 | Fiona Chinkan
Visual artist Fiona Chinkan (HAS) recently worked with the Arts Council of Princeton, New Jersey to create a playful community mural titled Superbloom, which can be seen on Spring Street. Chinkan pursued a career in graphic design and worked as a digital art director in the fashion industry for 10 years before deciding to pursue her art full-time. Read more about Chinkan.
2007 | Phil Salathé
Phil Salathé (M Hartt) recently released Pink Floyd: BBC Radio 1967-1971, published in hardcover and paperback by The Bee Smart Book Co. in Rotterdam, Netherlands. Co-authored with English researcher Ian Priston, this book details Pink Floyd's appearances on the BBC during their early, experimental years prior to The Dark Side of the Moon, and contains a wealth of new information about this pivotal era in the band's history.
2008 | Alex Finkelman
Alex Finkelman (Barney) announced his candidacy for Rhode Island State Representative in District 74, which represents Jamestown and parts of Middletown. Finkleman currently serves as president of The Egis Group in Warwick, RI, which specializes in insurance, consulting, and employee benefits. Read more about Finkelman.
2009 | Sara Duchovnay
Soprano Sara Duchovnay (Hartt) recently performed Beethoven's Missa Solemnis as guest artist with the Madison Symphony Orchestra. Notable credits from her career include Zerlina in Don Giovanni with Opera Santa Barbara; Nanetta in Falstaff and Stella in A Streetcar Named Desire with Opera San Jose; Jemmy in Guillaume Tell and Blondchen in Die Entführung aus dem Serail with the Southern Illinois Music Festival; and Susanna in Le nozze di Figaro with Pacific Opera Project. Read more about Duchovnay.
2009 | Lee Hagon-Kerr
Pianist Lee Hagon-Kerr (M Hartt) performs internationally and promotes social justice through benefit concerts and as co-founder of the Springfield (Mass) Unity Festival. She also released an album as part of the piano duo, BeloSom; directs the high school vocal ensembles at The Baldwin School in Bryn Mawr; and serves as music director at Wallingford Presbyterian Church. Read more about Hagon-Kerr.
2010–19
2010 | Nolan Stoltz

Composer Nolan Stoltz (D Hartt) is currently traveling the world-famous Route 66 seeking inspiration for a new eight-movement masterpiece called "Route 66 Suite." He has been going back and forth between Chicago and Los Angeles for nearly a year during his sabbatical from teaching at the University of South Carolina-Uplands. Read more about Stoltz.
2011 | Nathan Nokes
Nathan Nokes (M Hartt) is one of 19 composers being featured in the 2022 EarShot Readings, a nationwide composer development program that provides critical exposure to the country's most promising new composers. Nokes is currently a lecturer in composition and technology at the University of Wisconsin Milwaukee. Read more about Nokes.
2015 | Kathryn Gawrych 
Kathryn Gawrych (Barney, M'16 Barney) was recognized by the Freeport Chamber of Commerce as their 2022 Business Person of the Year. Gawrych opened Freeport Ninja Academy in 2020 and in 2022 opened a second location, Smithtown Ninja Academy. 
2016 | Muhammad Malloy 
The Connecticut Society of Certified Public Accountants (CTCPA) has elected and installed its Board of Directors for the 2022-2023 activity year, including Muhammad Malloy M'16 (Barney). Malloy is a tax manager at CohnReznick LLP in Hartford.
 2017 | Jenn Nulsen
See Nancy Conforti 
2017 | Nancy Conforti 
Nancy Conforti (Hartt) and Jenn Nulson (Hartt) were sound engineers on Marian Anderson—Beyond the Music: Her Complete RCA Victor Recordings which was nominated for best historical album at the 64th annual Grammy Awards. She currently works for Swan Studios in New York City, which specializes in analog audio digitization, archiving, and remastering. Read more about Conforti. 
2017 | Darrigan DeMattos
Darrigan DeMattos (Hartt) volunteered at the Garnet Health Medical Center while in high school before working there as an intern during her time as an undergraduate at UHart. She now serves as Garnet Health's donor relations manager, creating fundraising campaigns and events for the organization. DeMattos was recently recognized in City & State's (New York) 2022 Nonprofit 40 Under 40 list. Read more about DeMattos.
2017 | Peter Inserillo
Peter Inserillo (ENHP, D'21 ENHP) is founder and owner of the new physical therapy and strength and conditioning practice, Relentless Performance in West Hartford, Conn. The practice specializes in helping athletes perform at their highest level without missing game time due to injury. Learn more about Inserillo.
2020s
 2020 | Marisa Budnick
Marisa Budnick (Hartt) was recently cast as Mom in a mystery science musical for young audiences called The Amazing Adventures of Dr. Wonderful (and Her Dog!) The production was featured in the Theatre for Young Audiences series at Playhouse on Park in West Hartford, Conn. Read more about Budnick.
2020 | Jenica Heinzelman
Photographer Jenica Heinzelman (M HAS) was a featured visiting artist at UConn's Contemporary Art Galleries. She has also been named by the British Journal of Photography for the "2021 Ones to Watch: Community" and has exhibited internationally at C/O Berlin and BFOTO Festival in Spain. Read more about Heinzelman.
Weddings and Engagements
Brianna Pacileo '18 (A&S) and Daniel Rombola '18 M'18 (Barney) were married on April 29, 2022 in Prospect, Conn.
Kristina Karlson '14 (HAS) married Jason Pelletier on September 4, 2021 on Lake Bomoseen in Bomoseen, Vermont.
Megan Johnson '14 (HAS) and Erik Sherman '15 (A&S) celebrated their marriage on October 30, 2021 at Interlaken Inn in Lakeville, Connecticut.
Morgan Askins (M'19 A&S) is engaged to Christopher Langone of Cranford, N.J. A wedding is planned for August 12, 2023 at Glenn Manor House in Portsmouth, R.I.
Babies
Ken Cikanovich '05 recently welcomed twins Maggie and Jack.
Marissa (Giammarino) Marotte '12 (A&S) and her husband Ben Marotte welcomed a daughter, Ella, on September 9, 2021.
Sara (Urato) Siddall '11 (A&S) and Ryan Siddall welcomed a baby girl, Tessa, in August 2021.
Seen on Social
@universityofhartford: Let's have another round of applause for the #UHart Class of 2022. When we look at photos from #UHartGraduation we see so much happiness, hope, pride, and yes, relief. You did it! We can't wait to see what you accomplish next. View a full album of photos using the link in our bio.
@womens_advancement: Congratulations to LEAD alumna Destiny Kirk '19! She was recently recognized as one of New York City's Power Professionals. When she was 19 years old, Destiny created her nonprofit, @destinedfor.success. The organization seeks to teach inner city youth college readiness and professional literacy skills. Destiny has made a significant impact in her field as an educator and community advocate. When asked what her best moment in business was, she shared, "I view a lot of my experiences as some of my best moments. The fact that I am able to use my voice to advocate for communities in need, and be a resource to many, is by far the best work that I do. My most recent best moment was leading and organizing a march to end gun violence in NYC with over 200 youths." She added, "My secret to success is to never give up and to release yourself from the chains of comparison. It is extremely important for us as individuals to acknowledge that we are on our own paths, and what is for us will always be for us." We appreciate you, Destiny! @universityofhartford @uhartalumni #womensupportingwomen #womensempowerment
@berna.gorgulu: Bu kız kitap bölümü yazdı!!! Hem destek olan hem de mücadele eden tüm kadınlara selam olsun Yes!! So excited to announce the first book chapter that an amazing person Kristin and I coauthored, "Democratic Possibilities of Digital Feminism: The Case of #IstanbulSozlesmesiSavesLives and #IstanbulSozlesmesi", that took part in the book series from Routledge. Working with Kristin was such instructive and joyful road that I am so so happy to take. In the chapter, we questioned if new media affordances, which are already in line with feminist values, would translate in Turkey, a country rife with institutional and mediated misogyny. Let's see the results all together