Racquel Brown Walker '05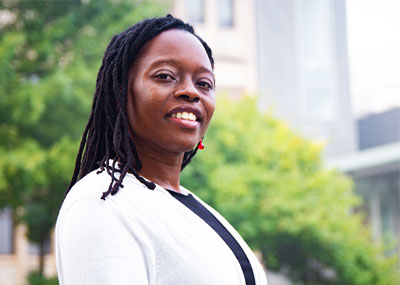 Racquel Brown Walker '05 graduated cum laude with a degree in computer engineering technology from the College of Engineering, Technology, and Architecture (CETA). She remains connected to the University in many ways—through teaching as an adjunct professor, her family and friends, and, by giving back each and every year, as a loyal member of the Rosen Society.
As a loyal donor for 11 consecutive years, what motivates you to support UHart annually?
My parents, who are Jamaican immigrants, always instilled in me the importance of obtaining a college degree. They did not have the opportunity to go to college and spent much of their time working to support our family. I support the University annually because there are individuals in similar situations that have the motivation to obtain a degree but need additional support. Thanks to the University, I had the opportunity to graduate college without a huge financial burden.
What are your three favorite things about the University?
Campus life, meeting people, and The Hartt School and Hartford Art School.
I grew up about five minutes away from the University of Hartford and decided living on campus was necessary to enjoy college life. The University and campus clubs provided a variety of engaging and interesting activities that kept me occupied outside of my academic responsibilities.
Meeting individuals of different cultures and backgrounds had a huge impact on me. I can recall the first time I ate lamb. It was prepared by my classmate and this moment encouraged me to be more open to trying foods I hadn't eaten before. I also learned different methods of communication. On campus, I met some people who preferred instant messenger, others preferred email, or a phone call. These seemingly small things prepared me for today's world where I have to communicate with people all over the world and am able to adapt to different peoples' preferred mode of communication. Once you get to know the person, it makes communicating so much easier.
In my opinion, the University has an excellent process when it comes to selecting incoming students for The Hartt School and Hartford Art School. This is because musical artists like Brandee Younger and Damian Curtis are both talented individuals that are known throughout the jazz community. The plays and the art exhibits are exceptional too; I've attended several during and after my time at the University. I also purchased a handmade ceramic cup and bowl from an art school alum.
What is your favorite memory as a student at the University?
My favorite memory as a student was my freshman year. It was the first time I was able to make decisions on my own. These responsibilities included having my first credit card, paying my own phone bill, organizing my time to complete my assignments, and finding down time to relax. It was really important to learn how to juggle responsibilities in order to progress each year.
Is there a fellow UHart community member who really made a difference in your UHart experience?
A male colleague during my time at UHart did not understand why I wanted to major in computer engineering technology. I could not forget his comment: "Why are you interested in this...I picture you as a psychologist or a nurse." This moment taught me the importance of being a role model for future female engineers. By volunteering with the National Society of Black Engineers and Society of Women Engineers, I am able to talk to young students about STEM and my journey as a student and engineer.
Overall, donors can provide a healthy, fun-filled college experience because students can focus more on their experiences and less on expenses.
Racquel Brown, '05
How do you stay connected to your UHart family?
There are several ways: I volunteer and attend special events for the University, and other connections are through colleagues from different social media outlets (Linkedln, Facebook, and Instagram). My husband is a University of Hartford graduate, too. I also have friends from UHart and two of them are godparents of my 11-year old son. As of lately, I serve as a member of the Computer and Electrical Engineering Advisory Board for CETA and work part-time as an adjunct professor.
How have you seen students impacted by donors?
Donors have impacted students in many ways. Students have less financial burden and therefore, they can focus more on their studies. They also will not have to use their energy and time to work a full or part-time job in order to cover the cost for tuition and books.
Overall, donors can provide a healthy, fun-filled college experience because students can focus more on their experiences and less on expenses.
More About Walker
After graduating from the University of Hartford, Walker earned a Master of Science in computer information technology, specializing in telecommunications, from Central Connecticut State University. Walker began her career at United Technologies Corporation (UTC) as a data center analyst, followed by a position at a UTC affiliate, the Otis Elevator Company, where she has been a staff software test engineer for the past five years. She is married with two children and enjoys photography, jazz, volunteering, traveling, and exploring new cultures and food.
Want to share why you support UHart and its students?