2021–22 Recipient of the Nancy Bergman Pantirer '77 and Vivian Bergman Scholarship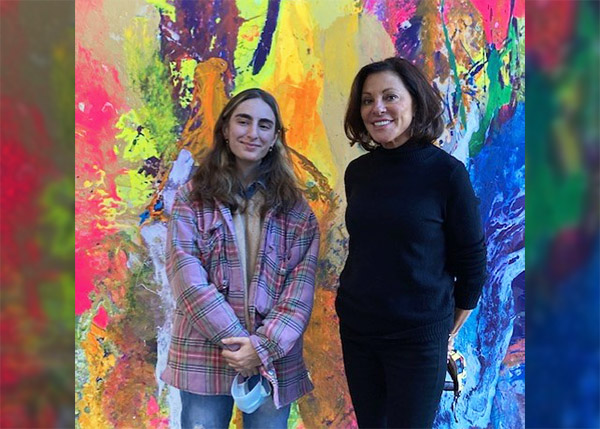 Receiving this scholarship has been so helpful to me as a student and an artist. Knowing that I can continue my education in the arts at the Hartford Art School (HAS) with the help of this scholarship is such a relief. As a student putting myself through college without financial assistance from my family, this scholarship helps give me opportunities I might not have otherwise. I'm very grateful to Nancy Pantirer, as well as her mother's organization, for helping to fund future artists like myself.
I've always been passionate about painting for as long as I can remember. Being a West Hartford native, I am lucky to have such a fantastic art school with talented professors practically in my backyard. My work is very inspired by my connection to nature and how it connects to us both in body and spirit. I often see different aspects of nature such as forests or rivers as metaphors for the human condition.
Human experience in general is also something I focus on and I like to find ways to visually express big emotions and thoughts many of us have. I think the subject matter of my work feels very vulnerable sometimes and my hope is that my work is able to resonate with audiences. If I'm able to show my paintings to different people across the world and have them think or feel something new, then I would feel accomplished as an artist.
I had the wonderful opportunity to meet Nancy in person recently. I was excited to be able to personally express my gratitude to her. I admittedly was a bit nervous to meet her, not only because she is such a noteworthy artist, but because of the extreme act of kindness she has done for me. However, the nerves went away upon seeing how down to earth and kind she is. It was so clear not only in her donation, but in her interactions with me, that she truly cares about future artists—she even wanted to see my paintings!
As an artist, and as a woman artist especially, there is something empowering about seeing people like yourself being able to succeed in life. Meeting Nancy and seeing her artwork being displayed on campus truly inspired me to continue making work so that I may be able to do the same one day. That is why receiving this scholarship from an alumna is so special—we already had the HAS connection and it gives me the hope that I could give back to my community like she has.  
Works by Mya Concepcion above, from left to right: Catharsis (2021), Isolated Yearning (2020), and Cello Player (2021).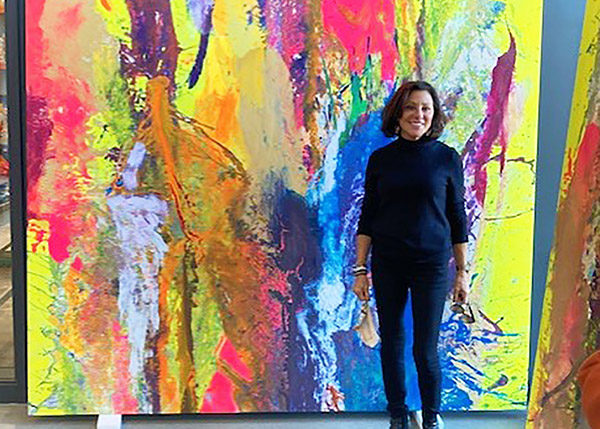 Nancy Pantirer '77 is a renowned New York City-based artist whose work is exhibited in notable collections nationally. She recently visited campus to meet with Mya and to oversee the installation of her latest gift, Radioactive, which now hangs in the new Francis X. and Nancy Hursey Center for Advanced Engineering and Health Professions.
Known for vibrant and energetic large-scale pieces, Pantirer said of this work, "Making Radioactive was an exercise in freedom and experiment with movement and color. Paul Klee famously said, 'Color is the place where our brain and the universe meet.' I think students across all fields of study can find inspiration in color and gesture, so I'm elated to see Radioactive at home in the Hursey Center."
More of her work can be seen on her website, nancybpantirer.com.