2020–21 Recipient of the Allyn Gollub PhD '62 Prosthetic and Orthotics Scholarship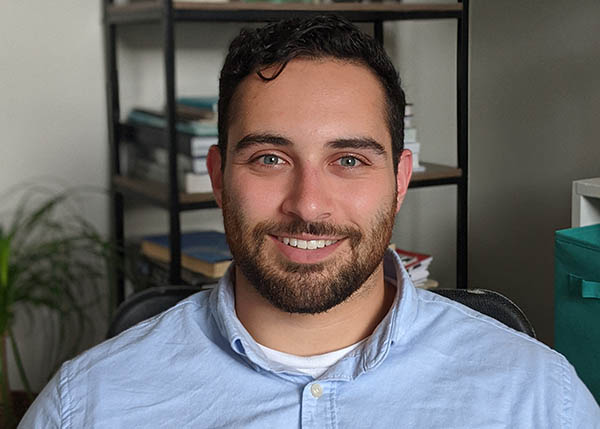 The University of Hartford's Orthotics and Prosthetics Department is a close-knit community. Last year, I had the opportunity to have a Zoom call with my scholarship donor Dr. Allyn Golub—it was nice to meet him and thank him in "virtual person."
I was pursuing school and trying to make ends meet. Then, the pandemic made it so difficult in many ways, especially financially. I was a personal trainer and a waiter, and both of these fields completely shut down. This scholarship was the aid that gave me a foundation for a level of reassurance to have financially stability to continue my program.
During the time I was working as a personal trainer, I was a junior at UConn discussing different options for my future. I then met Matthew Parente, assistant professor of prosthetics and orthotics and program director of prosthetics and orthotics rehabilitation at UHart. He took the time to discuss the entire program with me and what it would take to complete. I was intrigued and excited that this would be my career path. I liked the idea of this career being hands on—I really liked to figure out how to help people walk better and use prosthetics to help people live life to the fullest. So I enrolled to earn my master's degree and certification in prosthetics and orthotics. I definitely felt I was well informed and during the in-person to hybrid class transitions, all of our professors went above and beyond and made sure we had all the resources we needed to make it work. I strongly believe no matter how well a student learns through books, the hands-on experiences that UHart provided were the most valuable. It was a shift when I had to be more aware to ensure patient care; everything we do for the prosthetics of patients, even if it takes a little longer, can improve their experience. This place values the educational process and UHart prepared me for this.
The prosthetics program is two years here at UHart, and we have a satellite campus in Cromwell, Conn. so that we can have the resources and hands-on experiences. When not in class, we would be assigned hands-on and technical projects. We would find time as classmates to work on these, with fellow students who were ahead of and below me, and nationally accredited. Now I have made lifelong friendships. We use each other to lean on and pick each other's brains often. I still reach out to them as they are a great network.
I am currently in my 18-month combined orthotic and prosthetic residency in Richmond, Va. at the Hanger Clinic. The program has partnerships with Hanger clinics in various areas. My future plans include to continue practicing in this field, and maybe start clinic management. My dream is to become a Paralympics care provider in which I will use my previous athletic training background, my UHart education, and all of my hands-on experiences.