2020–21 Recipient of the James Randazzo '83 Endowed Scholarship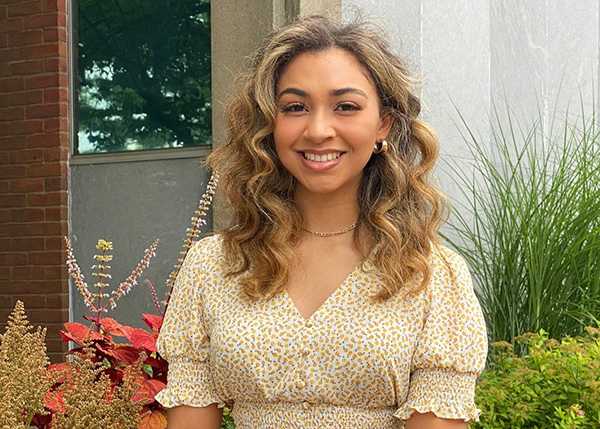 Scholarship means the most to us as students because it makes us feel a sense of community, receiving love and support from people who see potential in us. As a young adult, one of the most important things I learned is that you never really know what someone else is going through, and this kind of generosity can really provide a sense of stability for students that need it the most.
A very fond memory I have from this year, despite the new normal that came from the pandemic, was in my college chemistry course with Professor Laura Pence. Professor Pence always found a way to involve students in a more engaging class environment. I enjoy my major for many reasons, as I am set apart from my competitors. I get to be a female in power and authority because I am choosing to be a part of the engineering world that is mainly dominated by men.
With civil engineering you get to physically see how we change people's lives for the better, whether it be a way of transportation to see loved ones or just a structure that brings people joy through their admiration. It makes me realize that our own innovative creations make an impact on so many. Not everyone has the opportunity to do so within their career path. I have always found my way through mathematics and art, so this major is the best way to express myself through a mathematical, tangible, and creative way.
The COVID-19 experience as a whole has made me grateful and provided a lot of positive results at UHart. Believe it or not, it has actually shaped me to become a better student in engineering. COVID-19 as we know has been a huge challenge itself and being here at UHart on campus has made way for critical thinking, calling for immediate action and learning how to be innovative within the constraints of our circumstances. These are all skills that you need to have as anyone heading into a career such as engineering. You have to be able to move through obstacles that get into your path; it makes things interesting as well as much more difficult, however, as an engineer, you must be able to overcome insurmountable challenges.
In addition to classes, I am currently involved in the American Society of Civil Engineers, serving as the president, and in the Society of Women Engineers; I am a LEAD ambassador in the College of Engineering, Architecture, and Technology; and I work as a prep cook at Pasta Vita.
My future is exciting as I plan to take a structural career and explore opportunities.