Hillyer College to Present Outstanding Young Alumnus Award to Brandon Korn A'11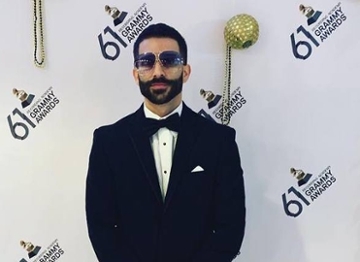 Grammy-nominated songwriter and producer to be honored October 17.
Brandon Korn A'11 will be presented with the Hillyer College 2019 Outstanding Young Alumnus Award on Thursday, Oct. 17.
Korn who goes by the professional name B Korn, is a Grammy-nominated songwriter and producer for rapper Travis Scott's Astroworld, which was nominated for Best Album in the Rap/Hip Hop category. Korn's work has also been recognized by Billboard magazine and he is a two-time BMI award winner in the R&B/Hip Hop category.
Korn's passion for creating music started at a young age. In the fifth grade, he learned the bass guitar, soon followed by the electric guitar and drums, and by the time he started seventh grade he was already in a band. After completing an Associate in Arts degree from UHart's Hillyer College in 2011, Korn went on to earn a degree in Music with a concentration in Music Production from Ramapo College of New Jersey.
Korn launched his music career when he wrote to Sean "Puff Daddy" Combs and secured an internship working at Daddy's House Recording Studio in New York City. This opportunity led to his success as a music producer and his work with major recording artists such as Chris Brown, DJ Khaled, Wiz Khalifa, French Montana, and Lil' Kim. He now gives back to others by sponsoring recording production workshops for young musicians.