Hawk Hunt Business Pitch Competition on April 15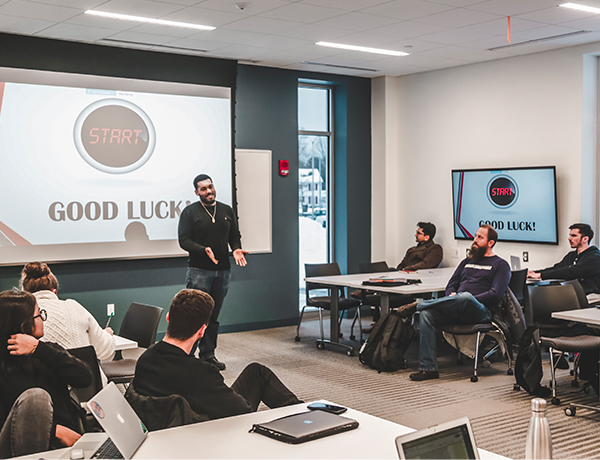 Pitch your idea in the University of Hartford version of Shark Tank - Hawk Hunt Business Pitch Competition, hosted by the Barney School of Business. All University of Hartford students (all majors) are welcome.
Prizes:
Up to $1,500 in cash prizes are available
The winners will have a mentoring session with a group of innovation executives!
Competition Details:
Date: Thursday, April 15, 2021
Time: 4:30 p.m. to 6:30 p.m.
Where: Via Zoom. Register here
We are so honored to have the following judges from the industry join us: Sam Broomer, Frank Finelli, Kim Goodwin, Allison Long, and Ben Yin. 
Take a chance in the Hawk Hunt...
Deliver a one-minute "pitch" (no slides) of your idea.

Compete for cash prizes.

Get feedback from expert "Hawks" from the industry and the faculty.

Your innovative idea should go beyond the classroom.

Learn how you might be able to build and grow your business in the Innovators Club (oksoy@hartford.edu).
Mentor Bios:
Sam Broomer, EVP, Chief Strategy & Innovation Officer, Berkley Re Solutions
Samuel has been in the insurance and reinsurance industry since 1993 and has held positions of increasing responsibility in the United States and abroad.  Today he's EVP, Chief Strategy & Innovation Officer of Berkley Re Solutions and Berkley Program Specialists, part of W.R. Berkley Corp. where he helps guide a number of operations within the organization. 
Kim Goodwin, Organizational Effectiveness Consultant
Kim is an energetic organizational 'builder and fixer' with broad industry, functional and consulting experience. Her passion is to enable people, processes, and technology to achieve the organization's vision, leveraging change management, organizational development, leadership, learning and communications. She is currently enabling a Fortune 50 aerospace and defense company realize post-merger synergies.
Ben Yin , Delivery Lead, Enterprise Strategy and Solutions Delivery at Cigna US
Twelve years of Healthcare global experience across Asia, Europe, Middle East and North America. Ben's expertise is in leading M&A planning & execution, customer retention and cross-sales, agile delivery strategy & modeling, enterprise-wide change within extensive multi-layered matrix organization driving strategy into execution, implementing foundational processes and enabling decision-making for achieving sales targets, higher customer retention rate, operational effectiveness and efficiency.
Questions?
For questions, please contact Milena Erwin, Barney Faculty and Women's Business Center Program Manager, at erwin@hartford.edu. See you there.