Barney School of Business to Host CT FBLA Spring Leadership Conference on April 10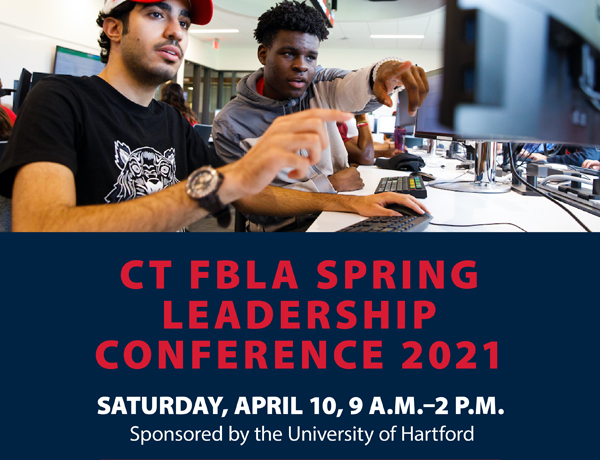 Future Business Leaders of America is a nonprofit educational association with a quarter million students preparing for careers in business and business-related fields. CT FBLA members and their advisors from nearly 70 chapters are expected to participate in the spring leadership conference hosted by the Barney School of Business on Saturday, April 10, including workshops and events related to career planning and college life expectations.
The schedule is outlined below.
FBLA Virtual Spring Conference
Saturday, April 10—9 a.m. to 2 p.m.
9 a.m.-9:20 a.m.: Welcome
9:20 a.m.-10: 30 a.m.: Keynote-Jeff Cerutti 
10:30 a.m.-11:30 a.m.: Breakout sessions (UHart-Aaron Isaacs, Dean of Students & Junior Achievement-Sumayya Ayoub, Senior Education Manager)
11:30 a.m.-12:00 p.m.: Introduction of new state officers
12:00 p.m.-12:30 p.m.: Presentation of Awards
12:30 p.m.-1:30 p.m.: Closing remarks
*For more information about the conference, please contact the Admission Manager at the Barney School of Business.