School of Communication Opens New Student-Run Agency Crested Communications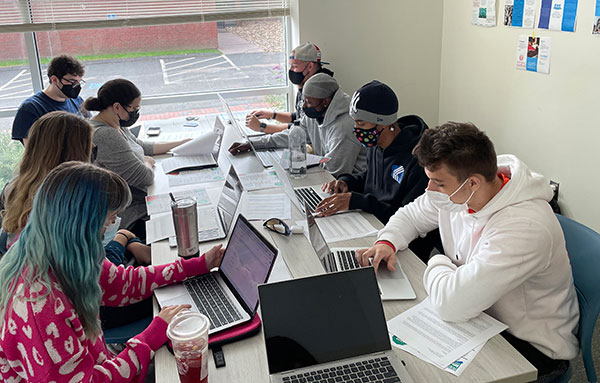 Students working in Crested Communications, the new student-run agency in the School of Communication, are gaining real-world experience by producing public relations, advertising, and branding campaigns for real clients in the greater Hartford area and beyond. "For students who are about to graduate, having the experience of working in a variety of arenas helps diversify their skills to be ready for a successful communications career," says Sarah Miner, assistant professor of communication and faculty director of the agency. "Students who are interested in film or video production can also use their skills within the agency as many clients are interested in video content."
Crested Communications is in a dedicated agency space in Abrahms Hall that encourages collaboration among the students enrolled in the course, CMM 464W: Student Firms: The Agency. They meet twice a week and are assigned work based on client goals and their career interests, making it a more personalized learning and professional experience. "What got me excited was that there was potential for some videography, which is my specialty," says Thomas Hummel '22, the agency's video production manager and a digital media and journalism major. "I love to create new media content, especially videos."
Crested Communications has prepared me for real life public relations experiences. Throughout my time at the agency, I learned how to create proper toolkits, social media posts, content calendars, and blog posts. Without the agency, I wouldn't be prepared for my new account manager position with The Small Business Collective.
Jackie Argondizza '22, Agency Director and Digital Media and Journalism Major
OWIT Global, a West Hartford, Connecticut, insurtech firm that develops micro-services software for insurance companies, hired the student agency to develop social media content and branding materials, as well as marketing videos to help CEO and alumna Wendy Aarons-Corman '86, M'90, M'20 become established as a thought-leader in the digital insurtech industry. "The students had the opportunity to engage directly with the Wendy who was an incredible mentor and cheerleader over the course of the semester," said Miner.
Crested Communications students also created digital and social content, marketing materials, and web assets to support branding and outreach efforts for the grand opening of Five Points Arts's new Arts Center located in Torrington. More recently, the agency team developed a multimedia toolkit for the Connecticut Department of Agriculture and the CT Grown campaign. Dubbed the "Farmers First' campaign," students developed assets to help promote local farming, produce, and agriculture in Connecticut.   
Communication students are now looking forward to this spring when they will partner with Barney School of Business students to serve new client CVS Health. Crested Communication students will build an integrated communication strategy, while Barney students will be focused on research, analysis, and business tactics. "The partnership between the two schools and CVS Health is going to give students a very up-close look at what collaboration across departments feels like and how different teams need to work together to reach a final goal," says Miner.