MLK Program Begins Black History Month at UHart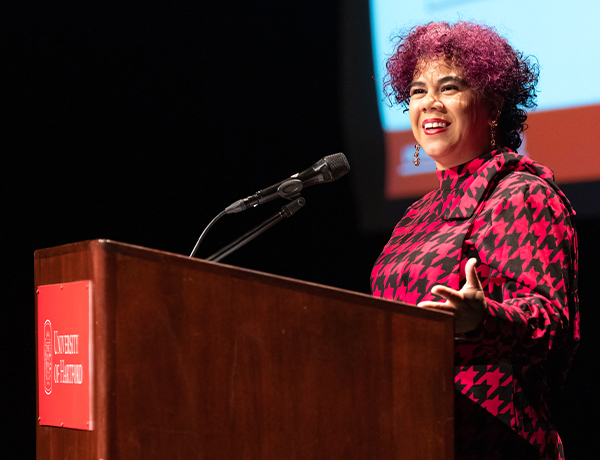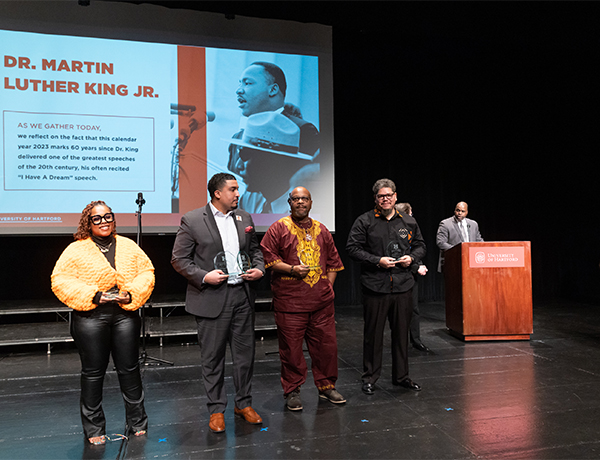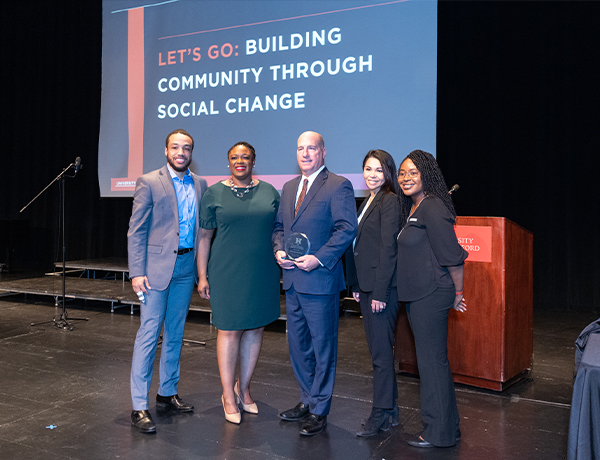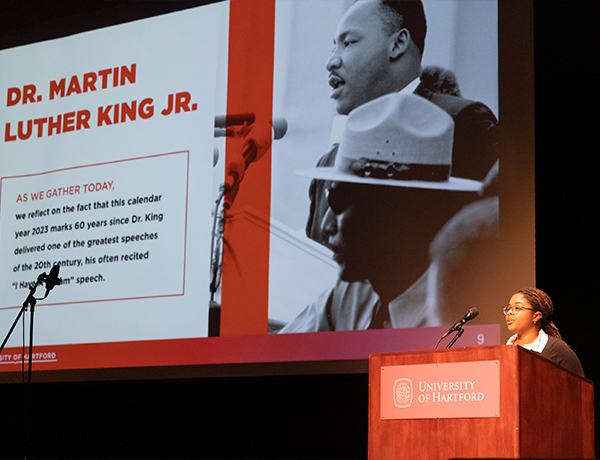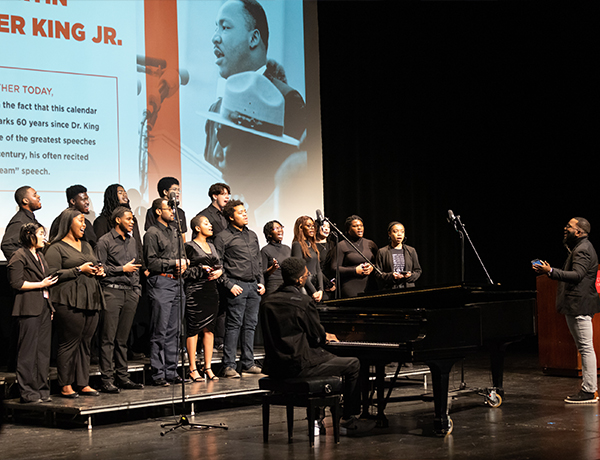 A program honoring Dr. Martin Luther King Jr. at the University of Hartford marked the beginning of Black History Month, and celebrated community members who have carried on King's vision.
The observance, entitled "Let's Go: Building Community Through Social Change," drew a crowd to Lincoln Theater and a virtual broadcast, and was covered by the Hartford Courant, as well as Fox 61. Guests had a chance to reflect on King's work and mission, and be inspired by those who have embodied his spirit through their own service and received Beloved Community awards. This year's honorees were:
Deja George '24, a UHart philosophy major with minors in paralegal studies and politics & government, who is dedicated to making the UHart community the best that it can be; Manny Sanchez, senior development officer in the Development and Alumni Affairs Office, who is a Connecticut state representative in the 24th Assembly District; Bilal Dabir Sekou, PhD, associate professor of political science, whose research includes race and politics, urban politics, campaigns, elections, and voting behavior; Leonard Epps '90, a life member of Iota Phi Theta Fraternity, Inc., founder of The Society of Black Brotherhood, and a recipient of the University of Hartford Distinguished Alumni Award; Quentin "Q" Williams, the late state legislator and UHart adjunct professor who advocated for learning opportunities and equity and volunteer extensively in his community; and Pratt & Whitney, a leader in the design, manufacture, and service of aircraft and helicopter engines, which believes diversity of thought enables creativity and innovation.
Assistant Professor Goyland Williams, who hosted the event reminded guests that everyone can continue working toward King's dream of justice and equality for all.
"As we proceed through today's program, ask yourself, 'What more can I do to foster Dr. King's dream of activism? How can I help ensure that love and trust will triumph over fear and hatred?'" Williams said. "Remember the example that Dr. King set by showing us that love, justice, and unity can be successful in the pursuit of equity and belonging."
Keynote speaker Rosa Alicia Clemente, an award-winning activist, cultural commentator, independent journalist, and 2008 vice-presidential candidate of the United States on the Green Party ticket, noted that many people have only been exposed to a version of King "that has been so sanitized, that they don't really know about his last few years when he became a radical revolutionary." She then passionately spoke about changes needed across the country and injustices that persist.
"Young people, this is your time. Get up. Get up and do something…what are you willing to sacrifice? What are you willing to stand up against? What do we owe to our ancestors that did not die just to get civil rights?" Clemente asked.
The MLK program was the first of many occasions honoring Black History Month this February at UHart. The campus community is invited to participate in celebrating the history and honoring the identities and cultures of Black and African Americans through a series of programs, discussions and events.
Black History Month Events
The Office of Diversity, Equity, and Community Engagement, in conjunction with the Office of Student Engagement and Inclusion, the President's College, and the Harrison Library, challenges you to attend these programs and events as we learn together.
"How Black and LatinoPlayers Inspired the Golden Age of Baseball, 1947-1974."
Presidents' College course, February 1, 8, and 15, from 7-8:15 p.m.  This course will chronicle the entry of Black and Latino players in the Major Leagues following Jackie Robinson's first season in 1947.  The game, as a result, would never be the same after players like Willie Mays, Henry Aaron, Ernie Banks, Roy Campanella, Roberto Clemente, and Bob Gibson inspired young and old people alike to embrace a new game of power, speed, and grace. And all of this happened against the backdrop of the Civil Rights Movement that changed America forever. Course led by Walter Harrison, president emeritus, and the Presidents' College via Zoom. 
Voices of Black Trans People panel discussion
February 8 at 12:45 p.m., GSU 335 (Simsbury Room). In alignment with our commitment to foster a vibrant, diverse, and inclusive community, we recognize the impact of intersectionality. As part of the Creating Visibility and Belonging series, join us to engage in thought-provoking conversation and hear from Black transgender people as they share first-hand experience and perspective. Together, we will learn to be better allies and accomplices to inspire action on and off campus. Moderator, Llonia Rojan Jackson.
Some Blues, Some Jazz, and Soul Food
February 10 at 5:30 p.m., Konover Center, hosted by Leonard Epps '90. Immerse yourself and be transported to the atmosphere of a jazz cafe as we celebrate Black History Month with music, poetry, and amazing food. Learn about three art forms that embody Black culture: "Blues, Jazz, and Soul Food." Sponsored by the Office of Student Engagement and Inclusion.
The Divine Nine: Defined and Demystified! 
February 15 at 6:30 p.m. Join the OSEI for a discussion about Black Greek life…defined and demystified! Hear from members of the "Divine Nine" to learn about the history, culture, and important impact Black Greek Letter organizations make in the community. For over 100 years, Divine Nine organizations—sororities and fraternities—have provided community, networking, philanthropy, and leadership to undergraduate and graduate students during college and beyond. Moderator, Llonia Rojan Jackson, Wilde Auditorium. 
A Read-In For Black History Month
February 16 from 4-5:30 p.m. at the Harrison Libraries. On February 16, 1960, the Rev. Dr. Martin Luther King, Jr., engaged a crowd of students and community members at White Rock Baptist Church in Durham, North Carolina. The impetus of the speech, "A Creative Protest," was to celebrate the efforts of the students' efforts to peacefully protest the segregated lunch counters near their college campuses. Join us at the Harrison Libraries for a Black History Month Read-In! Featuring works from a host of writers representing the African Diaspora, we hope that some of the powerful words from generations past and present speak to and encourage you. Feel free to choose passages from the books available at the event or bring your own selections to share. The event will be hosted by Dr. Markeysha Davis, assistant Professor of Literature and Africana Studies and chair of the Africana Studies program. It is cosponsored by the Harrison Libraries, the Office of Diversity, Equity, and Community Engagement and the Presidents' College with Markeysha Davis PhD. Refreshments will be served. This event is free but we ask that you register.
Creating Visibility and Belonging for the Black/African American Community
February 20 at 12:45 p.m. Panel discussion, Shaw Center. Join us as we hear from a panel of UHart staff and faculty on how they create visibility and belonging on campus. They will share unique perspectives on what visibility means, and how and why it can affect a sense of belonging. This program is part of a year-long series of conversations about "Creating Visibility and Belonging" in our campus community, as we strive to foster a more inclusive UHart, where people of all identities may experience a sense of belonging.
"What Does Your Activism Look Like?"
February 22, 12:45 p.m., Shaw Center. Student Panel. Listening and learning is the first step toward actively engaging in activism. A panel of UHart students will provide insight into what it means to be an activist, and how young people can engage in activism to create meaningful change in their communities. The panel will also highlight the importance of young people taking charge of movements in society with resilience and hard work. Moderator, Kristen Valentine, MLK Student Committee Member.
Annual BSU Fashion Show: "The Palette" 
February 25 at 6 p.m., Lincoln Theatre. Tickets will be available at the box office. All proceeds go to the BSU Book Fund.