Stanley Black & Decker Launches UHart Scholars Program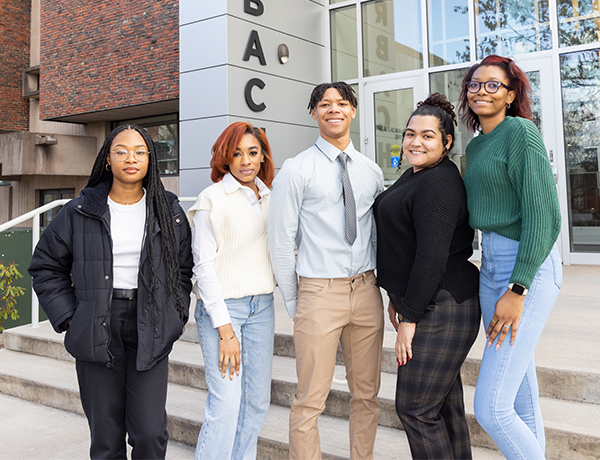 Stanley Black & Decker is providing scholarships, mentoring programs, early career opportunities, and more to University of Hartford business students through a new scholars program.
The "Be a Force for Good Scholarship" initiative will provide a total of $600,000 in scholarships over four years to UHart's Stanley Black & Decker Scholars, focusing on students underrepresented in business, including first-generation and BIPOC college students. Scholars will receive up to $10,000 toward their UHart education each year from Stanley Black & Decker, the worldwide leader in tools and outdoor.
The inaugural class includes six students from UHart's Barney School of Business, with plans to add six more students each of the next three years. Stanley Black & Decker President and CEO Donald Allan Jr., who is a UHart alum of the Class of 1986, was instrumental in creating this transformative program for students of his alma mater.
"At Stanley Black & Decker, we believe it is our role in society to be a force for good, and as a UHart alumnus, I am honored to help empower future leaders with real-world experiences," says Allan. "Students will have the opportunity to engage and learn from mentors from across Stanley Black & Decker, helping to produce innovative, award-winning products to support the world's makers, creators, tradespeople, and builders."
The six scholars are Jacquelaine Anderson '26, Married Mesilien '25, De'kyiah Morey '24, Makaila Rodriguez '23, Julian Spivey '24, and Sarah Sprinthall '24.
They will be paired with Stanley Black & Decker employees for monthly mentoring sessions, and be provided with tours of the company's locations, resume-building workshops, and leadership development programs. They will also be guaranteed first-round interviews for internships.
Morey says she's grateful for the scholarship, but has also found incredible meaning in the mentoring program, adding that she's already learned so much from Stanley Black & Decker employees.
"This scholarship means many things to me, like having the financial burden lifted off my family's shoulders," she says. "However, what it means is someone saw potential and believed in my capabilities…Being a first-generation is hard. Being awarded through such an intense scholarship process means I can get through anything if I want it."
Over the course of each academic year, students will learn about the company culture, expectations for employees, and career paths, while also making real-world connections to all that they're learning in the classroom. Meanwhile, Stanley Black & Decker is establishing an invested and experienced group of potential future employees, and improving access to opportunities for underserved, diverse students.
"The Barney School of Business has an objective to introduce our students to myriad experiential activities. Don Allan and his staff have wrapped many of these into a comprehensive program that will be invaluable to the selected students as they evaluate career options," says Barney Dean Stephen Mulready.
For students to continue with the "Be a Force for Good Scholarship" program throughout their academic journey, they must commit to high-level engagement with Stanley Black & Decker, while remaining in good academic standing and expressing interest in pursuing a career with the company. The 2022-23 academic year has already featured an initial kick-off event at Barney, a resume review, and mock interviews, and the program will only continue to grow its offerings and professional development opportunities.
Stanley Black & Decker has continued to make an impact on UHart's growth, contributing $1.25 million for the addition of Auerbach Hall at Barney, and $1.2 million for the Hursey Center for Advanced Engineering and Health Professions.
While the global company is known at UHart for its generosity, ample internship opportunities, and trailblazing alumni, the "Be a Force for Good Scholarship" program further solidifies SBD's commitment to current and future students.