New Track and Field Design Revealed with Strong Support from Donors
First Look: New Track and Field Design
New track and field renderings at the University of Hartford portray a modern addition to the athletics complex with premier space for student-athletes, intramural teams, and the campus community as a whole.
Built to NCAA standards, the new facility will feature a 400-meter, eight-lane "full pour" track that will surround a new synthetic turf tailored to field hockey, while a set of bleachers will be installed on the west side of the field, and lighting will allow for evening use. An adjacent throwing area for field events is also planned for the project, along with a storage building and bathrooms.
"The quality of the field turf and the lights will position the University of Hartford to be one of the premier facilities in the Northeast for field hockey," says Sharon Beverly, vice president of athletics and recreation. "The addition of a full-service track and complete support for all track and field events on campus will be a tremendous asset to moving our program to the national level."
The initiative has led to the most successful single year in fundraising for athletics in the past 20 years, according to University records.
We see a vibrant DIII athletics program and the expansion of recreation opportunities as valuable assets to students at the University of Hartford."
Sharon Beverly, Vice President of Athletics and Recreation
$2.5 million in Gift Commitments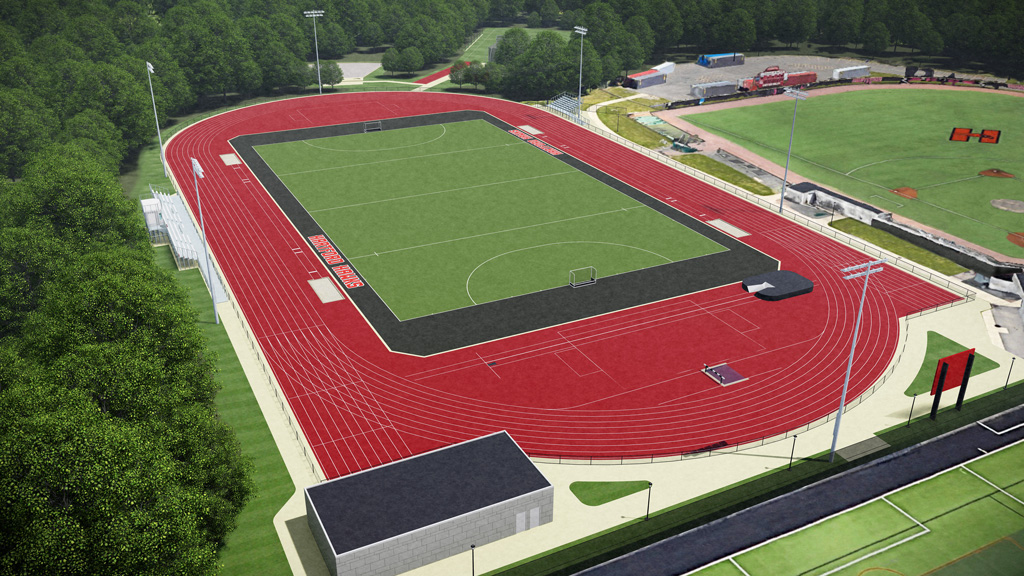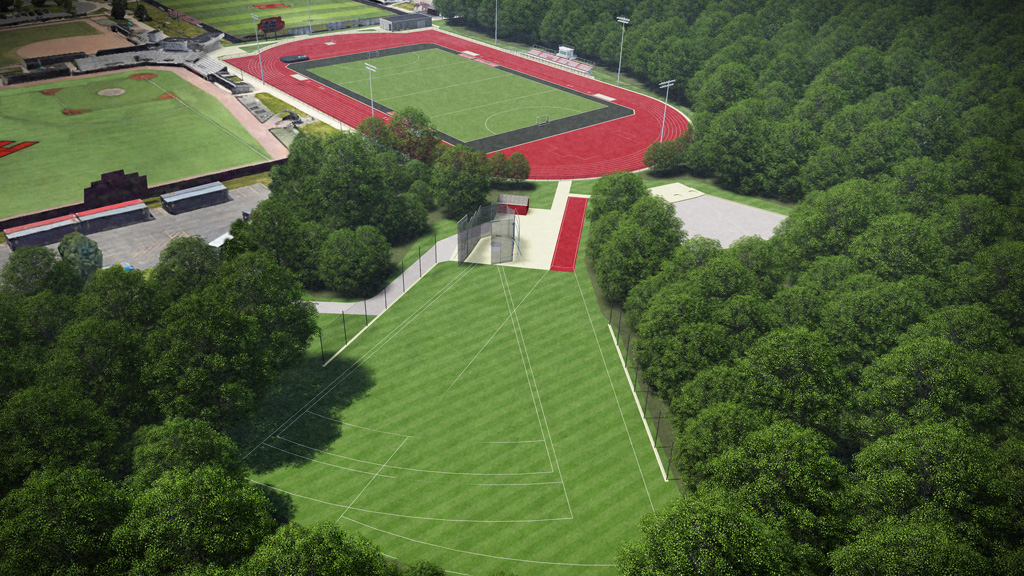 In early-stage fundraising, donors have already committed more than $2.5 million in gifts to the track and field, with a majority of funding coming from alumni, including one alumnus who has pledged a seven-figure lead gift and will be naming the facility. Dedicated corporate partners, including Stanley Black & Decker, CVS/Aetna, and Robinson & Cole LLP, will also be supporting the project.
Once the work is completed, UHart will be a potential host for NCAA regional and national tournaments for both track & field and field hockey.
It rounds out an athletics complex that also includes soccer, baseball, and softball fields, the Chase Family arena, volleyball gym, pool, and fitness center. The new track and field will also feature a high-jump pit and sand pits for triple jumps.
In alignment with University goals to facilitate wellness programming for the entire campus community, the track and field will also be used for intramurals and recreation activities, and recreation-sponsored walking initiatives, and as a running space.
The space will abut the baseball and soccer fields, and can be used for intramural games, flag football, ultimate Frisbee, soccer, kickball, and pick-up games, with two to three games able to occur at the same time. It will be a boon for intramural teams, which have needed more space due to existing fields being in high use, and the specific need for turf due to weather conditions that affect grassy areas across campus.
 
"We see a vibrant DIII athletics program and the expansion of recreation opportunities as valuable assets to students at the University, and are thrilled to be able to offer this," Beverly added.
The project is currently under review with Hartford's Inland Wetlands Commission and will also be considered by the Planning and Zoning Commission. Construction is expected later this year.
Track and Field Renderings