Campers Support Shelter Pets at UHart's Summer Place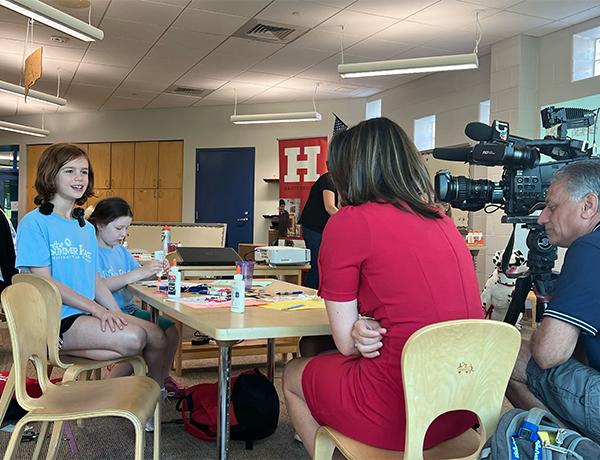 Youngsters in the University of Hartford's Summer Place day camp learned they can make a difference, no matter their age, especially for pets in need.
Third- and fourth-grade campers wrote letters to and about pets awaiting adoption at the Connecticut Humane Society on a recent August morning in a lesson that also taught them about dog safety. NBC CT featured the children and their project in a news segment about Clear the Shelters, the network's annual pet adoption promotion.
Campers spoke with NBC about their love for pets, with one declaring she has two guinea pigs at home and decided to write to Tater Tot, a guinea pig at CT Humane, and two others describing the dogs in their family and the letters they wrote to Mia, a canine looking for a new home.
This is the first year that Summer Place has partnered with CT Humane on programming for campers. The camp offers 70 enrichment options and 20 sports to choose from. Other choices include archery, STEM subjects, swimming, culinary, yoga, basketball, dance, 3D printing, wilderness survival, comedy improv, T-shirt design, and more.
Around 300 campers attend each of the weekly sessions at UHart, from pre-school kiddos through 12th-graders—which means they all benefit from all of the educational and recreational spaces available on campus.
Each program is unique, yet all share a common commitment to excellence in curriculum, staff, and facilities. All programs are based on the premise that learning and fun go hand in hand, and are run by certified teachers or creative professionals.
Among the group divisions are the regular Summer Place camp for children entering grades one through nine; Kinderplace and Li'l Place, both of which put an emphasis on developmental learning experiences for children entering preschool and kindergarten; and Summer Place Leaders in Training, or SPLIT, which helps prepare 10th- through 12th-graders to become tomorrow's Summer Place counselors.