A Welcoming Community
As part of the Office of Jewish Life, Hartford Hillel is a warm and welcoming place where students gather for bagel brunches, Israeli cooking classes, Shabbat dinners, Hanukkah candle-lighting, movie nights, social justice initiatives, and much more!
The SGA-recognized student organization is led by 10 incredibly talented student leaders, and is widely regarded as the most visible and active student organization on campus. Hillel offers social, cultural, educational, religious and spiritual, tikkum olam (community service), and Israel-related programs that are designed and planned by our students, with staff mentorship and support. Our Hillel's goal is to provide students with the knowledge and comfort to explore their Jewish identity in whatever way is meaningful for them.
Contact Us
860.768.7956
Hillel@hartford.edu
Plans for a New Campus Center
UHart Hillel is planning for a new center where students can gather and connect. Check out the renderings below. 
Programs and Activities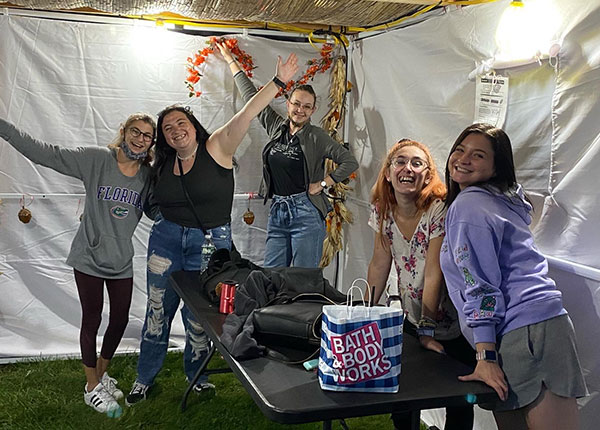 Together with the Office of Jewish Life, you can enjoy hundreds of Jewish programs and activities each year, including holiday celebrations, weekly Shabbat dinners, immersive travel experiences, and more. We even have a 10-week fellowship program and several leadership opportunities. You can also learn about kosher living and meals.
Connected for Life
From your very first year, Hillel provides opportunities for you to connect with other students. Our first year program is designed specifically to help you acclimate to college and make new friendships lasting through college and beyond. We also have a strong alumni network. 
First Year Students of Hillel (FYSH) programming was designed to intentionally foster meaningful connections and promote unity among Jewish first year students at the University of Hartford. These students work together in small groups to establish lifelong friendships.
FYSH programs are the perfect opportunity for new students to get to know each other. There will be plenty of FYSH related programming during the first few weeks of school so that students can find time to connect while also exploring activities across other Student government associated recognized student organizations.
The Hillel Campus Center, located on the first floor of Park River Apartments, is a warm and comfortable space where students can meet with staff and student leaders, relax on our comfy couches, do homework, schmooze with friends, and attend events. Our small kosher kitchen is available for student use by appointment, and closes during Passover.
In partnership with the Alumni Engagement team, we have created a new alumni group. Whether or not you were active in the pre-Hillel days of the Menorah Club, Atid, or the Jewish Culture Club, or more recently at Hillel locations in GSU, B Comp or Park River, Jewish alumni, stay connected with UHart's Jewish community. Maintain and renew friendships and build your professional and social networks. Plans for future in-person activities for Jewish alumni are in motion!
Stay up to date with us on social
Hillel Alumni Network Facebook group
University of Hartford Hillel Facebook Page
LinkedIn.
Contact us
Lisa Langsner, Director of Jewish Life: langsner@hartford.edu 
Julissa Pabon, Associate Director of Affinity Alumni Engagement: jpabon@hartford.edu.
A Lifetime of Friendships and Experiences