Special Education Graduate Mikayla Pascucci is Thriving in her Teaching Career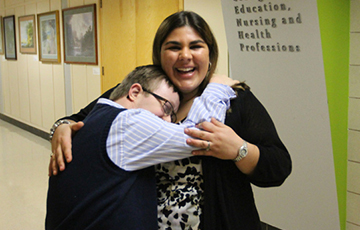 Mikayla Pascucci '18 has kicked her career into high gear since graduating from the University of Hartford with a bachelor's degree in integrated elementary and special education.
She's a special education teacher and case manager at the Reggio Magnet School of the Arts in Avon, Conn., is enrolled in UHart's master's degree program in special education, and is collaborating with Associate Professors Sheetal Sood and Lisa Zawilinski on a research project.
Pascucci, Sood and Zawilinski recently presented their research on incorporating arts into STEM (science, technology, engineering and math) education at the Kappa Delta Pi Annual Research Conference in Indianapolis. (Kappa Delta Pi is the international honor society for education students.)
In just a few months since starting her teaching job, Pascucci has already found that her experience at UHart prepared her well. 
After seeing how I use a data collection form every day to monitor and track my students' behavior in class, my colleagues asked me, 'Wow, where did you learn that?' I learned it in Dr. Sood's class."
Mikayla Pascucci, '18
Pascucci has taught her colleagues about differentiated instruction, explaining how to make simple modifications to help students at different learning levels. "I took an entire course on differentiated instruction, and it really prepared me to make my curriculum accessible to every student," she said.  Pascucci has also helped her colleagues modify quizzes for students who read at lower grade levels. "I'm really applying what I learned in my literacy classes at UHart," she said.
 
Pascucci is still working with her childhood friend Jamie Roland, who has been profiled in earlier stories on our website. Jamie, who has Down syndrome, is a classroom assistant in her graduate course on Screening and Diagnosis in Special Education, taught by Sood. Jamie helps by making photocopies, writing notes on the white board, and other tasks. "Having Jamie participate lets the students see how inclusion works in the classroom," Sood said.
 
"Some of my friends who went through other education programs are working as paraprofessionals this year, because they need more time before they feel comfortable leading a classroom," Mikayla said. "But I feel comfortable teaching every day. The University of Hartford really prepared me well for where I am now."
Update: Mikayla completed her master's degree in special education at UHart in May 2020.