Student Teaching Experiences, Opportunities, and Supportive Faculty Help Launch Recent Grad's Career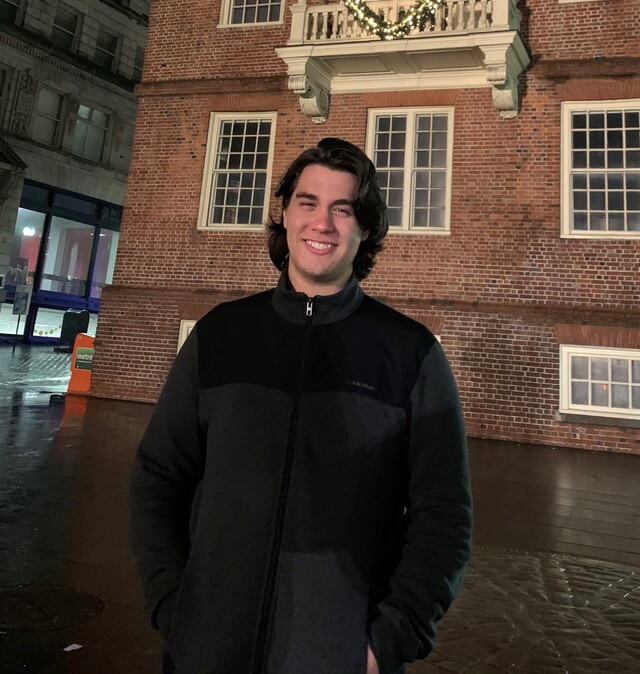 Just a few months after graduating with a degree in Mathematics with a Certification in Secondary Education, Peter Graywacz '20 is realizing that dream as a ninth-grade algebra teacher at Classical Magnet School in Hartford, Connecticut. Although he could have never expected to begin his career during a pandemic, he says he was able to make that transition due to the opportunities he had for hands-on student teaching beginning in his first semester.
"Each experience gave me an opportunity to discover more about myself and how I would teach and prepared me by giving opportunities to practice teaching in the classroom," he says. Graywacz says he finds ways to make the classroom engaging for students who are enrolled in his four in-person classes, and one that is online.    
Graywacz says he knew he wanted to become a Mathematics teacher at an early age. "I was inspired by my middle school teacher who always seemed to make learning and teaching seem fun. I also realized that as a student, I would always enjoy helping others to find the answer." He attributes his success to the Mathematics department faculty, including Professor Larissa Schroeder who is the director of the Mathematics Secondary Education Program.
"Pretty much everyone in the Math department was an influence on me, especially my advisor Dr. Schroeder, who was supportive through everything, even if things didn't go exactly right."
Peter Graywacz '20, Mathematics Certification in Secondary Education
Outside of class, he says he appreciates the support he received from Kellie Westenfeld, who served as the Director of Collegiate Recruitment and Communication for the College of Arts and Sciences. He says Westenfeld gave him many opportunities to hone his public speaking skills. "I have to give a shout out to Kellie who ran the A&S Ambassador Program and gave me the opportunity to be a preceptor for her Dialogue class." He also performed with, and served as president of, the UHart Drama Club, Dramatis Personae, which also helped boost his confidence.

Graywacz says one of his favorite aspects of the University is the Honors program. "I did my Honors research project on how the understanding and use of prior knowledge in the classroom can affect student learning both positively and negatively, which was done as an extension of my senior year course about Math Instruction Practices." He says he also spent a good amount of time with other students who also cared about their academics, which lead to great conversations and experiences.  

When asked what future advice he would give to students wanting to become teachers, he points to the value of online learning as a crucial component. "Take all the time you can to learn about all the online resources in case you ever have to teach an online class, because this might be the new normal! Also, don't take feedback personally when it comes from a cooperating teacher. It's not because they don't like you, it's because they are trying to help you grow."