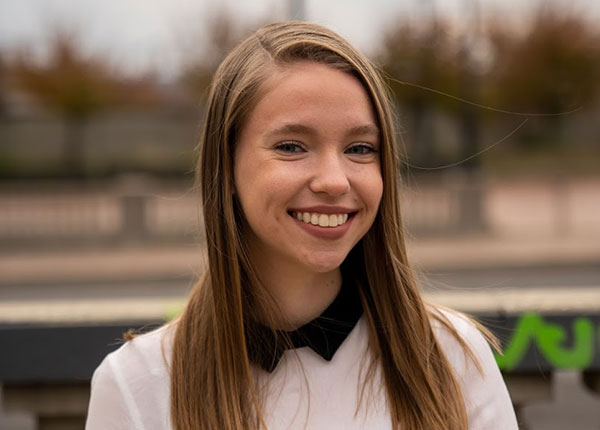 Next stop: Graduate school in Optometry 
Since 2017, Alyssa Clifford spent every summer as a working intern and patient coordinator at Harvey and Lewis Opticians in West Hartford. It was there that she developed a love of optometry and was able to learn the optometry business and insurance skills, and understand how to apply them to a medical practice. After her internship experience, and working hard on her undergraduate degree through UHart's College of Education, Nursing and Health Professions (ENHP), Alyssa will be pursuing a Doctor of Optometry degree at the New England College of Optometry in Boston.
Clifford began preparing for graduate school in the spring of her freshman year, thanks to UHart's Pre-Professional Studies (PPS) classes. The assignments in those courses allowed her to get a head start on the important things she would encounter during her graduate school application process. For example, she learned how to write a medical resume, a personal statement, and successfully interview for an optometry job. She says, "If it weren't for the PPS courses, I am certain I would've fallen behind and applied to optometry schools later than I should have."
In addition, Alyssa's work with her "wonderful" advisor, Dr. Claudia Oakes, was key to her collegiate experience. "If it weren't for her constant feedback and words of encouragement, I would not be where I am today. She has truly been my sole source of academic support throughout my entire Optometry school application process," explains Alyssa.
A further example of Alyssa's pre-professional exposure at UHart was her work as a preceptor for Organic Chemistry I with Dr. James Shattuck in Fall 2018. They worked closely together to ensure that they could find better ways for students to grasp difficult concepts in the class's curriculum.
Alyssa says that "being a student at UHart was hands down the best 4 years of my life. I am incredible grateful for the academic support I received, the organizations I was a part of, and the friends I made along the way."
When asked what her favorite thing is about UHart, she says that it's the diversity and "the many forms that it comes in" on campus. Alyssa says, "I have met so many individuals of various cultures, religions, identities and backgrounds. Not only that, but UHart offers a vast array of majors, and this has allowed me to befriend individuals of many interests and talents."
She warns new students against putting too much pressure on themselves.  Clifford says that "college comes with many struggles and downfalls, but they do not define you. No matter how many tough moments you endure, you will always come out on top."
Learn more about UHart's Health Sciences Pre-Professional program.
If it weren't for the PPS courses, I am certain I would've fallen behind and applied to optometry schools later than I should have."
Alyssa Clifford '20, Health Science/Pre-Professional