Computing Sciences Department Prepares Sisters for Successful Internships at Electric Boat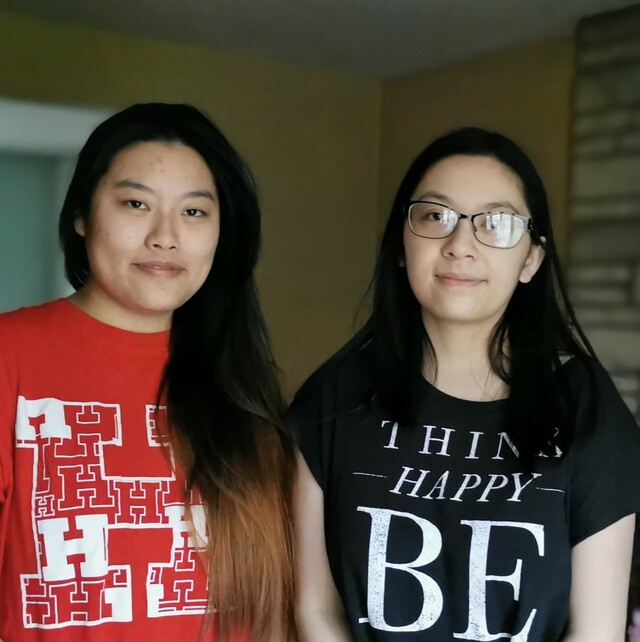 Sisters Amanda and Rachel Liang are a dynamic duo who are excelling both in and outside of the classroom in UHart's Computing Sciences Department. Amanda '21 is a computer science major interested in software design and development, while Rachel '22, is a computer science and engineering major intent on a career in software development and the engineering side of electronics. 
Amanda says she decided to on UHart's Computing Sciences Department because of the smaller class sizes and its proximity to home. Rachel joined her at UHart the following year after hearing Amanda's praise for program. "I really value the community aspect of schools, and while I was touring campus, I could definitely get the sense of community from the students and professors that I met," she says and adds she chose computer science and engineering because that she's always been interested in software development and taking things apart and putting them back together.
Not only do Amanda and Rachel share an interest in computing sciences, but they also worked as software engineer interns for General Dynamics Electric Boat (EB) in Groton, Connecticut, which is the primary submarine builder for the U.S. Navy. Amanda has worked for EB every summer and winter semester break since 2019. She is planning to join the company as a software engineer after graduation and hopes to enroll in its technical education program. Rachel will continue the internship this summer after working at EB last summer and over the recent winter break. "I was tasked with mainly Java programming because that is what I came into the job knowing," she says. "But my classes definitely contributed to my ability to learn new concepts and languages independently and confidently."
The sisters have been recognized for their academic achievements by the Computing Sciences Department. Amanda was awarded the Gunter R. Sabionski Endowed Memorial Scholarship last fall, and Rachel received the Computer Science and Engineering class award.
Outside of academics, Amanda is a member of the Kwave (Korean Culture Club) at UHart and served as the organization's public relations representative, and Rachel was the public relations manager for the UHart's United Nations Club. Rachel also was a preceptor for one of Assistant Professor Shiekh Rabiul Islam's courses in her sophomore year. "During that time, I saw the amount of care that professors have for their students," she says and points out that there are plenty of resources within the department  "Professors will work with you every step of the way."
When asked advice they would give to incoming students, they both gave similar responses— get involved and make the most out of your time here. "If there isn't a club that you're interested in, then you can try and gather people and create a new club," says Amanda. "It's also a good idea to make some friends in class. If you share a major, it's good to have people to turn to for help."