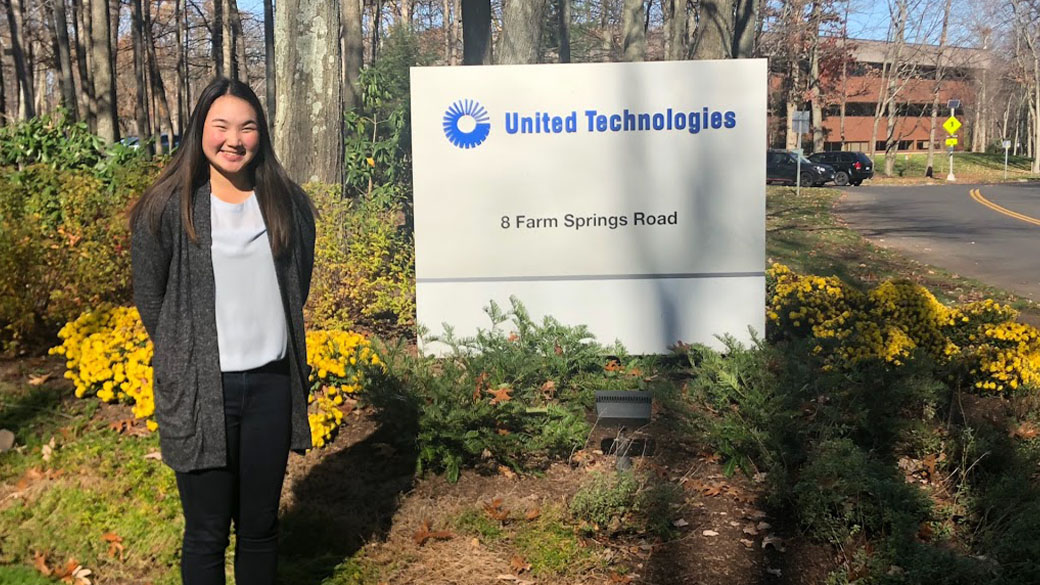 Allie Tully '21, a Finance/Business Analytics, Managerial Economics double major at the Barney School of Business, has had a co-op in the treasury department at United Technologies Corporation (UTC) since March 2019. What has her experience been like at UTC? "Busy for sure, but a great learning and growing opportunity!", Allie says.
Allie has had the opportunity to work for UTC during their split off from Otis and Collins. This change was quickly followed by the merger with Raytheon, creating an aerospace giant. 
Allie says that "This has made it an interesting time to be working for the company, but I would not change it for the world. It's a fast-paced environment here; it keeps me on my toes, and for that, I have mastered the skills of adaptability, problem-solving, and effective communication." After her co-op finishes, she plans on applying to the Financial Leadership Program (FLP).
Besides Allie's fantastic Internship, she is incredibly active on campus. Allie holds leadership positions as a Residential Assistant, The Student Life Coordinator of the International Pathways Program, in addition to being on the D1 Women's Golf Team. Allie is also a member of the Economics and Finance Club, Barney Leadership Council, and The National Society of Leadership and Success.
At UTC, I have been exposed to so many facets of business and thoroughly enjoy the company and the people I work with.
Allie Tully'21, Finance/Business Analytics, Managerial Economics Double Major