#UHartInspires: Alumnus Leads Company Making Portable Oxygen Generator Systems for COVID-19 Patients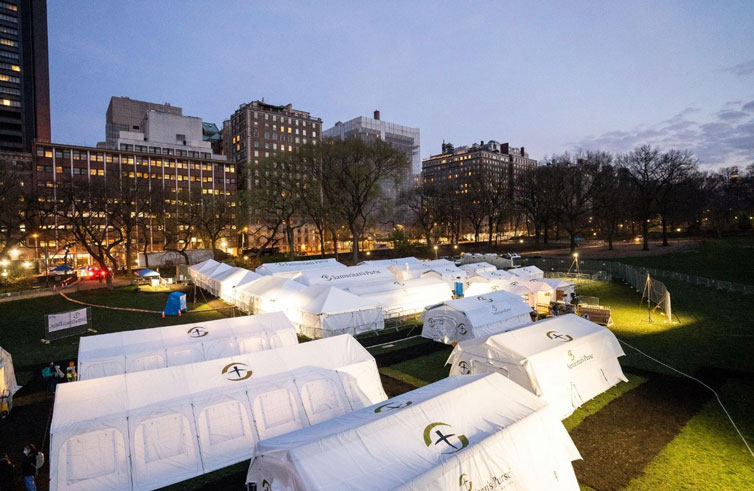 Alumnus Frank Hursey A '73, '77 and employees at his company, On Site Gas Systems, Inc., are building Portable Oxygen Generating Systems (POGS) for mobile medical centers that are being setup in cities hard-hit by COVID-19.
The virus causes respiratory symptoms and oxygen is a crucial resource for treatment. Temporary COVID-19 units, such as stadiums or convention centers, need access to a reliable supply of oxygen at all times. Each POGS is self-contained and concentrates air into high purity oxygen. Unlike oxygen tanks and cylinders, which are cumbersome to haul and need to be refilled or delivered regularly, a POGS can continually produce oxygen with no wait time.
Hursey's Newington, Connecticut based company has manufactured POGS for a decade, largely for the U.S. Army and Marines. Prior to founding the company, Hursey worked on the breathing air team for NASA's Apollo team and helped create one of the first FDA-approved oxygen concentrators. A serial entrepreneur, he is also the discoverer of QUIKCLOT, a hemostatic agent that stops life-threatening bleeding and is carried by all combat personnel. 
When Gov. Ned Lamont ordered non-essential Connecticut businesses to close on March 23, On Site Gas Systems did so with its employees still receiving pay. However, they reopened four days later after receiving an order for 51 POGS from the military. It takes two weeks to build 10 POGS. All employees wear masks, gloves and try to stay six feet apart as recommended by CDC guidelines. Hursey says, "The employees did not hesitate to return to address this great need and challenge. I am extremely proud of all of them."
Thank you Frank and On Site Gas Systems employees for returning to work and manufacturing potentially life-saving equipment to help healthcare workers treat COVID-19 patients.
"UHartInspires" is an opportunity for University faculty, staff, students, and alumni to share how they are taking care of themselves and their families or helping and supporting others during the COVID-19 pandemic.
We invite you to share a story through the link below, use #UHartInspires on social media, and visit our Committed to Community page for more stories about how UHart is making a difference in this unprecedented time.