Join us on Feb. 11 for the University's Rogow Distinguished Visiting Lecturer Series
How to address health care equity and communities of color is the topic of UHart's spring 2021 Diversity, Equity, and Inclusion Lecture.
The University's Rogow Distinguished Visiting Lecturer Program, in collaboration with the President's Office for Diversity and Community Engagement, will present a virtual presentation by distinguished healthcare leaders on
Thursday, Feb. 11, 2021
6:30-7:30 p.m.
The Coronavirus (COVID-19) pandemic is impacting communities of color at much higher rates than the population at large. Systemic inequities, historical injustices that feed mistrust, and possible solutions will be discussed.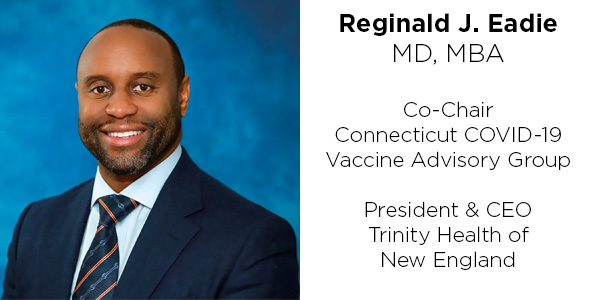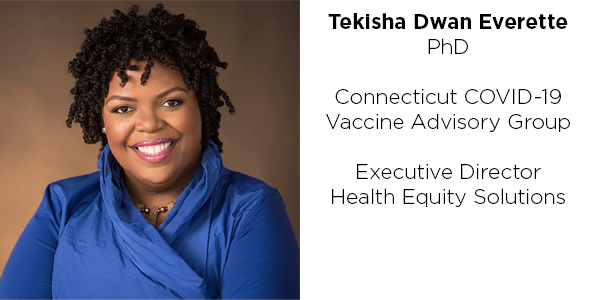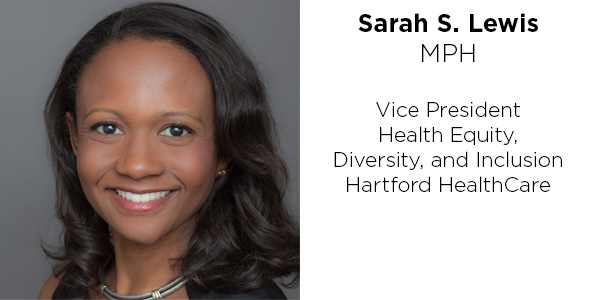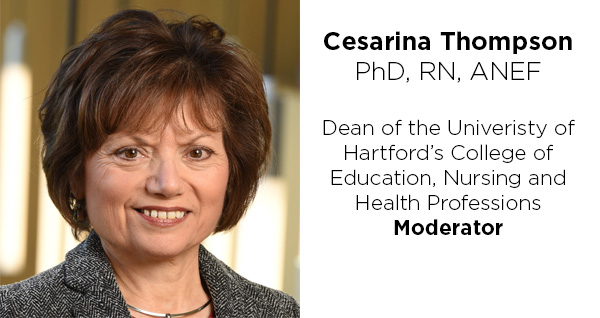 Meet the Panelists and Moderator
Reginald J. Eadie, MD, MBA is co-chair of the Connecticut COVID-19 Vaccine Advisory Group appointed by Gov. Ned Lamont. Eadie became Trinity Health of New England's President and Chief Executive Officer in 2018. The Trinity Health of New England includes Saint Francis Hospital and Medical Center and Mount Sinai Rehabilitation Hospital in Hartford, Saint Mary's Hospital in Waterbury, and Johnson Memorial Hospital in Stafford Springs. Dr. Eadie is a native of Detroit, MI, a graduate of Wayne State University (WSU) School of Medicine and completed his Emergency Medicine Residency at WSU/Detroit Receiving Hospital.
Tekisha Dwan Everette, PhD is a member of the Connecticut COVID-19 Vaccine Advisory Group appointed by Gov. Ned Lamont. She is Executive Director of Health Equity Solutions (HES) which advocates for change through legislation, regulatory actions, and ensuring that decision-makers are aware of key health equity priorities in our state. Prior to HES, she was Managing Director of Federal Government Affairs with the American Diabetes Association and provided strategic leadership on policy and advocacy initiatives with the White House, several federal agencies, and Congress.
Sarah S. Lewis, MPH is Vice President for Health Equity, Diversity, and Inclusion for Hartford Healthcare (HHC) which has two tertiary-level teaching hospitals, an acute-care community teaching hospital, an acute-care hospital and trauma center, and three community hospitals in Connecticut. Lewis oversees development and implementation of the system's strategy to quantify and introduce interventions to reduce health disparities across the communities HHC serves. She also leads the healthcare system's diversity, inclusion, and belonging strategy, blending training, education, and recruitment to make HHC an environment in which every colleague can contribute their best work.
Cesarina Thompson, PhD, RN, ANEF, and Dean of the University of Hartford's College of Education, Nursing and Health Professions (ENHP) since 2018, will serve as moderator. With over three decades of experience in faculty and leadership roles at institutions of higher education, she is a Fellow in the National League for Nursing's Academy of Nursing Education, a site visitor/team leader for the Commission on Collegiate Nursing Education (CCNE), and a member of the Board of Directors for the Association of Schools of Allied Health Professions.
Register Now
To RSVP, please register online. WebEx information will be sent to you automatically following your registration. 
Please email questions about the lecture to Brianna D'Arcangelo, Program Coordinator for the President's Office of Diversity and Community Engagement, at darcangel@hartford.edu. 
About the Rogow Distinguished Visiting Lecture Program
The Rogow Distinguished Visiting Lecture Program brings celebrated authors, journalists, historians, academics, and artists to campus (in person or virtually) to enhance the knowledge base of both the campus community and the Greater Hartford area. The series is part of a wide array of public programming that the University of Hartford offers, fulfilling an important responsibility to serve the larger community of which it is a part. 
About the Annual Diversity, Equity, and Inclusion Lecture Series
The University of Hartford's Annual Diversity, Equity, and Inclusion (DE&I) Lecture series provides a forum through which students, faculty, and staff can deepen their knowledge, increase their awareness, and inform both individual and institutional actions that promote diversity, equity, and inclusion on campus and in our communities. The academic year-long DE&I series also includes pre- and post-lecture activities, conversations, and/or readings for students through collaboration with faculty, the Office of Student Engagement and Inclusion, and the Office Residential Life. 
Watch for Info on our March DE&I Lecture
After Feb. 11, our next lecture will take place on March 25 on the topic of Policing, Campuses, and Communities of Color.