The Chauvin Verdict and Police Reform: A Conversation with Attorney Riley Ross III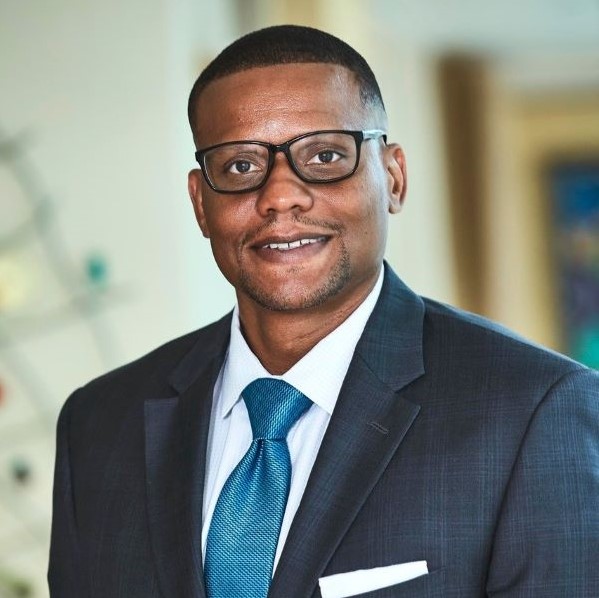 Wednesday, May 5 from Noon-1:30 p.m.
The murder of George Floyd led to a national movement for police reform and accountability. Past incidents of police brutality and excessive use of force against unarmed individuals, particularly BIPOC, have rarely resulted in criminal convictions.
Join us for a moderated conversation featuring Attorney Riley H. Ross III to discuss the Chauvin verdict, police reform, the criminal justice system and more. A question-and- answer session will follow.
Attorney Riley Ross III is a highly skilled and experienced law partner at the firm Mincey Fitzpatrick Ross, LLC in Philadelphia, Pennsylvania in the areas of federal criminal law, white-collar criminal defense, civil rights litigation, employment discrimination and general civil litigation. His previous positions include private practice at Ross Legal Practice, LLC; at litigation powerhouses Williams & Connolly in Washington, D.C., and Drinker Biddle & Reath; at Tucker Law Group in Philadelphia; and as an Assistant Federal Public Defender in Norfolk, VA.
Atty Ross received a BS in Psychology from Longwood College, a MA in Experimental Psychology from Western Kentucky University, and a JD from the University of Virginia. After law school, Mr. Ross clerked for the Honorable James C. Cacheris, U.S. District Judge for the Eastern District of Virginia. Mr. Ross is also licensed to practice in Virginia and the District of Columbia.
As a practicing attorney, Atty Ross has garnered recognition and leadership roles including having been named "2009 Lawyer on The Fast Track," "2010 Pennsylvania Rising Star," and a Pennsylvania Super Lawyer® each year since 2014. As an active member of national, state, and local legal communities, he sits on the Board of Governors of the Philadelphia Bar Association and serves as Chair of the Board. He was appointed by the Pennsylvania Supreme Court to serve on the Criminal Procedure Rules Committee and as a Hearing Committee Member for the Disciplinary Board of the Supreme Court of Pennsylvania. He serves on the Board of Directors of Defenders Association of Philadelphia (Secretary); American Civil Liberties Union – Pennsylvania (ACLU-PA, Vice President); No Longer Bound; and Lawyers Concerned for Lawyers. He also is an active member of the Pennsylvania Bar Association and serves as a member of the House of Delegates, the Civil and Equal Rights Committee, the Minority Bar Committee, and the Legal Ethics and Professional Responsibility Committee.
The May 5 conversation is hosted by the Office of Diversity and Community Engagement and the Office of Student Engagement and Inclusion.
Registration Information
To register, please click here. Upon registering, a Zoom link will be sent to you one day before the event.
If you have any questions about this program, please email Brianna D'Arcangelo, Program Coordinator for the Office of Diversity and Community Engagement, at darcangel@hartford.edu.