Twelve Students Awarded Dorothy Goodwin Scholarships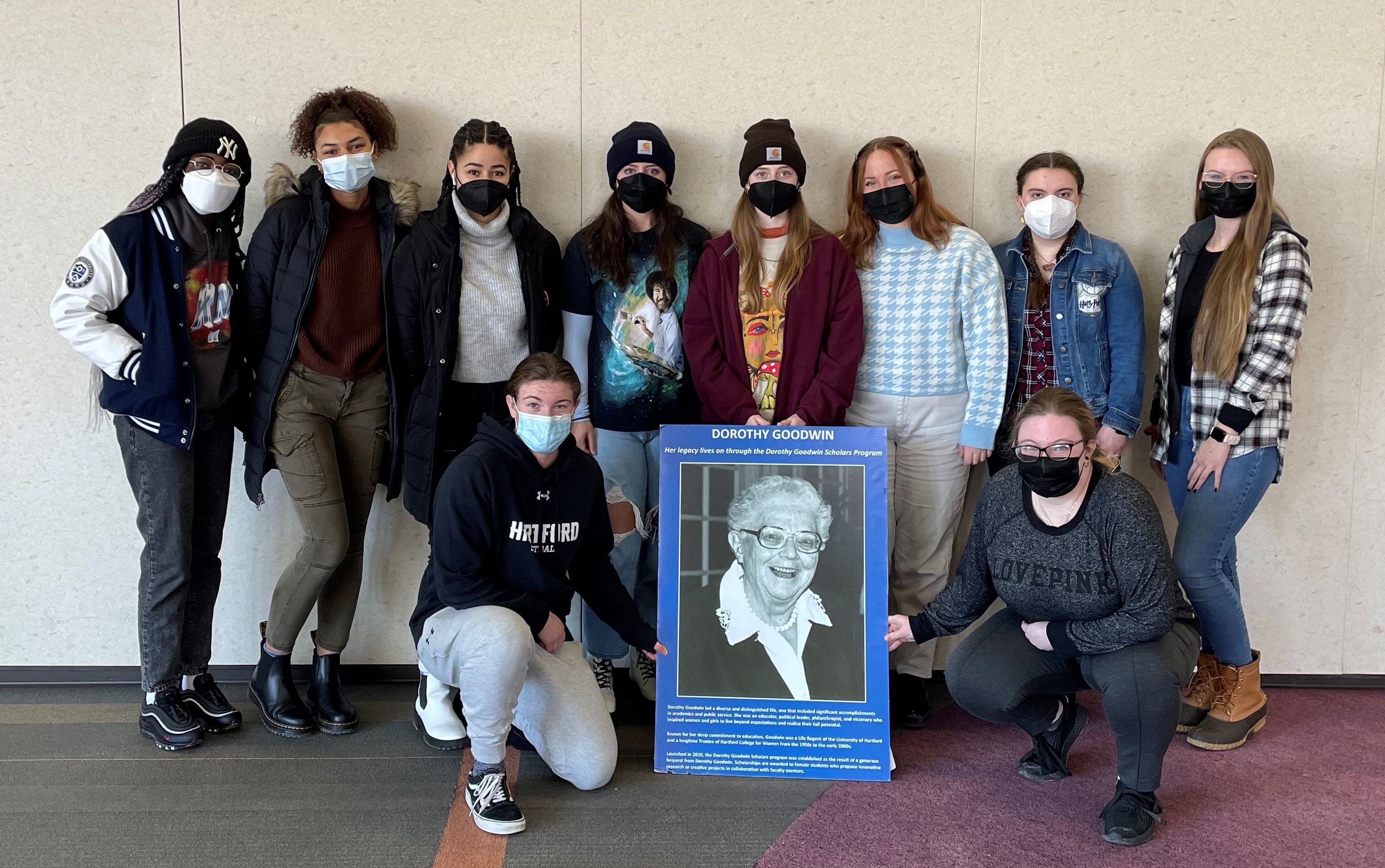 Twelve Students Awarded Dorothy Goodwin Scholarships
The Women's Advancement Initiative is pleased to announce the 2021–22 Dorothy Goodwin Scholarship awardees. Scholarship recipients are undergraduate women students who are conducting innovative research or developing creative projects in collaboration with faculty mentors.
Launched in 2010, the Dorothy Goodwin Scholars Program was established thanks to a generous bequest from Dorothy Goodwin, an educator, political leader, philanthropist, visionary, and longtime trustee of Hartford College for Women, who inspired women and girls to live beyond limitations and realize their full potential. She recognized and modeled that reaching one's potential requires challenging opportunities, committed mentors, and financial support. In honor of her influence and philanthropic spirit, and with gratitude for the generosity of her friends, The Women's Advancement Initiative is proud to support these scholarly projects.
Awardees
Joanna Abare '23 will research golden ratio applications in aluminum heat sink.
Elexa Argento '23 plans to perform various experiments and simulations to analyze the effects of thermal stress on mechanical properties of polymer‐based composites.
Ally Beck '22 is using a gene editing platform, CRISPR Prime Editing, to model rare diseases of persons as part of the Undiagnosed Diseases Network.
Sydney Coleman '22 will create a documentary showcasing her research about how radicalized trauma has been biologically passed through generations within the Black community.
Christine Gallares '22 is developing and implementing a new graphic design for the digital version of The Life Planning Workbook by Dr. James Vaughn.
Benedicta Kwarteng '23 will conduct a series of workshops with high school students to raise awareness about international relations and their global impact.
Sydney Lewis '22 is analyzing the wastewater modeling program, BioWin, to explore the most efficient conditions for wastewater operations.
Alba Marcelin '23 will investigate the use of Forward‐Looking Infrared (FLIR) Sensors for aircraft video tracking.
Kathryn McLean '22 is exploring American medical history by conducting interviews with Dr. Dan Marshall, who recently retired as the oldest practicing physician in America at 96 years old. The project will culminate in a coffee table style photo book.
Rachel Necky '23 will conduct a comparison study of the benefits of Segmented Adjustable vs. Conventional TLSO for individuals with motor disabilities.
Katherine Plutnicki '22 will be filming and editing video content for workshops that provide independent artists with a snapshot of the booking and touring industry.
Katharine Wilson '23 plans to develop a digital stethoscope and portable chest-cavity sound trainer.
We applaud all faculty members engaged in research, teaching, and mentorship. A special thank you to this year's Dorothy Goodwin faculty mentors for providing project oversight. These include: Takafumi Asaki, Amy Jaffe Barzach, Todd Brown, Markeysha Davis, Mehmet Dede, Duffy Felmlee, Reihaneh Jamshidi, Aime Levesque, Ivana Milanovic, Sandra Saavedra, Amy Schoenecker, and Hemchandra Shertukde.
Each scholarship recipient will showcase their innovative research and creative projects at The Women's Advancement Initiative's Annual Symposium on Thursday, March 31, 2022 at 5:30 p.m. in the Harry Jack Gray Center.