Ketanji Brown Jackson Confirmed as First Black Woman to the Supreme Court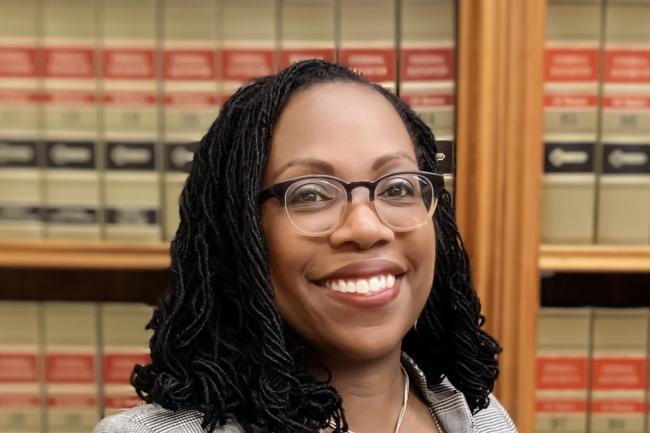 History was made on Thursday, April 7, 2022, as Judge Ketanji Brown Jackson was confirmed by the U.S. Senate and will become the nation's first Black woman to sit on the U.S. Supreme Court. Judge Jackson will be the third Black justice, after Thurgood Marshall and Clarence Thomas, and the sixth woman to occupy a seat on the bench. She will be the first Black woman to serve.

Judge Jackson received a J.D., cum laude, from Harvard Law School in 1996, where she served as a supervising editor of the Harvard Law Review. She received an A.B., magna cum laude, in Government from Harvard-Radcliffe College in 1992.  She has been hailed for her deep qualifications, experience, and dedication to the law.
As stated by Professor Jilda Aliotta, associate professor of politics, economics, and international studies in the College of Arts and Sciences, "Judge Jackson's confirmation is significant for both symbolic and substantive reasons. Symbolically, her presence on the Supreme Court will mean that more Americans will be able to see someone like them on the Supreme Court. Substantively, soon to be Justice Jackson will bring not her only stellar professional accomplishments to her work on the Court, she will also bring a unique set of life experiences to her discussions with colleagues."
This historic milestone speaks to what is possible in this country with hard work, determination, and perseverance. We want our students, especially those of the BIPOC community and those who identify as women, to dream out loud as we celebrate this defining moment. As stated by Judge Jackson, "We want, I think, as a country for everyone to believe that they can do things like sit on the Supreme Court. So, having meaningful numbers of women and people of color...matters."
The University of Hartford acknowledges and celebrates this historical milestone.