Family's Holocaust Story Takes Center Stage at UHart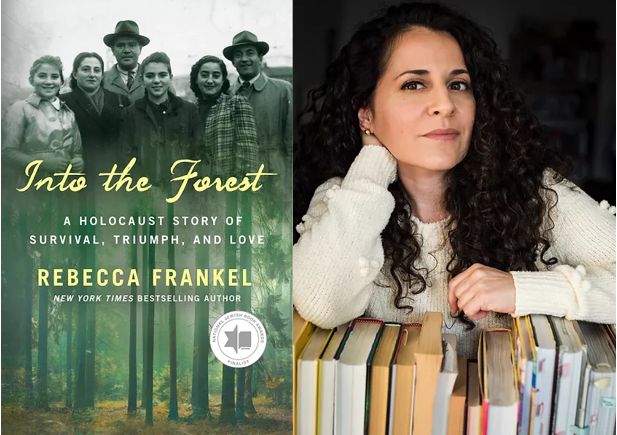 A program at the University of Hartford, in partnership with a New York Times best-selling author and West Hartford native, will share the inspiring story of a Jewish family who fled a Nazi ghetto and survived in a forest during the Holocaust.
The author's talk and book signing, called "Jews of the Forest: A Story of Holocaust Resistance and Survival," will feature Rebecca Frankel, in conversation with members of the family featured in her book. The event is at UHart's Wilde Auditorium Sept. 29, 4 p.m.-5:30 p.m., and open to the public. Tickets are free and available now here.
Frankel and the event were recently featured in the Hartford Courant.
Frankel is known locally for recording the inspiring story of Rabinowitz family members, who narrowly escaped the Nazi ghetto in their Polish town by fleeing to the forbidding Bialowieza Forest.  Her book, "Into the Forest: A Holocaust Story of Survival, Triumph, and Love," was named a 2021 National Jewish Book Award finalist and one of Smithsonian Magazine's "Ten Best History Books of 2021."
Over five years, Frankel interviewed family members—including the Rabinowitzes' eldest daughter, Ruth Lazowski of West Hartford—to understand how they made it through brutal winters, typhus, and merciless Nazi raids before the family was liberated in 1944 by the Soviet Army. Frankel grew up hearing parts of the story, as Lazowski and her husband, Rabbi Philip Lazowski, have been prominent members of the Greater Hartford Jewish community for decades.
"The idea for the book started out with a very personal connection and then became a work of journalism and academic study as I learned how their family story fit into the greater backdrop of WWII history, and the research and storytelling expanded from there," Frankel says. "Thousands of other Jews fled to the forest, but relatively few of them survived. And in the greater canon of Holocaust narrative, the forest story is little-known, and not a prominent part of readily available Holocaust history."
Frankel's book also recounts the life-saving and life-changing moments that eventually brought Ruth and Philip Lazowski together in an unforgettable love story.
In her lecture at UHart, Frankel will recount the little-told forest history, and the bravery and resilience of the Rabinowitz family in wartime and after, as they sought to find their place—and new happiness—in a post-Holocaust world. The talk will be followed by book sales and a signing.
The event is being offered by the Greenberg Center for Judaic Studies at UHart, in partnership with the Presidents' College, the lifelong learning arm of the University, with co-sponsors including the Center for Judaic Studies and Contemporary Jewish Life at the University of Connecticut and the Avon Free Library.