First-Years Explore CT in Start Strong Adventures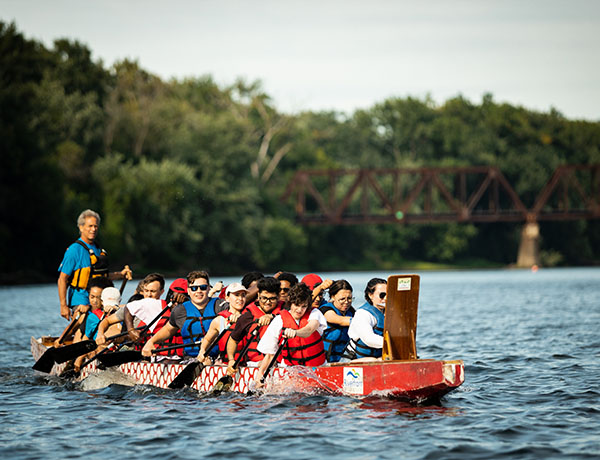 Move-in weekend for first-year students means unpacking, organizing, and mingling with new friends. But at the University of Hartford this fall, it also meant climbing a ropes course…or taking a painting class…or going to a baseball game…or exploring the community in another exciting way.
UHart offered Start Strong Adventures this year to hundreds of new students as a way to introduce them to the area and give them an opportunity to meet fellow Hawks outside their halls and classrooms. The trips came at no cost to students and set the tone for an academic year expected to be full of in-person events, University traditions, and favorite programs that had been put on hold over the past few years due to the pandemic.
Red Cap orientation leaders, faculty and staff members accompanied first-years on the excursions, which included taking in a Hartford Yard Goats baseball game, tubing on the Farmington River, dragon boat racing on the Connecticut River, improv practice at Sea Tea Theater, a visit to the Wadsworth Antheneum, and hiking on Talcott Mountain.
Some first-year students also packed off-campus community service into their first few days at UHart. Residential Learning Community students volunteered at local parks and outdoor spaces, giving them an opportunity to better learn about each other and the surrounding area, while helping our community partners.
The Honors RLC headed to Hammonasset Beach State Park, where they were led by UHart faculty member Katherine Owens (and featured in Madison's local newspaper, The Source). Owens is a National Geographic Explorer who's passionate about civic engagement and using art to address political and environmental problems. The students used a Marine Debris Tracker to record their collection amounts and provide data to scientists.
The Wellness RLC students made their way to Camp Courant to help prepare the grounds for this year's Buddy Bash Gala, themed "Play with Purpose!" Students weeded camp grounds and painted oversized game pieces for the important fundraiser.
The STEM-C RLC crew went to Keney Park in Windsor to participate in a sustainability project. While volunteering, they worked in the gardens and throughout the park to weed, clean up litter, and even play with their onsite animals to provide enrichment.
The Cultural Connections RLC group worked at Wickham Park in Manchester to rake and lay mulch that will benefit the daily operations of the park.
These projects were a wonderful opportunity for students to connect to each other and their community, while giving back to their neighbors across Connecticut.