Life-size Whale Portrait Makes a Splash in the News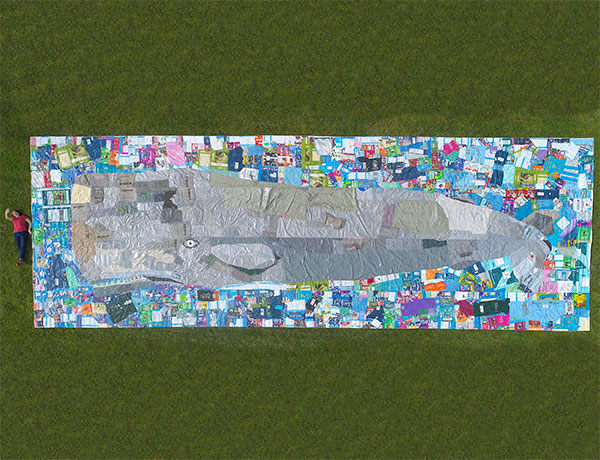 A life-size whale portrait composed completely of plastic pollution made its big debut this fall at the University of Hartford and in the news.
The sperm whale is now on exhibition in Harrison Libraries on campus through the end of the semester. The display—called "Entangled and Ingested: The Sperm Whale"—has been in the works since February 2021 and spans 60 X 20 feet.
The creator, Professor Katharine Owens, shared the story behind the whale in a segment at Fox 61 studios, and with the Hartford Courant and West Hartford News, as well as at a special reception. 
Owens discussed how the artwork came to be, and the impact she hopes it has on all who visit—and on animals affected by plastic pollution. Owens is a professor of politics and government in UHart's College of Arts & Sciences.
"I started the project to better communicate about film plastics—they are everywhere, and I find them impossible to avoid. The plastic pollution problem is often framed (even in the scientific literature) as being about littering or poor waste management, but I believe the real problem is that single-use plastics were designed to be used for a moment and yet they last a lifetime," says Owens, who has traveled the world studying plastic pollution and aiding communities who've been heavily impacted by the issue.
Owens, as well as adults and children across Connecticut, sewed film plastic onto canvas to create the whale. This is just one of 38 life-sized portraits she has completed of marine life harmed by plastic pollution.