NPR Highlights Collaboration of HAS Students and Artist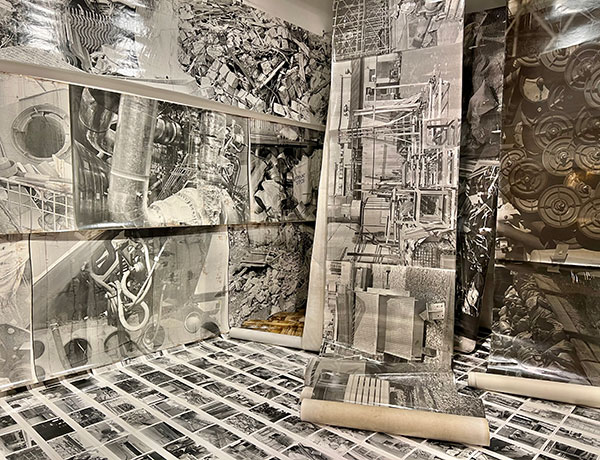 A new NPR (Connecticut Public) segment goes behind the scenes of a University of Hartford photography exhibit, as well as students' work with an award-winning artist in creating a 50-foot-long photo for the show.
The immersive photography exhibit is open now through Dec. 10 at UHart's Joseloff Gallery, featuring the work of Japanese photographer Komatsu Hiroko. She's known for creating black and white photos that are everywhere viewers move in an exhibit space: hanging from the ceiling, covering the floor, stretching over boxes, and spanning entire walls.
NPR spoke with Komatsu through a translator in between various steps of the photo developing process in HAS' darkroom one afternoon at Hartford Art School. Students worked with Komatsu to develop the 50-foot-long photo, which took horse troughs as well as around eight hours of hard work.
From developing the film on a singular 50-foot-long roll, to installing the large-scale photographs that completely transformed the gallery space, students gained new perspectives not just on the work itself, but the approach and process. Nicholas DeLeo, a photography student, summarized the process for the radio segment and detailed how he's inspired to experiment further with his photography after partnering with Komatsu.
Meanwhile, Carrie Cushman, the Edith Dale Monson director and curator of the Galleries at HAS, gave future visitors an idea of what to expect when visiting the exhibit. Komatsu also explained the thought process behind such large photographs.
The show, "Komatsu Hiroko: Second Decade," is the artist's first large-scale exhibition in the U.S.