Students Make an Impact in Physical Therapy Program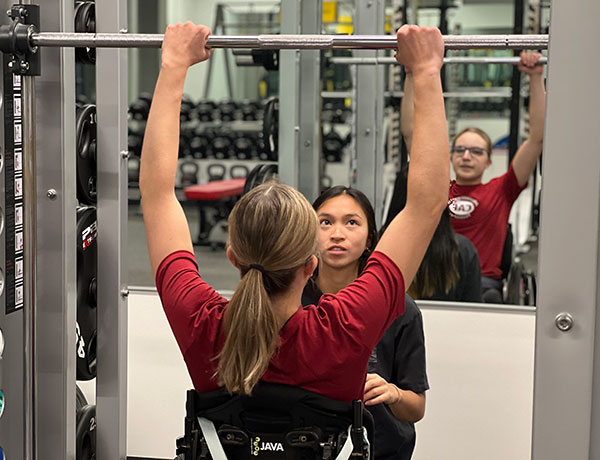 Leif is power-walking on a treadmill, the speed adjusting from faster to slower, and then faster again. He keeps up with the pace, and packs in a good cardio session on a Thursday evening.
A few months ago, this wasn't the case. But through the Hawks in Motion physical therapy program at the University of Hartford, Leif's made progress he's proud of. A stroke in 2020 had taken so much movement away from him. 
"It's helping with natural walking speed and endurance, and my ability to go up and down stairs and my balance," he says after his treadmill work and some stair climbing exercises at UHart. "I can tell I'm keeping up naturally with someone walking normally now."
The Hawks in Motion initiative, led by Professor Mary Gannotti, is pairing UHart physical therapy graduate students with local community members who have movement challenges due to neurological conditions, like a spinal cord injury, multiple sclerosis, or Parkinson's disease. See a Fox 61 news segment on Hawks in Motion here.
The sessions are free to participants and held in the Hursey Center on campus, where exercise physiology spaces are numerous, spacious, and brimming with new equipment. 
There's everything from weight racks and bar bells, to stationary bicycles, treadmills and specialty, high-tech machines—including an anti-gravity treadmill that props a user up as they move their legs, and a device that strengthens the upper body with a motion that mimics throwing a ball.
Helen, a UHart student who uses a wheelchair, was busy that Thursday evening in the Hursey weight room performing chin-ups with assistance from UHart DPT student Emily Steele.
"I feel like I've learned a lot of new exercises I didn't know before," Helen said. "I don't see a lot of research about exercise in people with disabilities, and it's something I've always been interested in."
For some participants, physical therapy was out of reach after insurance-covered sessions ran out. Additionally, some programs in other parts of the state ceased operation during the pandemic. Gannotti hopes Hawks in Motion is filling those gaps. At twice a week for the fall semester, everyone involved agrees it's making a big difference.
"Currently we have six athletes, as there are seven (student) coaches, and one athlete needs two coaches," Gannotti says. "Everything we're doing is evidence-based and clinically proven."
Gannotti is currently researching how the program can continue in the long-term, and will add specific research elements about its impact in upcoming semesters.
One student coach, Alyssa Powers, even joined a 5K with Lindsey, the athlete partnered with her. Thanks to their work together, Powers now knows she wants to work with people who have disabilities.
"Lindsey has taught me many things through the time we have spent together, and continues to impress me with her motivation and determination to always be her best self," Powers said. "I quickly realized the benefit we were having on our participants. It was great to be able get them back to working out with new friends and offer them a fun and new opportunity."