Veteran Finds a Fresh Start as Student in Hillyer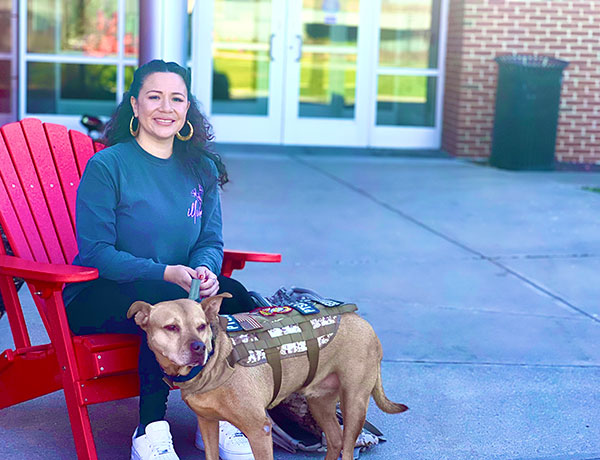 Cynthia Puerta was in charge of 40 Marines when she was in the military. She hasn't let "hard" and "impossible" stop her, and she's gotten to the other side of too many traumatic moments. 
But starting college at 31 years old was still intimidating. Especially because a traumatic brain injury sustained during her service required Puerta to relearn reading and comprehension skills. Still, the University of Hartford student is determined to grant herself, and her son, a fresh start in life through education. (See her story in a news segment on NBC CT.)
"I decided I was going to apply for school, and be a psychologist," Puerta says, as her service dog Gypsy lays at her feet during a break from classes at UHart's Hillyer College. Hillyer provides students with additional academic support and smaller class sizes, as well as a dedicated study center and writing lab.
"When I applied to the University of Hartford, I didn't feel like just a number. UHart has been so welcoming and caring. I was scared because I'm older, and I feel like everyone else is fresh out of school. But I'm going to try my hardest."
Puerta was born in Peru, moved with her family to the United States, and joined the Marine Corps after high school, going on to earn the rank of sergeant. She worked on aircraft as a maintenance administrator and had a son, before later deploying to Kuwait. On top of witnessing tragedy involving fellow service members, Puerta suffered the traumatic brain injury and was honorably discharged.
"I was told I was not going to be able to go to school, that it's going to be hard, and I was stuttering really bad because of the impact," she recalls. "My PTSD, anxiety, and depression were so much."
She and her son began learning together—he helped her read children's books to regain her reading and comprehension skills. Soon, she attended school for baking and pastry creation, and opened a bakery. But a few years in, she faced tragedy in her personal life, and a reckoning with herself. She thought about other people who shared their own traumatic stories, and wanted to help them and others.
Puerta is confident that through earning her degrees at UHart, that's exactly what she'll be able to do. She is now a part of the Women's Advancement Initiative LEAD (Leadership Education and Development) program, is a frequent visitor of Hillyer's writing lab, and has found professors who've already made an unforgettable impact on her life.
Puerta has a lot of long-term plans. But in the short-term? She'll be celebrating Veterans Day with her son, military friends, and a mentor. And, of course, Gypsy.