Barney Takes Students to New York City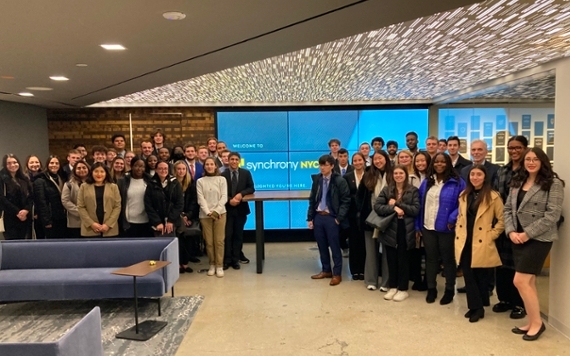 On Friday, Dec. 2, the Barney School of Business took students on a memorable trip to New York City. Students in attendance were participants of this semester's Hawks In Flight program for freshman and BAR211 students, as well as the Barney Leadership Council.
In addition to sightseeing, the group visited the Synchrony Bank Innovation Center at Bryant Park, the Yale Club to network with alumni, and last but not least, the New York Stock Exchange. Students got to witness the ringing of the bell and the University of Hartford was given a shoutout!
This trip is one example of the real-world experiences that Barney students get as growing business professionals in this school. From networking, to dressing for success, and more, the Barney School of Business prepares students to be career ready and learn both inside and outside the classroom.