HAS Students Create Show Posters for Hartt's Theatre Division Performances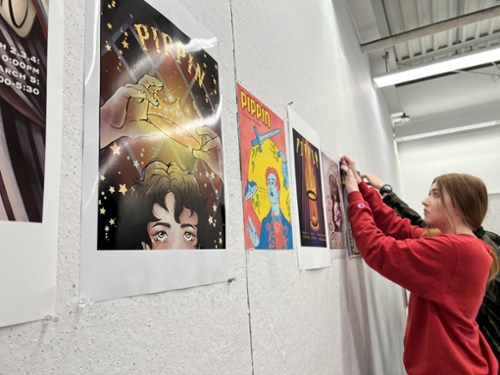 An image may say a thousand words, but what is the source of inspiration for creating one?  In a unique collaboration, 21 HAS Illustration seniors used Hartt's upcoming theater productions as their subject. For their final project in the course, Advertising Illustration, students were tasked with designing show posters for the Theatre Division Spring 2023 productions: Pippin, Much Ado About Nothing, and Godspell. Ultimately, one poster will be selected and used in the advertisements for each production.
This year was the first year that Illustration students designed show posters specifically for the Hartt Theatre Division.  Carol Schwartz, Assistant Professor of Illustration, had been wanting to do this project for a while, but this year seemed the right time. Throughout the course, students focus on illustrating for the advertising market in a variety of industries, from conceptualization to final presentations of their ideas. 
Given the diverse array of the three Hartt performances—a coming-of-age musical, a Shakespearian comedy, and a rock opera—students had an eclectic offering as their starting point. At the beginning of the project, students initially designed one poster for each show, and Schwartz chose a top one for each to refine. From there, creative direction explored many avenues. Considerations for fonts, color palettes, background textures, and styles were all part of the process. To aid in creative choices, research was done on previous productions and supporting materials, from scripts, recordings, reviews, and past poster designs.  
The final designs were innovative and each had a story to tell, all unique to the performance as well as the artist. From playful visual metaphors to bold design and typeface choices, the posters serve as a portal for how the viewer perceives the production and draws them in. Providing the viewer with a visceral experience is a crucial component of the project.
The last phase of the course included a critique, an important element that opens up the discussion between artist and viewer. An opportunity and 'spotlight,' the critique can establish and share the artists' voice, and offer audiences a different perspective. It allows the creative process to be considered and includes compliments, criticisms, and questions—in this case, it came from peers and faculty. This included Hartt's Theatre Division Director, Kevin Ramsey, who ultimately will be a part of the select committee to pick the final show posters.  
One lasting result of the project is that it provides students with tangible tools and experiences that are found beyond the classroom setting. "You got real-world experience in how advertising works," Schwartz told her students at the end of their presentations. Since the project was highly process-oriented, she reminded students to "Keep records of your process. A client may want something changed. Keeping all of that will make your life a whole lot easier."  
The final poster selection will be announced at a later date, and will accompany the Spring 2023 Hartt Theatre Division performances.