New Saxophone Quartet Already Making its Mark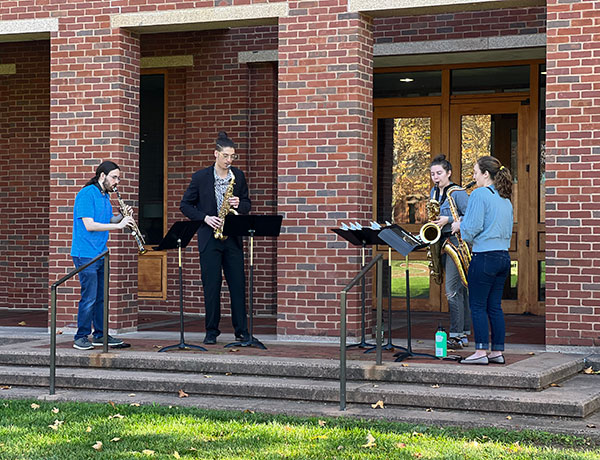 "Music is so in touch with our emotions that it's hard to imagine a world without it," says Max Votolato '23, alto saxophonist in the University of Hartford's new Atlas Saxophone Quartet. "When we feel sad, when we feel happy, and when we feel anxious, we listen to music."
Music is not only notes on a page, or sounds or voices. It's a vehicle for emotional health.
Of course, in order for us to listen to music, there must be skilled musicians to create it. With the establishment of the Atlas quartet student group, patrons on campus, at local venues, and elsewhere have the opportunity to hear the engaging melodies produced by an alto, baritone, soprano, and tenor saxophone playing together. Atlas members believe whole-heartedly that music can support mental health, and are using their work to spread that message.
"Our mission is to help make classical saxophone more accessible to the general public," says Jessica McCready '24, baritone saxophonist. "We do that by working with diverse composers, performing frequently, and offering community engagement."
She also explains that the group hopes to bring awareness to mental health issues through music, and that the mission is to play a wide range of pieces that can reach a large audience.
Rob Brown '24, soprano saxophonist, adds that it doesn't matter what genre of music emanates from their instruments. As long as it makes people happy and keeps them engrossed, it's worth the effort.
Atlas was formed by Carrie Koffman, saxophone professor at The Hartt School, in the summer of 2022. Votolato, McCready, and Brown are joined by Katherine Campbell '23 on tenor to round out the quartet. All are music majors at Hartt.
"None of us played together in a chamber ensemble setting until that week of classes when the quartet was formed," McCready recalls. "To our delight, we get along super well, which makes for incredibly enjoyable and productive rehearsals."
And incredibly pleasing music.
The Atlas Saxophone Quartet alerts fellow students and the public at large about its itinerary through social media (Facebook and Instagram primarily), by the publicity efforts of whichever event or venue at which they are scheduled to appear, with word-of-mouth advertising, and by the sheer expressive sounds of saxophones that ring out wherever they take the stage—or the lawn, as the case may be.
On a sunny afternoon this fall, live music could be heard outdoors near the library. As members of the campus community rounded the corners of the Hursey Center, or the bookstore, or Wilde Auditorium, they happily stumbled upon Atlas performing on the steps of the Harry Jack Gray Center, leaves swirling before them in a brisk breeze—a salve for another busy day of work and studying, and a good reason to pause for a moment.
Atlas spent weeks researching, listening, and exchanging ideas to help craft a diverse and captivating program showcasing a variety of musical styles, including early French, Spanish tango, classical, and contemporary. Many of their performances are on campus or nearby, such as at the Church of the Good Shepherd in Hartford and the McCauley retirement home in West Hartford.
But not all of it is local.
In early 2023, they will perform at the Navy Band Symposium in Washington, D.C., and the North American Saxophone Alliance Conference in Mississippi. One number on the Navy Band bill will be Ravel's Assez vif, très rhythmé, arranged by McCready.