Slamdance Film Festival Selects Film Scored by Hartt Professor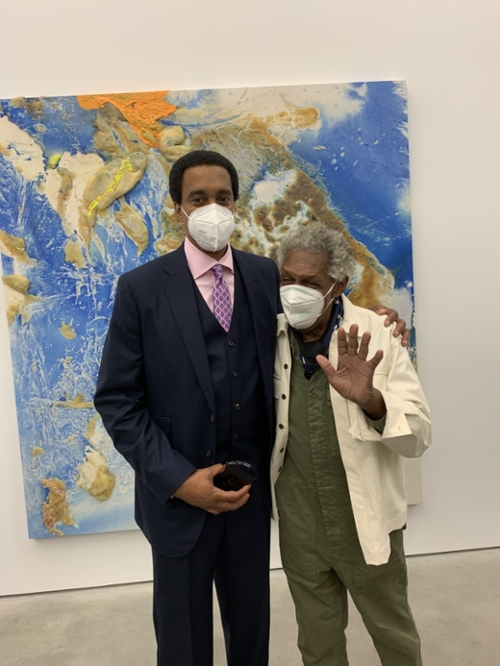 Jazz serves as the binding thread and rhythmic character in the documentary, 'With Peter Bradley,' which will premiere at the Slamdance Film Festival in late January. The original score for the film was composed by The Hartt School's Professor of Jazz Javon Jackson, the Director of the Jackie McLean Institute of Jazz. Jackson also performed the original music, along with his band, and recorded it locally in Windsor, CT.   
The acceptance into Slamdance is a special honor for the film as well as the community of artists involved in its production. An annual film festival, well-known among the independent film world, the selection to Slamdance Film Festival is a coveted opportunity. The festival focuses on emerging artists, innovative filmmaking, and unique narratives.  
While the main subject of the film centers around the artist in which the film was named, the source of inspiration in Peter Bradley's abstract artwork—is jazz.  Bradley is likely the first Black abstract artist and sculptor represented by a major NYC gallery, and yet holds one of the overlooked places within 20th-century art history. The connection with music—specifically jazz—is a crucial piece in Bradley's creative process. A jazz musician himself, Bradley uses the canvas as his instrument. He is quoted in the film as saying "I have to have music, otherwise I can't paint." He is inspired by jazz, which is the music he listens to when he creates his art, as "every sound as a color...I think that's what it is based on."
Jazz and abstract art hold shared dualities and similarities. The creative process is playful as it is fluid, it can be improvised, and yet it has strong roots in what has come before. The artist plays a key role, as the decision-maker to how their tool (instrument or paintbrush) functions. While abstract painting is a frozen moment in time, there is a musicality in color, texture, size, and it comes alive, similar to jazz.
In turn, Jackson shares a similar synergy with Bradley's work. When he first met Bradley at his home and saw his work, Jackson 'was mesmerized.' He immediately got to work on composing, drawing inspiration from how Bradley views his art and his own storied history.  
Coincidently, one of Jackson's champions at age 21 happened to be a close friend of Bradley.  Often these connections—whether it be with individuals or even across disciplines—can be hugely influential to one's career and artistic expression.  Jackson finds this true with his own work as well at the Jackie McLean Institute of Jazz. As one of the nation's premier jazz programs, Hartt strives to develop aspiring and skilled jazz musicians. In fact, the score coordinator for the film is a fellow Hartt alum, Marcus Barone.
'With Peter Bradley' will make its world premiere at the 29th Slamdance Film Festival from Jan. 20 - Jan. 26, 2023, in Park City, Utah.